Triumphant Unveiling: KAWS Marks the Grand Opening of Mondrian Singapore Duxton
By
The Artling Team
---
The highlight of Mondrian Singapore Duxton hotel's September 1st launch party was a grand surprise reveal of a 6-metre KAWS bronze sculpture titled WHAT PARTY, the first in Asia and a new landmark of the Lion City's most happening precinct. The KAWS sculpture is part of an exclusive collaboration between Mondrian Singapore Duxton and The Artling, Singapore's premier art collection curators and consultancy company. A partnership more than two years in the making, The Artling is excited to introduce a permanent collection that has been meticulously crafted within the hotel's space. This collection proudly highlights global and local artists, surpassing traditional boundaries of artistic mediums and practices.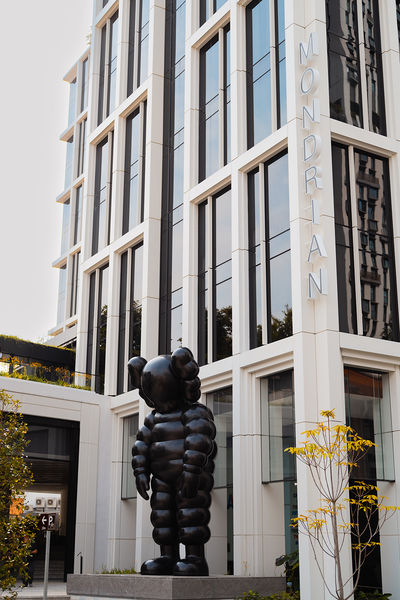 What Party by KAWS, 2023, Bronze Sculpture. Image courtesy of Mondrian Singapore Duxton. ©KAWS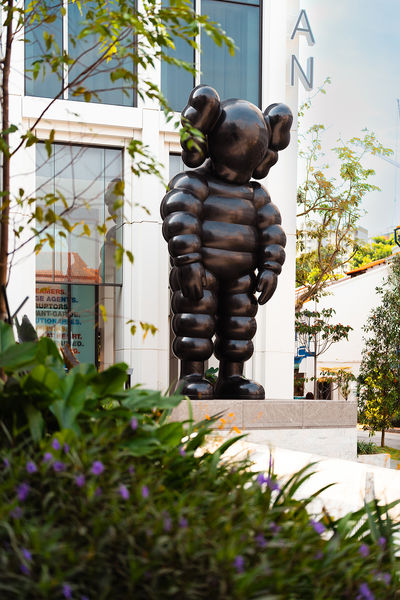 What Party by KAWS, 2023, Bronze Sculpture. Image courtesy of Mondrian Singapore Duxton. ©KAWS
Positioned with deliberate significance at the entrance of the hotel on the intersection of Neil and Craig Roads, WHAT PARTY emerges as a striking representation of Duxton's eclectic street culture. It gracefully coexists with Singapore's cherished heritage shophouses and the towering HDB public housing, while simultaneously casting its gaze towards the horizon, offering panoramic views of the CBD skyline - a testament to its unwavering commitment to honor tradition while embracing a forward-looking perspective.
"WHAT PARTY by KAWS is a perfect symbol of what we are all about," said Robert C. Hauck, Mondrian Singapore Duxton's General Manager. "We are a home for the mavericks and the dreamers, the people who march to a different drum, and now we have our muse, a world class art piece that will draw people from near and far."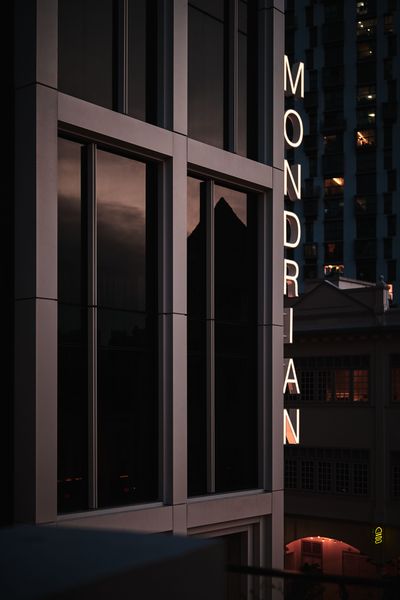 Image Courtesy of Mondrian Singapore Duxton
The unveiling of the KAWS sculpture will be at Mondrian Singapore Duxton. Mondrian is more than a hotel: it's a way of travel. The hotel is at the heart of the most exciting cultural scenes in the world, serving innovation and creativity for everyone to indulge. Known for its design and progressive programming, it is a "must" destination for locals or travelers. The hotel fosters an engaging structure, creating an enjoyable framework for guests to engage in the distinct culture of each city it inhabits. The core of the Mondrian experience revolves around design, with hotels crafted by internationally renowned architects and designers, including notable figures like Philippe Starck and Marcel Wanders. Presently, Mondrian has nine properties spread across key cities such as Los Angeles, Miami, New York, London, Doha, Mexico City, Cannes, Seoul, and Singapore. This expansion is marked by substantial growth, as there are upcoming launches in destinations like Ibiza, Bordeaux, Australia's Gold Coast, and more.
Alongside the newest artwork by KAWS, the Mondrian Singapore Duxton Art Collection features an already diverse array of artists, from locally and internationally-renowned creatives. This infusion of artistic expression elevates the Mondrian experience, cementing its status as a destination that transcends the conventional hotel concept.
"The beauty of KAWS's work is really that it has the ability to cut across all cultures and can appeal to such a wide audience; it's so contemporary in its form and can be serious yet playful at the same time." - Talenia Phua Gajardo, CEO & Founder of The Artling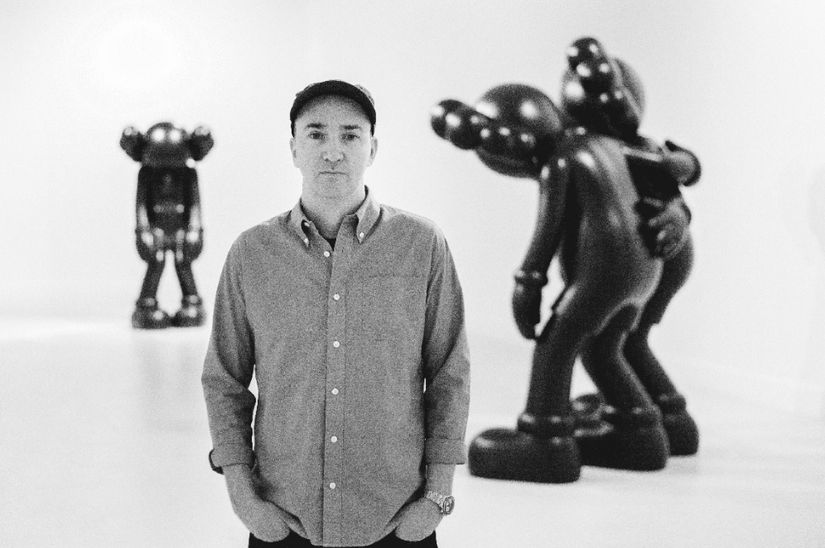 KAWS Photo Credit: Nils Mueller for Wertical
Born in 1974, the artist behind KAWS in Mondrian Singapore Duxton is Brian Donnelly, who, in New Jersey started as a freelance animator before shifting to street art where his specialty was reworking images on bus shelters and billboards. Originally making a name as a graffiti artist during his teenage years, his popularity rose, and at the end of the 90s KAWS started his journey to design and produce limited edition vinyl toys that no one ever expected would gradually become an international hit. Today, Donnelly is a New York based world-renowned, award-winning artist exhibiting in museums and galleries globally.
Ranging from a variety of mediums, from acrylic paintings to giant sculptures, his works are loved worldwide, featured in galleries including the National Gallery of Victoria, the High Museum of Art, the Modern Art Museum, the Aldrich Contemporary Art Museum, and Qatar Museum.
The artist needs no introduction and has collaborated on collections with Dior, A Bathing Ape, Nike, and Comme des Garcons. Staging exhibitions from Paris to London, in recent years KAWS has begun to appear in Asia, with Singapore and Indonesia being its most recent appearances. KAWS HOLIDAY was featured at Marina Bay in Singapore in 2021 and recently traveled to the Prambanan Temples of Indonesia. KAWS has made its appearance more than once in Singapore, participating in the 10th Annual Singapore Art Week at the National Gallery of Singapore in 2022.
Gajardo said they were thrilled to see the KAWS pieces unveiled and are extremely proud of the entire collection. "We had been searching for the perfect piece for a while and when the opportunity to acquire it for the property arose, we were so excited. Something of this stature and scale is really unique, especially for a public location in Singapore, and we hope that it will evoke joy and wonder to all who come by to experience it."
AN INSPIRING COLLABORATION
Celebrating creativity and imagination, the Duxton community in Singapore proudly presents WHAT PARTY, a monumental sculpture set to make an enduring impression on both art enthusiasts and passersby. Positioned as a distinctive new landmark in Singapore's heart, this iconic sculpture showcases the character CHUM. A creation that epitomizes KAWS' reinterpretation of iconic pop culture figures, CHUM stands as a hybrid representation reflecting our shared spirit.
WHAT PARTY, serving as the central masterpiece within the Mondrian Singapore Duxton Art Collection, stands as a remarkable testament to the hotel's commitment to seamlessly intertwining performance, art, architecture, and interior design to captivate a diverse audience. Noteworthy for its extraordinary significance, this KAWS creation emerges as one of Asia's most remarkable permanent installations on display.
In a triumphant culmination of visionary curation and unwavering dedication, The Artling has achieved an awe-inspiring feat that resonates through the art world and beyond. Leaving an indelible mark on Singapore's cultural landscape with the monument WHAT PARTY, The Artling and its meticulous curation and ardent commitment to excellence as an art consultancy company have seamlessly woven together the threads of KAWS and Mondrian, redefining not just the artistic paradigms but also the essence of Singapore's thriving art district. As a result of this dynamic partnership, the world witnesses the harmonious fusion of international and local artistic ingenuity. This achievement stands as a testament to The Artling's profound ability to transcend conventional boundaries and craft a legacy that will continue to inspire and captivate for generations to come.
---
Click here to view more of The Artling's consultancy projects!
---
Related articles