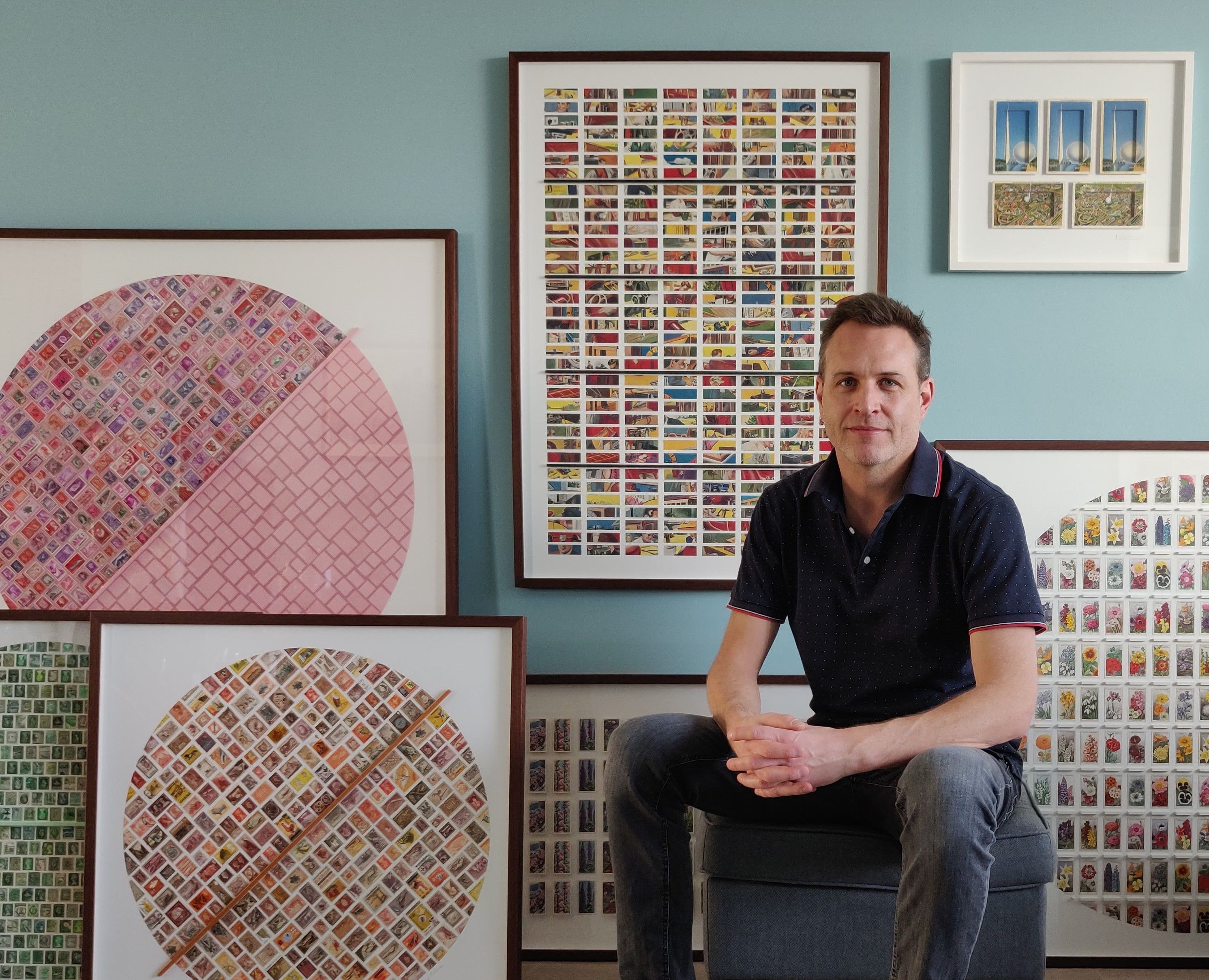 Adam Robinson
Born: 1974
Hometown: London
Based in: London
Adam Robinson is an emerging artist who was born and raised in Sydney and has been living and working in London for the past 18 years. Robinson's work reflects his passion for colour, found materials and the processes of collecting and arranging. He draws inspiration from a wide variety of sources with architecture and the built environment being particularly influential.

The found and sometimes forgotten materials he uses, with their strong sense of nostalgia and history, are a further source of inspiration and fascination to him. He aims to transform these objects such that they exist in a more contemporary and ordered context and with a clean, vibrant and geometric aesthetic.

He also enjoys the emotional response that colour and repetition can bring and the notion that once the materials are altered, rearranged and framed they are perceived in an altogether different way.

Since graduating in Australia with a degree in Theatre Design he has worked primarily in television as an Art Director but now focuses on his art practice. Adam Robinson has exhibited in numerous exhibitions and art fairs both in London and New York.
---
---
Adam Robinson In The Studio
---
More About Adam Robinson
Who are some artists that have influenced your work?
Rosalie Gascoigne, Jeffrey Smart, Colin Lanceley, John Stezaker, Julie Cockburn
What is the most important tool when creating your work?
The cutting knife and ruler!
What is the best piece of advice you have been given?
Being an artist is a marathon not a sprint.
Where do you go for inspiration?
Travelling is my greatest source of inspiration.
---
Collections Featuring Adam Robinson
3 Collections
---
Credentials
Exhibitions
Curious Group
United Kingdom, 2021
The Other Art Fair
United Kingdom, 2021
Roy's Art Fair
United Kingdom, 2021