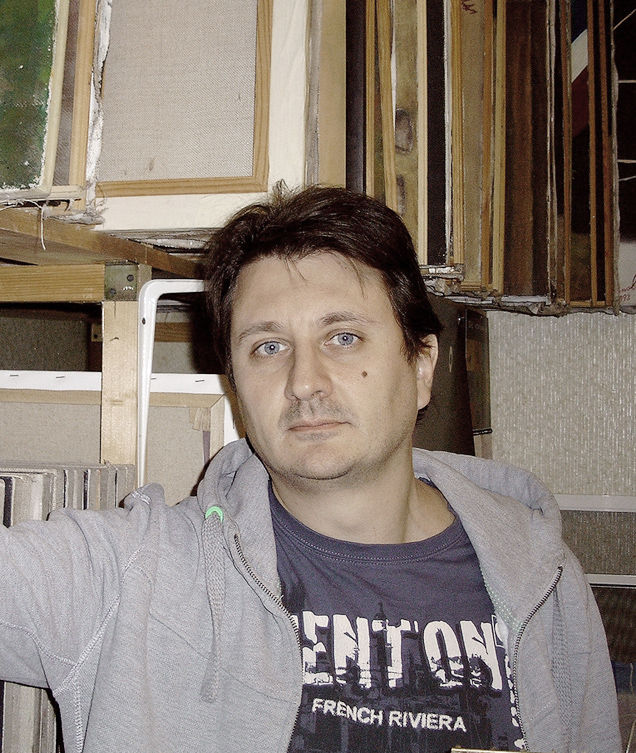 Alexander Trifonov
Born: 1975
Hometown: Moscow
Based in: Moscow
Alexander Trifonov was born in 1975 in Moscow. Studied at moscow polygraphic institute. He received an education in design and worked with Moscow theaters since early 90-s. Since 1998 he is working in Chekhov Moscow Art Theatre and also creates designs for magazines and art books. A member of the Artists' Union of Russia, he exhibits his works in many group and individual exhibitions every year. In 2005 a book about the artist with his art, articles and comments has been printed in Moscow, is a noted follower of the modern avant-guard art concept known as receptualism.
"To be a painter for me is to create my own world", says Alexander Trifonov. "And we can only acknowledge he has what it takes – everything he creates has consistency and originality of the artist. You can't take his world for someone else's", says Evgeny Rein, a poet.

Select personal exhibitions:
• "End of ideologies", At Kashirka gallery, Moscow (February 1999)
• "Love to a Bottle", A3 gallery, Moscow (January 2000)
• "New century", "Centaur" gallery (May 2003) with the sculptor Dmitry Tugarinov
• "On Stage of Eternity" in the Russian Academy of Arts (September 2005)
• "Shostakovich. Bolt ", A3 Gallery, Moscow (April 2006)
• "Our Street -100", State Literature Museum, Moscow (March 2008)
• "Corner stone", Art Gallery Na Solyanke, Moscow (June-July 2009)
• "The window", Gallery "Chistie prudi", Moscow (2012)
• "Windows" with Miloš Prekop gallery Aircraft, Bratislava (2014)
• "From Bruegel to Trifonov" in the Open Club Gallery, Moscow (2018)

Select group exhibitions:
• "Young Russia", Moscow and New York. Сurator Alexander Glezer (1997)
• Auction Drouot-Richelieu, Paris. Сurator Alexander Glezer (1997)
• "Contemporary Russia" Jersey City /USA/. Сurator Alexander Glezer (1998)
• "International Art Biennale Malta" (2003)
• Exhibition dedicated 130 years Kazimir Malevich, Nemchinovka (2008)
• Group exhibitions of contemporary moscow artists, A3 Gallery, Moscow (2008-2012)
• Makek Gallery in Croatia Rab/Zagreb (June 2010)
• «Anticipation of our future» Bratislava, Nitra, (Slovakia, oktober 2010); Porto sant'Elpidio (Italy, 2011)
• PEOPLE-metr 2011 Czech Republic, Slovakia, Hungary and Poland (2011/12)
• «Time of wanderings East West» Central House of Artists, Moscow (2012)
• "Kladensky salon" Kladno (Czech Rep. 2012)
• «White+Blue+Red» Trnava, Bratislava (Slovakia 2011/12)
Shagal gallery in Ostrava (Czech Rep. 2013)
• "Bijela. Plava. Crvena" gallery Milotić. Pula (Croatia, 2014)
• «Other Reality» Central House of Artists, Moscow (2015)
• «From Avantgarde to Avantgarde» Museum of Fine Arts in Saransk (2015) and in Togliatti (2016)
• «Iná krajina» Západoslovenské múzeum, Trnava; Žitnoostrovské múzeum, Dunajská Streda (Slovakia, 2016)
• «Сolor alphabet from А till Я». Central House of Artists, Moscow (2017)
• "Aranykert - Zlatá záhrada" Západoslovenské múzeum; gallery KMG. (Slovakia, 2018)
---
---
Alexander Trifonov In The Studio
---
More About Alexander Trifonov
What inspires you?
In my youth I worked in the theater and in the theater I decided to become an artist. Because I had my own view of things.
Describe your creative process.
Search of plot, transforming the plot in my own style and create a picture.
What are 3 words that best describe your work?
Search, Faith in my mission, Stability
Who are some artists that have influenced your work?
Many different artists from museums around the world
What is the most important tool when creating your work?
To be a painter for me is to create my own world.
What is the best piece of advice you have been given?
Be another, develop your own style!
Where do you go for inspiration?
Inspiration lives inside me!
---
Collections Featuring Alexander Trifonov
19 Collections
---
Articles Featuring Alexander Trifonov
1 Article