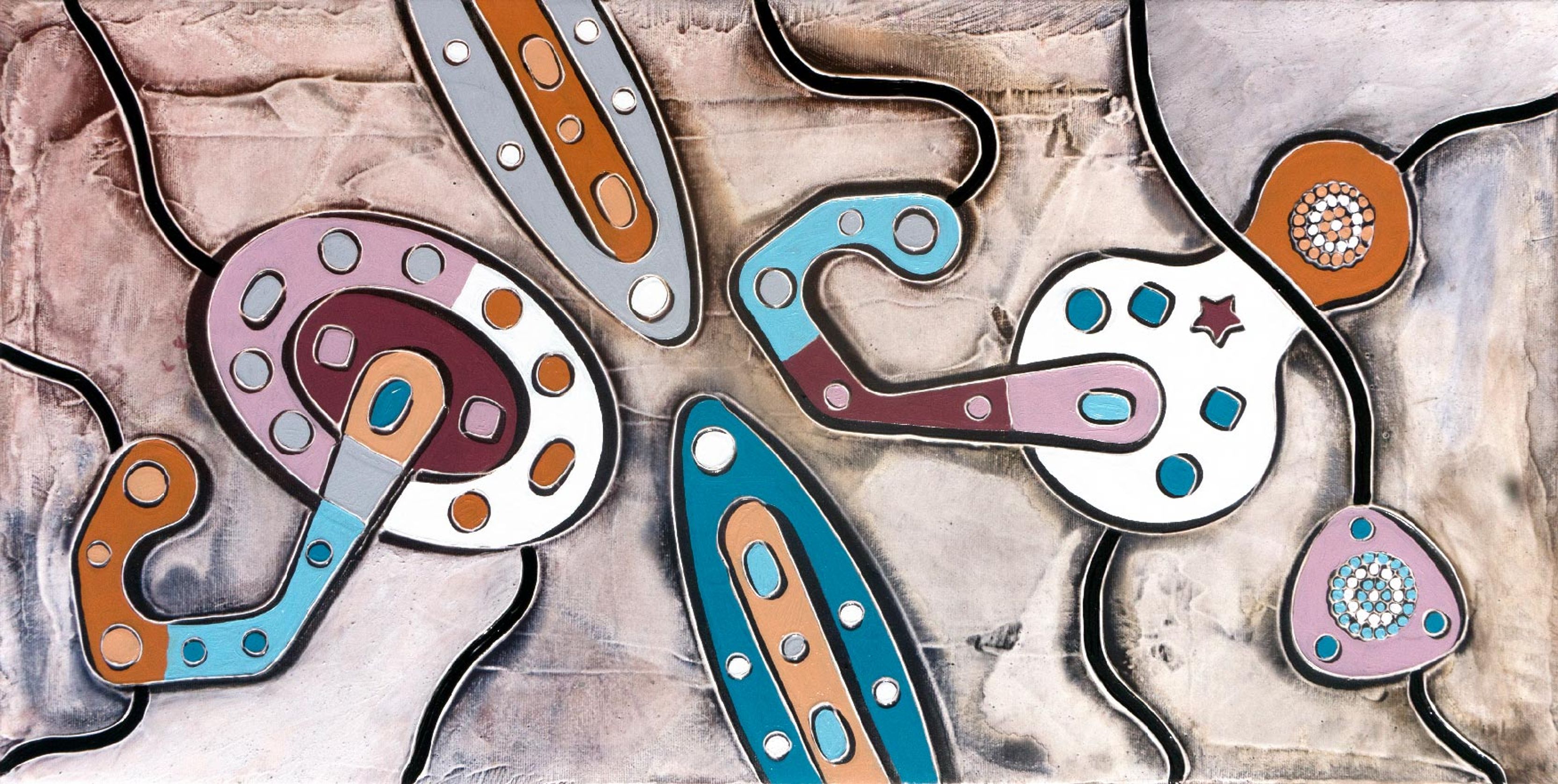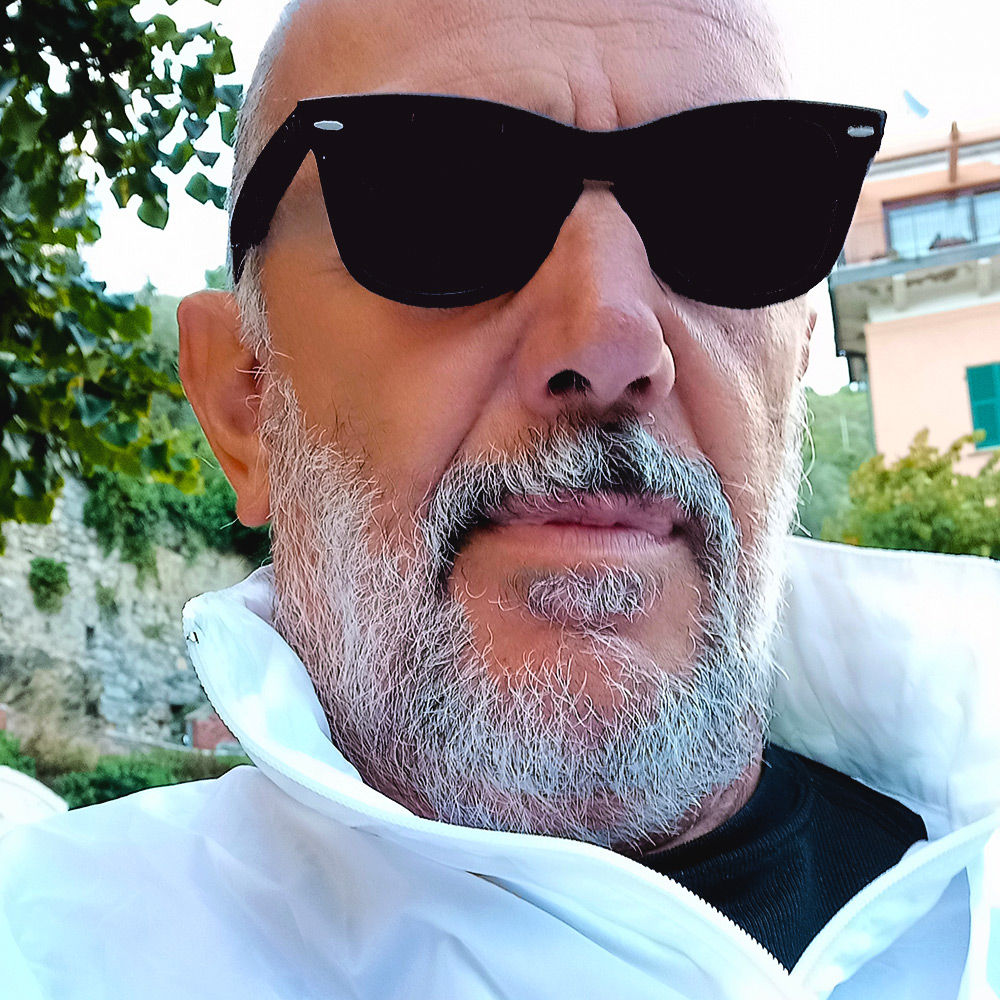 Andrea Benetti
Born: 1964
Hometown: Bologna
Based in: Bologna
𝐁𝐈𝐎𝐆𝐑𝐀𝐏𝐇𝐘 𝐎𝐅 𝐀𝐍𝐃𝐑𝐄𝐀 𝐁𝐄𝐍𝐄𝐓𝐓𝐈

Andrea Benetti was born in Bologna in 1964. He is a painter, photographer, and designer.

In 2006, he drew up the Manifesto of Neo-Cave Art, and presented in 2009 at the 53rd Venice Biennale, at the Ca' Foscari University. The Manifesto was inspired by the birth of art - prehistorical cave painting.

Andrea's artistic poetics transfigures, quotes, reinvents, and plays with ideas and forms of cave painting, creating an imaginary bridge between contemporaneity and the origin of art. For over ten years, the Bolognese artist has been carrying out projects in collaboration with various Italian and foreign universities, including Johns Hopkins University, the universities of Bologna, Ferrara, Bari, Roma Tre, Lecce and Bergamo.

Over the years, some universities have included Andrea's Neo-Cave Art in the research programme. His works have been acquired by museums and various institutional collections around the world, including that of the United Nations, the Quirinale (seat of the Presidency of the Italian Republic), the Italian Chamber of Deputies, the Vatican and some Italian Embassies around the world. In the last decade, Andrea Benetti has been received at the Quirinale, the Chamber of Deputies and the Vatican. He met Pope Benedict XVI in 2012 and Pope Francis in 2014.

Many university professors and important art critics wrote about his painting, actively participating in the projects conceived by the Emilian artist. For many years the entry Andrea Benetti has been present in many encyclopedias, including the Treccani and De Agostini (the most important Italian encyclopedias), the WikiArt encyclopedia (the most important world encyclopedia of art) and is present on Wikipedia, translated into thirty languages. In 2020, Andrea Benetti was awarded the 49th "Nettuno d'Oro" prize, the longest-running and most prestigious artistic prize in the city of Bologna.

𝐌𝐔𝐒𝐄𝐔𝐌𝐒 𝐀𝐍𝐃 𝐂𝐎𝐋𝐋𝐄𝐂𝐓𝐈𝐎𝐍𝐒

• United Nations Art Collection ∙ New York, U.S.A.
• Vatican Art Collection ∙ Vatican City
• Argentine Ministry of Justice and Human Rights Art Collection ∙ Buenos Aires, Argentina
• Virginia Commonwealth University Art Collection ∙ Richmond, U.S.A.
• Copelouzos Family Art Museum Collection ∙ Athens, Greece
• Rinaldi-Paladino Art Museum Foundation ∙ Lugano, Switzerland
• Macia ∙ Italian Contemporary Art Museum in America ∙ San Jose, Costa Rica
• Italian Embassy in China Art Collection ∙ Beijing, China
• Italian Embassy in New Zealand Art Collection ∙ Wellington, New Zealand

• Quirinale Art Collection ∙ Italian Presidency of the Republic ∙ Roma, Italy
• Montecitorio Palace Art Collection ∙ Italian Parliament ∙ Chamber of Deputie ∙ Roma, Italy
• Mambo ∙ Museum of Modern Art of Bologna ∙ Bologna, Italy
• Museion ∙ Museum of Modern and Contemporary Art Bolzano ∙ Bolzano, Italy
• University of Ferrara Art Collection ∙ Ferrara, Italy
• University of Bari Art Collection ∙ Bari, Italy
• U.N.E.S.C.O. Art Collection ∙ Bologna, Italy
• Camec ∙ Center of Modern and Contemporary Art ∙ La Spezia, Italy
• Municipality of Lecce Art Collection ∙ Lecce, Italy
• ARTinGENIO Museum ∙ Pisa, Italy
• Giacomo Casanova Foundation ∙ Venice, Italy
• O. Licini Contemporary Art Museum ∙ Ascoli Piceno, Italy
• F. P. Michetti Museum ∙ Francavilla al Mare, Italy
• A. Modigliani Museum ∙ Follonica, Italy
• S. Lega Museum ∙ Modigliana, Italy
• Speleological Museum "F. Anelli" Art Collection ∙ Grotte di Castellana, Italy
• Facchini Art Collection ∙ La Fenice et des Artistes ∙ Venezia, Italy
• Contemporary Art Museum Logudoro Meilogu Foundation ∙ Banari, Italy

𝐁𝐈𝐎𝐆𝐑𝐀𝐅𝐈𝐀 𝐃𝐈 𝐀𝐍𝐃𝐑𝐄𝐀 𝐁𝐄𝐍𝐄𝐓𝐓𝐈

Andrea Benetti è nato in Italia nel '64. Egli ha elaborato il Manifesto dell'Arte Neorupestre nell'anno 2006, successivamente (2009) presentato alla 53ª Biennale di Venezia, presso l'università Ca' Foscari. Il Manifesto affonda le proprie radici nella genesi dell'arte, nata nelle grotte della Preistoria. Andrea Benetti mutua, rielabora, riscrive le forme ed i concetti propri alla pittura Rupestre, figurando un ponte concettuale tra l'arte odierna e la propria genesi. Da molti anni, Andrea Benetti crea progetti e collabora con varie università, tra cui la Johns Hopkins University, le università di Ferrara, Roma Tre, Bologna, Bari, Lecce e Bergamo. Alcune di esse hanno svolto la loro ricerca sull'arte contemporanea proprio sulla pittura Neorupestre di Andrea Benetti. Le opere del maestro emiliano sono presenti in tutto il mondo, nei musei e nelle collezioni istituzionali, tra cui quella del Quirinale (sede della Presidenza della Repubblica Italiana), delle Nazioni Unite, del Vaticano, della Camera dei Deputati e di alcune Ambasciate. Andrea Benetti è stato ricevuto al Palazzo del Quirinale, alla Camera Italiana dei Deputati ed in Vaticano, dove incontrò Papa Benedetto XVI (2012) e Papa Francesco (2014). Durante la sua attività, vari professori universitari e critici d'arte di rilievo hanno aderito attivamente ai suoi progetti ed hanno scritto sulla sua arte. Da parecchi anni "Andrea Benetti"  è divenuta una voce enciclopedica, presente su varie enciclopedie, tra cui la Treccani e la De Agostini, che sono le più importanti enciclopedie italiane, WikiArt (la più importante enciclopedia online d'arte a livello mondiale) e su Wikipedia è tradotta in trenta lingue. Nell'anno 2020, ad Andrea Benetti è stato assegnato il 49° Premio Nettuno d'Oro, il premio annuale, nato nel 1971, più prestigioso della città di Bologna, dedicato all'artista dell'anno.
---
---
Andrea Benetti In The Studio
"The painting of the future was born in caves".Andrea Benetti
---
More About Andrea Benetti
What inspires you?
My inspiration comes from the origin of art. From cave painting, which tens of thousands of years ago filled the caves of prehistory.
Describe your creative process.
I can't explain what happens when I decide to create my work. I happen to transcend and lose the sense of time and space, as if immersed in a new world, which I will soon make known to the world, but I feel it as if it were not mine, but already existing thanks to someone else.
What are 3 words that best describe your work?
Strength, evocation, transcendence
Who are some artists that have influenced your work?
Joan Mirò, Wassily Kandinsky, Paul Klee, Keith Haring
What is the most important tool when creating your work?
The brush
What is the best piece of advice you have been given?
Forget the acrylics and use oil paints
Where do you go for inspiration?
In my studio inspiration is born, which is the sum of experiences, travels and thoughts elaborated day by day, everywhere and at any time.
---
Collections Featuring Andrea Benetti
1 Collection
---
Credentials
Education
Accademia di Belle Arti
Italy, 1991
liceo artistico
Italy, 1984
Awards
Awarding of the Nettuno d'Oro Award of Bologna
2020
International Excellence Award at the University of Bari
2014
Special invitation to the LXI Michetti International Award
2010
LIII Venice Biennale: presentation Manifesto of Neo Cave Art
2009
Exhibitions
"London photo show 2022 · "Regno Unito · Londra · OXO Tower, Bargehouse Gallery, South Bank
United Kingdom, 2022
"Timeless shapes" · Bologna · Assemblea legislativa Regione Emilia Romagna
Italy, 2021
"inMovimento" · Bologna · Ex Ospedale dei Bastardini
Italy, 2017
"Volti contro la violenza" · Bologna · Palazzo D'Accursio
Italy, 2017
"Pater Luminum" · Gallipoli · Museo Civico di Gallipoli
Italy, 2017
"preHISTORIA CONTEMPORANEA" · Ferrara · Palazzo Turchi di Bagno · Università di Ferrara
Italy, 2016
"Omaggio alla pittura Rupestre" · La Spezia · Museo del Castello di San Giorgio
Italy, 2016
"Signum Crucis · "Bologna · Ex Ospedale dei Bastardini
Italy, 2016
"Astrattismo delle origini" · Lecce · Castello Carlo V
Italy, 2015
"VR60768 · anthropomorphic figure" · Roma · Camera dei Deputati
Italy, 2015
alla roccia alla tela · Il travertino nella pittura Neorupestre" · Ascoli Piceno · Palazzo dei Capitani del Popolo
Italy, 2014
"Il colore della luce – opere in bianco" · Bologna · Ex Ospedale dei Bastardini
Italy, 2014
"Colori e suoni delle Origini · La genesi della pittura" · Bari · Universitá Aldo Moro · Ex Palazzo delle Poste
Italy, 2014
"Symphonie de Couleurs II" · Venezia · Palazzo Merati d'Audiffret de Greoux
Italy, 2013
"Colori e suoni delle Origini" · Bologna · Palazzo D'Accursio
Italy, 2013
"Il Simbolismo nella pittura Neorupestre" · Siracusa · Galleria d'Arte Contemporanea Montevergini
Italy, 2012
"La Colección de Arte Contemporáneo Italiana" · Costa Rica · San Josè · Banco Nacional del Costa Rica
Costa Rica, 2012
"Tracce apocrife" · Roma · Palazzo Taverna · Modigliani Intitut Archives Légales Paris - Rome
Italy, 2012
"M173 Cro–Magnon · Tracce apocrife" · Bologna · Palazzo Pepoli · Campogrande
Italy, 2012
Bologna · Grand Hotel Baglioni · "B.P. Before present"
Italy, 2011
"La pittura Neorupestre" · Grotte di Castellana (BA) · Caverna "La Grave"
Italy, 2011
"I contemporanei a Follonica" · Follonica (GR) · Pinacoteca Amedeo Modigliani di Follonica
Italy, 2011
Bologna · Tedofra Art Gallery · "Anfratti della pittura neorupestre"
Italy, 2011
"Portraits d'Artistes · Roma · Palazzo Taverna · Modigliani Institut
Italy, 2010
"Diorama italiano" · Francavilla al Mare (CH) · MuMi · Museo F. P. Michetti
Italy, 2010
"L'antico incontra il moderno" · Bologna · Galleria Fondantico
Italy, 2009
Mostra personale · Bologna · Royal Carlton Hotel
Italy, 2009
"La pittura come emozione" · Palazzo Malvezzi · Sede della Provincia di Bologna
Italy, 2009
Presentazione del Manifesto dell'Arte Neorupestre · Venezia · 53. Biennale di Venezia
Italy, 2009
Mostra collettiva con l'esposizione della "Cariatide" di Amedeo Modigliani · Milano · Fondazione Mantovani
Italy, 2009
Festa d'Europa · Foggia · Palazzo "Dogana" sede della Provincia di Foggia
Italy, 2009
"La Pittura Neorupestre" · Roma · Palazzo Brancaccio
Italy, 2009
Guerra e Pace" · Museo delle Genti d'Abruzzo
Italy, 2008
Mostra personale · Roma · Aeroporto di Pratica di Mare
Italy, 2008
"Memory" · Johns Hopkins University
Italy, 2008
"Olio e cacao su tela" · Bologna · Atelier Zensi
Italy, 2008
MINT · Milano · Castello Sforzesco
Italy, 2008