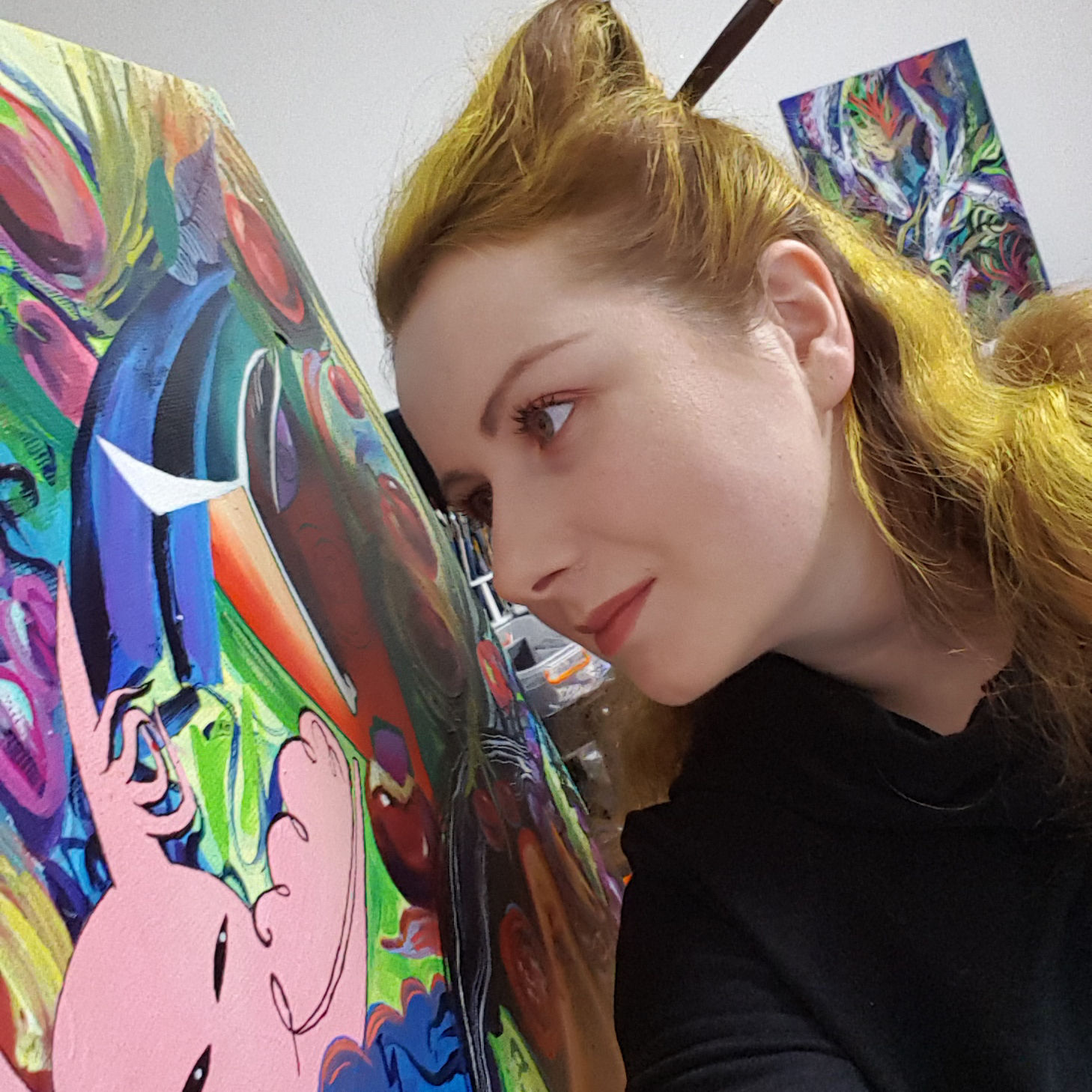 Anna Onikiienko
Born: 1990
Hometown: Kropyvnytskyi
Based in: Yerevan
Currently I am inspired by East Asia culture and folk art. Often I create my works intuitively without preliminary sketching. Sometimes I use multi-layer paintings when one picture overlaps another one, and sometimes elements of collage are present. I use mixed technique in my works layering simultaneously different materials: acrylic, oil, oil pastel, watercolor, ink.

I create my paintings in series devoted to specific themes. Often my paintings are not bereft of irony and humor, painting personages can get into funny situations
---
---
Anna Onikiienko In The Studio
---
More About Anna Onikiienko
What inspires you?
I am inspired by oriental art, naive art, children's art and handicrafts
Describe your creative process.
Most often these are intuitive sketches and painting on canvas. Sometimes my characters can have prototypes in real life.
What are 3 words that best describe your work?
Whimsical. Pop Surrealism. Funny.
Who are some artists that have influenced your work?
Naive painters, Japanese and Chinese painters, Pre-Raphaelites and Impressionists
What is the most important tool when creating your work?
Quality paints and my energy
What is the best piece of advice you have been given?
"Don't think about making art, just get it done. Let everyone else decide if it's good or bad, whether they love it or hate it. While they are deciding, make even more art."
Where do you go for inspiration?
To the Oriental Museum
---
Collections Featuring Anna Onikiienko
11 Collections
---
Articles Featuring Anna Onikiienko
1 Article
---
Credentials
Education
Ukrainian National Institute of Culture and Arts
Ukraine, 2012