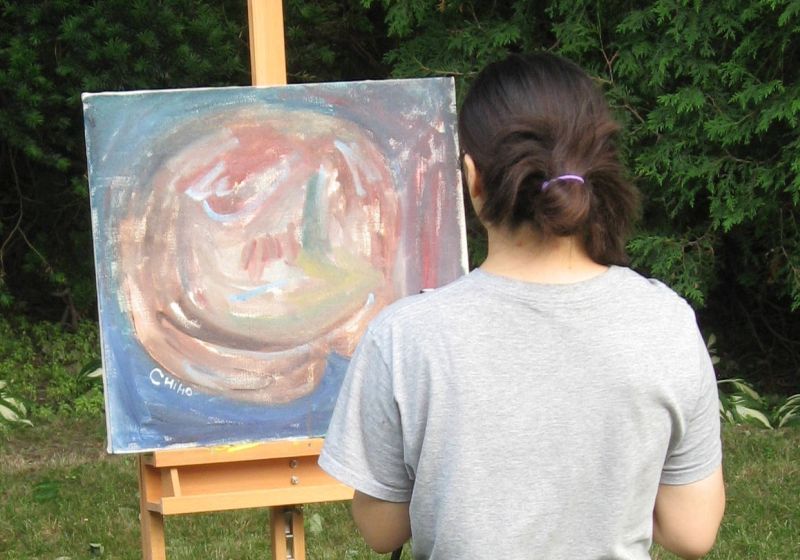 Chiho Yoshikawa
Born: 1974
Hometown: Japan
Based in: Toronto, Canada
Chiho Yoshikawa describes her painting approach as a blend of her outer perception with her inner thoughts and emotions. This merge is evident in her idiosyncratic, intimate portrayals of the natural world.

Born in in Japan in 1974, Chiho has travelled extensively in search of inspiration for her work. She has been exhibiting internationally for over 20 years and her work is in many private collections in the U.S., Canada, Japan and Europe.

Chiho first started to draw before she could talk. Her skills developed through extensive practice, both in school and at home, and her art career officially began in 1999 when she was living in Cork, Ireland. She is largely self-taught as a painter with influences from Van Gogh and other western artists.

Between 2001 and 2006, Chiho relocated to key art cities in France, the United States and the Netherlands. Through visiting galleries and sharing studios with seasoned artists, she saturated herself with styles and techniques of western and modern art. Her work developed further through short trips to Australia, New Zealand, French Polynesia, Scandinavia and Western and Central Europe.

During her journeys, she was constantly productive and her new creations from that time ranged from watercolour and comic drawing to oil and acrylic painting. She also experimented with the different styles of realism, abstraction, impressionism and expressionism.

In 2006, she moved to Canada and soon she settled in Toronto. Inspired by the abundant nature in her neighbourhood, she started exclusively focusing on nature scenes as her subject matter. Following visits to a number of nature parks in Alberta, Quebec and Ontario (including Banff and Jasper National parks), she further developed her unique style of expressionism.

Her paintings have been noted for their vibrant colors, brisk brushstrokes and textural depth. Chiho exaggerates her tones and scale in service of a larger truth, which is her own personal depiction of reality. Within the boundaries of these painted, heightened worlds the light and colours move with the passion that came from the artist's unique experience with the physical world around her.
---
We don't have any works from this artist at the moment.
Get in touch at contact@theartling.com to find out more.
---
Chiho Yoshikawa In The Studio
---
More About Chiho Yoshikawa
What inspires you?
Something new
What are 3 words that best describe your work?
Colourful, emotional, intuitive
Who are some artists that have influenced your work?
Jackson Pollock, Vincent Van Gogh, Claude Monet
What is the best piece of advice you have been given?
We can do anything we want to do in life.
---
Credentials
Exhibitions
Artexpo New York
United States of America, 2014
ArtHamptons
United States of America, 2013
Limitless Expressions
Canada, 2013
Abstraction in Visual Art
Canada, 2012
City Aspect
United States of America, 2002