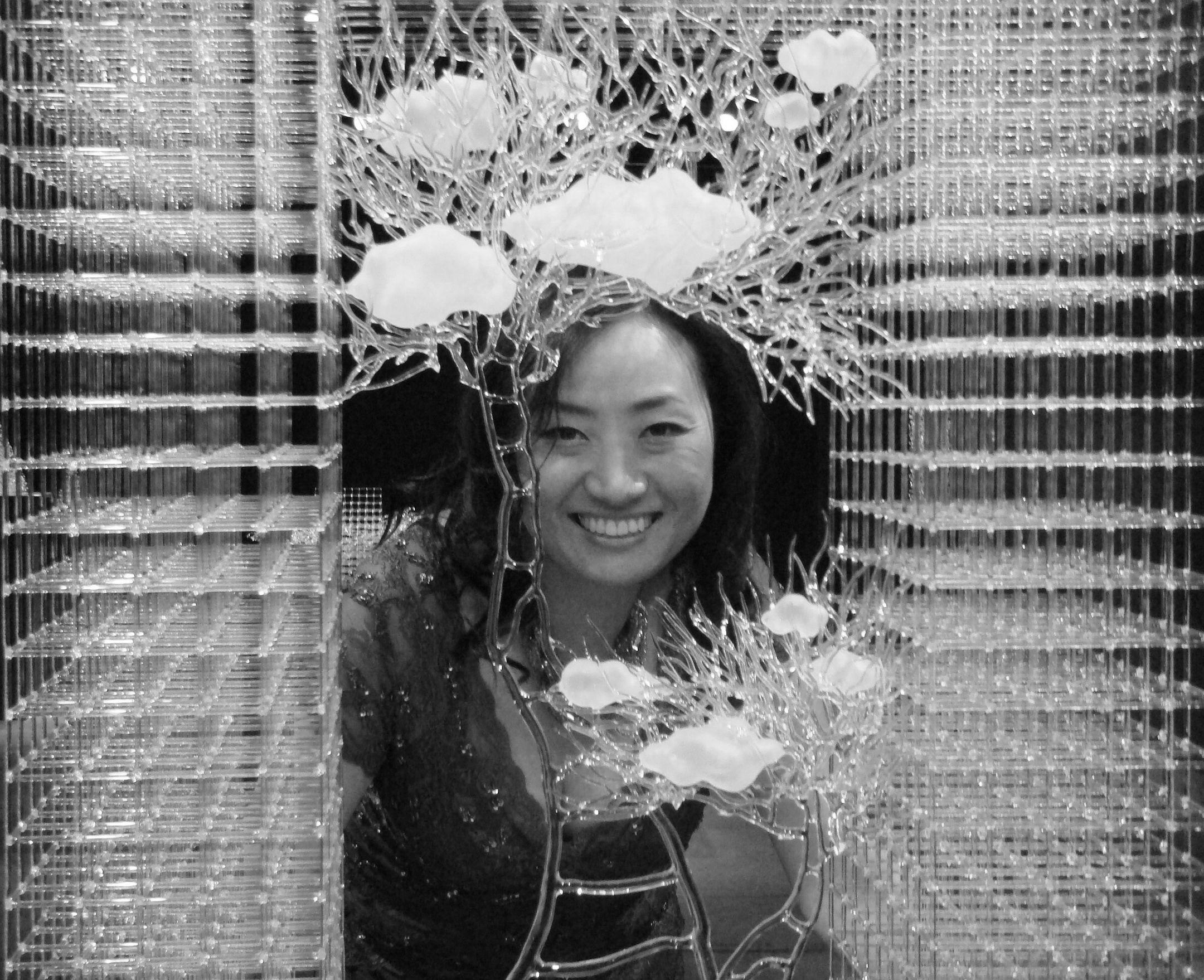 Eunsuh Choi
Born: 1977
Hometown: Seoul, South Korea
Based in: Rochester, NY
Korean-born glass artist Eunsuh Choi is a portrait artist, whose flameworked pieces are personal narratives, portraits of her own moments of growth.

Eunsuh Choi's is the archetypal immigrant's tale run through the artist's filter. Choi arrived in the U.S. having already completed a Master's degree in glass from Kookmin University (Korea), but determined to pursue further glass education. She chose the Rochester Institute of Technology (RIT) as a place where she could both study English and earn a second MFA degree in glass.

Eunsuh Choi uses flameworking techniques to create objects and installations composed of intricately fused glass threads. Sitting in diligent concentration behind a small torch, she bends and joins thin glass rods into complex arrangements and systematic structures evoking the textiles she studied in Korea.
Today, the artist forms countless tiny glass rods into a cube composed within a perfect hexahedron. Eunsuh works her way through a psychological journey that juxtaposes aspiration and limitation; meanwhile, the forms in her art shift to reflect the mental work. She has produced a succession of melting ladders, cages, boxes, and trees. "In my current work I combine a box or house with the organic form of the tree. The tree becomes a metaphor for the self -- reaching, climbing, singing, and striving. I place the tree inside the box or house, a cage with triangular symmetrical shapes as the object that lives and breathes and has the capability of growing or dying. It represents my struggle inside the box of my existence when, as a foreigner and woman, I come across limitations on the attainment of my dreams. I am in the process of flameworking my way out of the box."

Choi strongly prefers to work larger than life. One piece "Aspiration" which is 12ft height is on permanent collection at the Corning Museum of Glass. Her artworks are also in the European Museum of Modern Glass (Germany), Cafesjian Center for the Arts, Cafesjian Foundation (Armenia), The Corning Museum of Glass (USA), Rochester Institute of Technology (USA), Korea Craft Museum (KOREA), Kim Young English Institute (KOREA), EU Glass (USA), LG Jewelry Museum (KOREA), Tozour Energy Systems (USA), Byuck San Engineering Co.Ltd (KOREA) and she was nominated as a searchlight artist by the American Craft Council in 2009 and got a talent award from Jutta Cuny-Franz Foundation in Germany in April 2013.

Choi's work has been featured in a number of magazines, including Sculpture Magazine (USA), NEUES GLAS (GERMANY), The Flow magazine (USA), Coburger Tage Bllatt (GERMANY), Necie Presse (GERMANY), Pittsburgh magazine (USA), Whirl (USA), Pittsburgh Tribune-Review (USA), South Jersey Times (USA), Pittsburgh Post-Gazette (USA), 500 Rings (USA), Art Buzz (USA), NICHE Magazine (USA), Public Art magazine (KOREA), GLASHAUS (Germany), Glass (USA), Profitable Glass Magazine (USA), American Craft Magazine (USA), Baltimore Style Magazine (USA), Jungle Magazine (KOREA), Luxury Magazine (KOREA), New Glass Review (USA). She has given lectures at The State University of New York College at Brockport (USA), International Flameworking Conference (USA), Tyler School of Temple University (USA), Chungju University (KOREA), Kookmin University (KOREA), Wilson High School (USA), UrbanGlass (USA), International Society of Glass Beadmakers (USA), Hongik University (KOREA), and Cornish College of the Arts (USA).

Choi has been working glass for over 19 years and has broad knowledge in all aspect of glass.
Eunsuh Choi seems destined to be a notable presence on the American glass art stage for years to come.
---
---
Eunsuh Choi In The Studio
---
More About Eunsuh Choi
Describe your creative process.
I use Flameworking technique at torch to create my glass sculptures
---
Collections Featuring Eunsuh Choi
2 Collections
---
Articles Featuring Eunsuh Choi
1 Article
---
Credentials
Awards
2nd Prize, Made in NY
2020
Glass Art Emergency Relief, Corning Corp
2020
2nd Prize, Flint Institute of Arts
2019
highest Academic Achievement, Monroe Community College
2019
Most qualifications, Monroe Community College
2019
People's Choice, Flint Institute of Arts
2019
Women in Glass, The Flow
2018
1st Prize, Delphi Art Glass
2016
2nd and 3rd Prize, Delphi Art Glass
2015
1st Prize, Delphi Art Glass
2014
Professional Flameworking, NICHE
2014
Talent Award, Jutta Cuny-Franz Memorial
2013
People's Choice, Penn State University
2011
3rd Prize, Delphi Art Glass
2010
Metropolitan Contemporary Glass Fellowship, Urban Glass
2009
Corning Award, Pilchuck Glass School
2009
The Becky Winship, Glass Art Society
2008