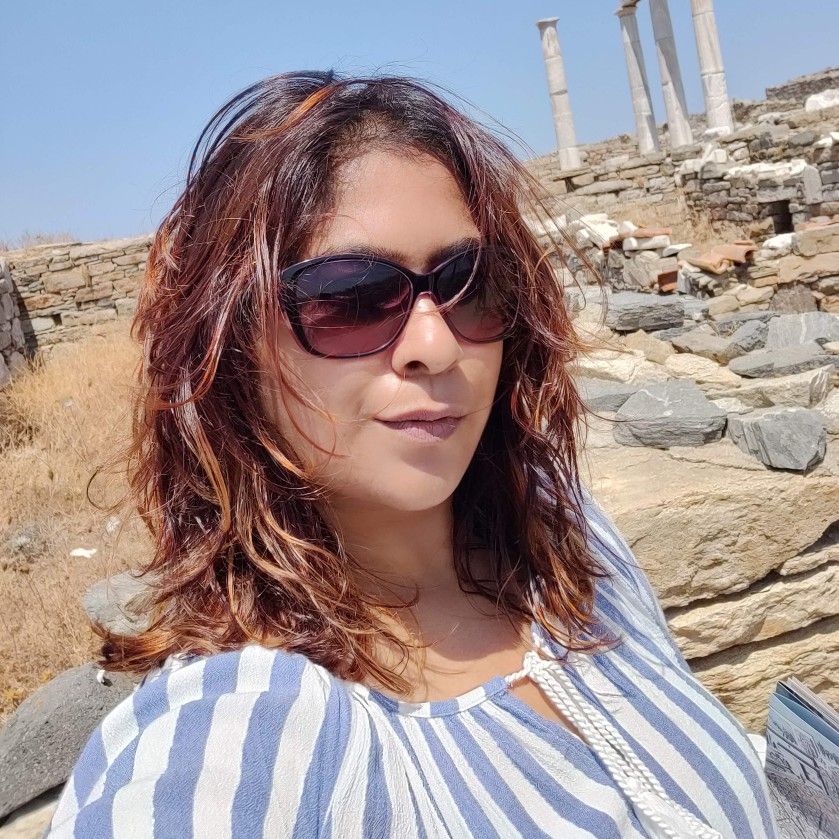 Ketki Fadnis
Born: 1979
Hometown: Vadodara
Based in: Pune
Ketki Fadnis is an artist from Pune, India and works from her home studio. She works in multiple media like Acrylic, Watercolour, Mixed-media and Collage. She is a Post Graduate in Management and also holds a Diploma in Textile Design. She turned her passion into profession and has been displaying her art in multiple group exhibitions.

Being self taught, she believes, painting is an intriguingly personal process.

Describing her genre of work, she finds inspiration primarily from nature and its creations. Her intuitive style to juxtapose mark-making, shapes and patterns over the abstract backgrounds, makes a unique story. Her paintings are impressions of life experiences, memories, imagination and observation of nature, creating her own visual vocabulary. Painting is meditative and helps her to express and balance.

She strives to spread smiles and provide moments of happiness by touching the lives of people through her creations.

​
---
---
More About Ketki Fadnis
What inspires you?
Nature and its creations.
What are 3 words that best describe your work?
Vibrant, Intuitive, Expressive
Who are some artists that have influenced your work?
S H Raza, Mark Rothko. Henri Matisee, Paul Klee, Vasudeo S Gaitonde, Bharti Kher
---
Collections Featuring Ketki Fadnis
4 Collections
---
Credentials
Education
Gandhi Insitute of Fashion and Textile
India, 2005
Maharaja Sayajirao University
India, 2002
Exhibitions
Spandan art, Hotel Taj Art Gallery
India, 2019
Mumbai Art Fair, Mumbai
India, 2018
India Art Festival, Delhi
India, 2018
Stop Making Sense, Mumbai
India, 2014
The Art Loft, Mumbai
India, 2013
Group exhibition, Bal Gandharava Rang Mandir, Pune
India, 2011
ArtFest, India Art Gallery, Pune
India, 2010