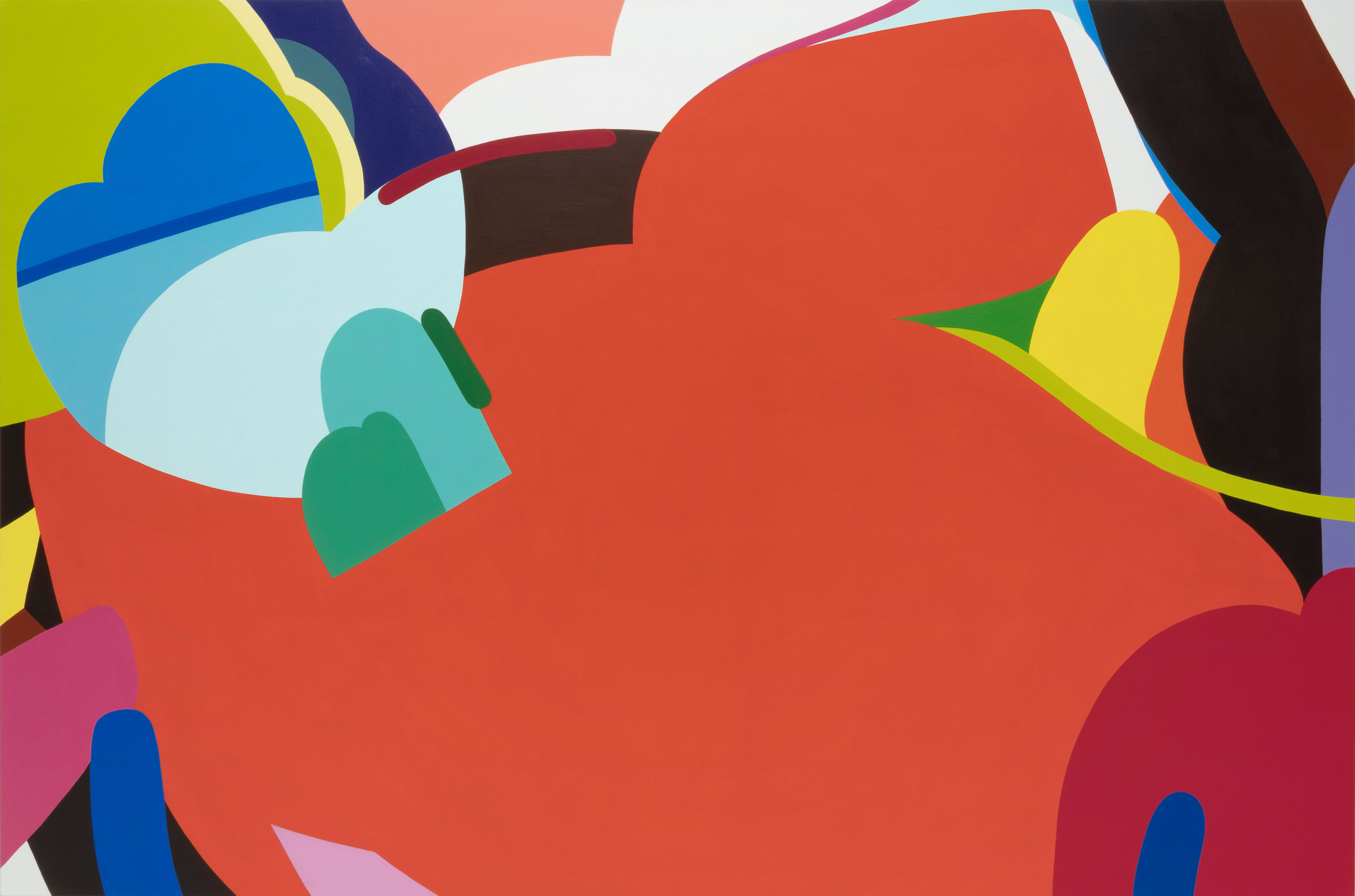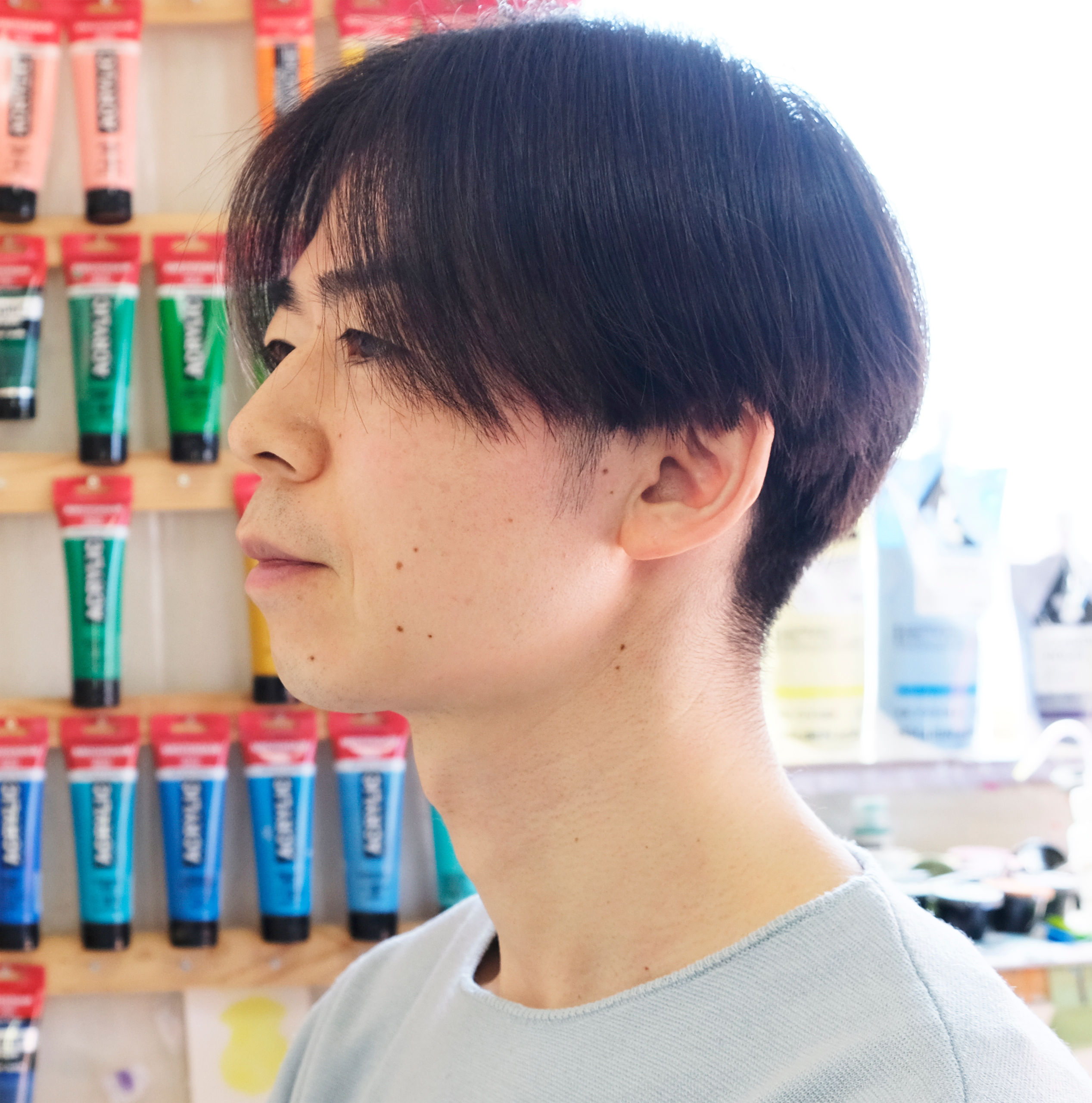 Kotaro Machiyama
Born: 1980
Hometown: Chiba, Japan
Based in: Tokyo
Born in 1980 in Chiba Japan, and has now made Tokyo, Japan his base.

ARTIST STATEMENT
Shifting Consciousness.

I explore the causes of my attraction to an object, and then create a work of art using the shapes and colors I find as a result.
The abstract works, shaved down and simplified, pose questions to the viewer.
These questions prompt the viewer to think, and even if only slightly, to move their consciousness away from the situation of "now".
This is to enjoy "thinking" itself.
It is similar to the feeling of living in an "extraordinary" world; a world other than reality, such as the same feeling when you go to the movies or travel.

In ancient Japan, festivals and Sake were prepared for the "Hare" (extraordinary) days to get rid of the "Kegare" (bad things) accumulated in daily life and to gain vitality.
However, the glamour of the festivals and the Sake that had been part of the "Hare" (extraordinary) days became part of the daily life. Therefor, the "Kegare" (bad things) could no longer be removed.

Shifting consciousness becomes a tool to enter to the "Hare" (extraordinary) days in its original meaning.

PRIZE/SELECTED/PRESS
2017
Rise Art Prize, highly commended, UK
Magazine "Pinzel" interview, Korea
"J-WAVE TIME TABLE" grand prize, Japan
2011
Sapporo Pre-Biennale Contemporary Art Exhibition 2011 International Art-Proposal Competition selected
The six time "Daikokuya contemporary art award" selected
2009
The third time "VISUAL ART AWARD BY INTERNATIONAL ART & DESIGN COLLEGE" Mariko Abe award winning and more..
---
---
Kotaro Machiyama In The Studio
---
More About Kotaro Machiyama
What inspires you?
It is the first place to go and the first view. In my immediate surroundings, I am often inspired by parks with lots of nature.
What are 3 words that best describe your work?
Abstract, Colorful and Simple
Who are some artists that have influenced your work?
Joan Miró
Where do you go for inspiration?
Galleries and Art Museums
---
Collections Featuring Kotaro Machiyama
9 Collections
---
Articles Featuring Kotaro Machiyama
4 Articles
---
Credentials
Education
Setu・Mode Seminar
Japan, 2008
Tokyo Zokei University of Art and design subject dye major
Japan, 2004
Awards
J-WAVE TIME TABLE- Grand prize- Tokyo, Japan
2017
Rise Art Prize - Nominated- United Kingdom
2017
The six time "Daikokuya contemporary art award" - Nominated-
2011
Graphic Design in Japan 2011 - Nominated- Tokyo, Japan
2011
Tokyo TDC 2011 - Nominated- Tokyo, Japan
2011
Sapporo Pre-Biennale Contemporary Art ... Nominated
2011
"VISUAL ART AWARD BY INTERNATIONAL ..."- Mariko Abe award
2009
Exhibitions
"Concerto" at arflex nagoya and arflex tamagawa
Japan, 2022
#SHAPEOFTHENEW", CasildART, U.K., Online
United Kingdom, 2021
WAKARANAI MONO GA SUKI
Japan, 2020
"Summer Tracks", Programa Taide, Spain, Online
Spain, 2020
ASYAAF 2014
South Korea, 2014
The six time "Daikokuya contemporary art award"
Japan, 2011
"The third time VISUAL ART AWARD BY INTERNATIONAL ART & DESIGN COLLEGE" Winning exhibition,
Japan, 2009