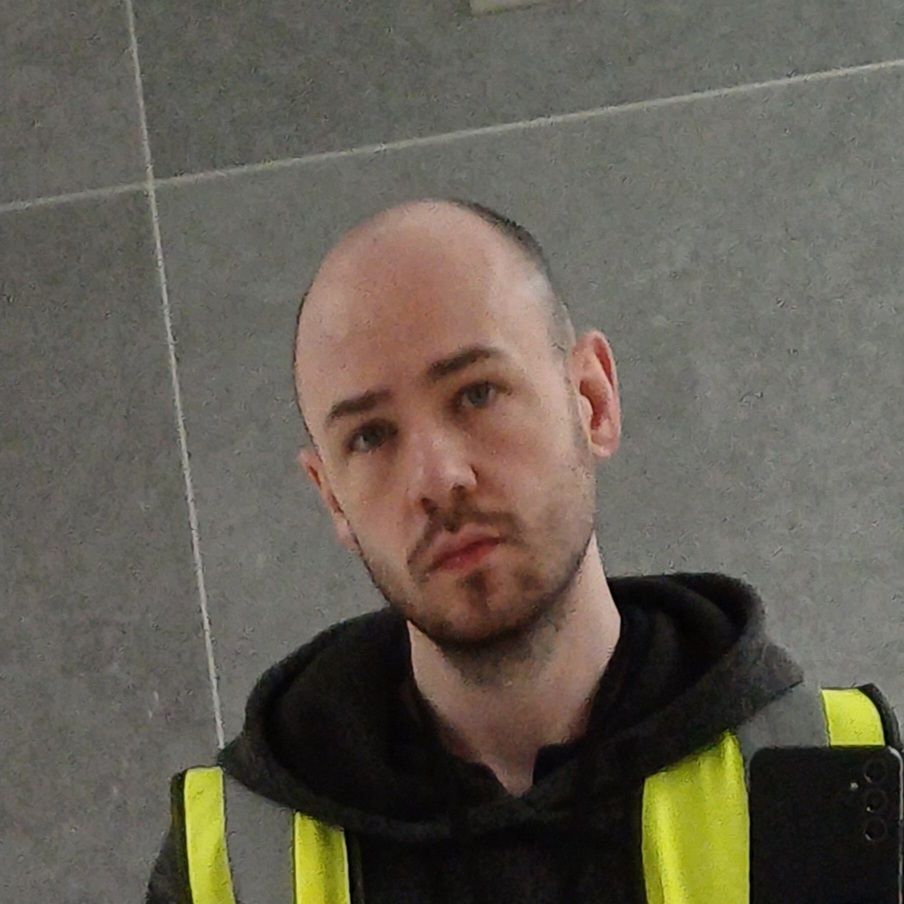 Lewis Buttery
Hometown: Leicester
Based in: Leicestershire
Lewis Buttery's works are mostly about mental health and social class. His style, as a result, is like a mix of expressionism and street art.

Lewis was born in Leicester, UK and was introduced to the art world by local charity Soft Touch Arts in 2013 - after dropping out of his A Levels during his worst period with his mental health. He immediately started practicing as a self-taught artist, taking part in a group residency and exhibitions that year. The following year he started delivering workshops on behalf of the charity: which he continued doing until 2018 within arts organisations, schools, youth clubs, council estates, and prisons.

During that period Lewis was in the local paper and on the local BBC Radio station more than once. He was involved with numerous big projects, like curating Leicester's leg of the touring Generation Art exhibition and being a speaker on the corresponding panel talk.

In 2016 Lewis decided that he wanted to improve his skills - so he chose to do a Foundation in Art & Design alongside his professional practice, part time at De Montfort University. Upon completion, in 2018, he then began a full-time BA in Fine Art at UAL: Central Saint Martins. While there he was awarded the annual BWW residency with Liquitex, and also took part in the Tate Exchange programme at Tate Modern. He ended up graduating during a COVID lockdown in 2021.

Since then Lewis has been living and working back home in Leicestershire. He's gotten involved with the Working Class Creatives Database - exhibiting in group shows with them and having spoken at the WCBAN x WCCD: Know Your Working Class Artists event, hosted online by the Southbank Centre.
---
---
More About Lewis Buttery
What inspires you?
Catharsis
Describe your creative process.
Generally I get stuck in with no specific plan, but cumulatively build up contrasts - I might contrast complimentary colours, then dark vs light, then smooth vs textured, then thin vs heavy body, drippy vs not, until I have something that feels done
What are 3 words that best describe your work?
Emotive, bold, and dramatic
---
Credentials
Education
BA Fine Art, University of the Arts London: Central Saint Martins
United Kingdom, 2021
Foundation Art & Design, De Montfort University
United Kingdom, 2018
Exhibitions
'20 x 20 VISION', group show, Citizens Art London
United Kingdom, 2023
'Blunderbuss', group show, Two Queens, Leicester
United Kingdom, 2022
'GR22', residency, Two Queens, Leicester
United Kingdom, 2022
'This is not a show', Pineapple Black, Online
United Kingdom, 2021
'Story of Soft Touch in 35 artworks', group show, Soft Touch Arts, Leicester
United Kingdom, 2021
'Looks like its gunna rain', group show, Motion Sickness Project Space, Cambridge
United Kingdom, 2021
'Virtual Summer Exhibition Part I', The Flux Review, Online
United Kingdom, 2021
'Tate Exchange (SALE)', group show, Tate Modern, London
United Kingdom, 2020
'Stay Connected', group show, Online
United Kingdom, 2020
'Big Walls & Windows', residency, Liquitex, London
United Kingdom, 2020
'Endless Houseshare', group show, Safehouse 1 & 2, London
United Kingdom, 2019
'Positive Affirmations', Cordwainers Court Window Galleries, London
United Kingdom, 2019
'Line Drawings', Cordwainers Court Window Galleries, London
United Kingdom, 2019
'The Image Is The Servant V (Body Beautiful)', group show, De Monfort University The Venue, Leicester
United Kingdom, 2018
Group show, The Blue Boar, Leicester
United Kingdom, 2018
'The Fruits of Our Labour', group show, Soft Touch Arts, Leicester
United Kingdom, 2018
'L.O.V.E. Art', group show, New Walk Museum, Leicester
United Kingdom, 2017
'WINGS', residency, Soft Touch Arts, Leicester
United Kingdom, 2017
'Open 27', New Walk Museum, Leicester
United Kingdom, 2016
'Summer Art Trail', group show, StudionAme, Leicester
United Kingdom, 2016
'86:16', group show, Soft Touch Arts, Leicester
United Kingdom, 2016
'Summer Open', Cank Street Gallery, Leicester
United Kingdom, 2016
'The Image is the Servant II (Fearful)', group show, Hansom Hall, Leicester
United Kingdom, 2015
'Somewhereto_FRAMED', group show, Silver Arcade, Leicester
United Kingdom, 2015
'Bleeding HeART', group residency, Queen of Bradgate Upstairs, Leicester
United Kingdom, 2015
Group show, The Orange Tree, Leicester
United Kingdom, 2014
'Open Exhibition', Cank Street Gallery, Leicester
United Kingdom, 2014
'Open 25', Newarke Houses Museum, Leicester
United Kingdom, 2014
'LuvLeicester / The Unusual', group show, Highcross, Leicester
United Kingdom, 2014
Group residency, University of Leicester Botanic Garden
United Kingdom, 2013
'Unrestricted', group show, Highcross, Leicester
United Kingdom, 2013
Group show, Soft Touch Arts, Leicester
United Kingdom, 2013