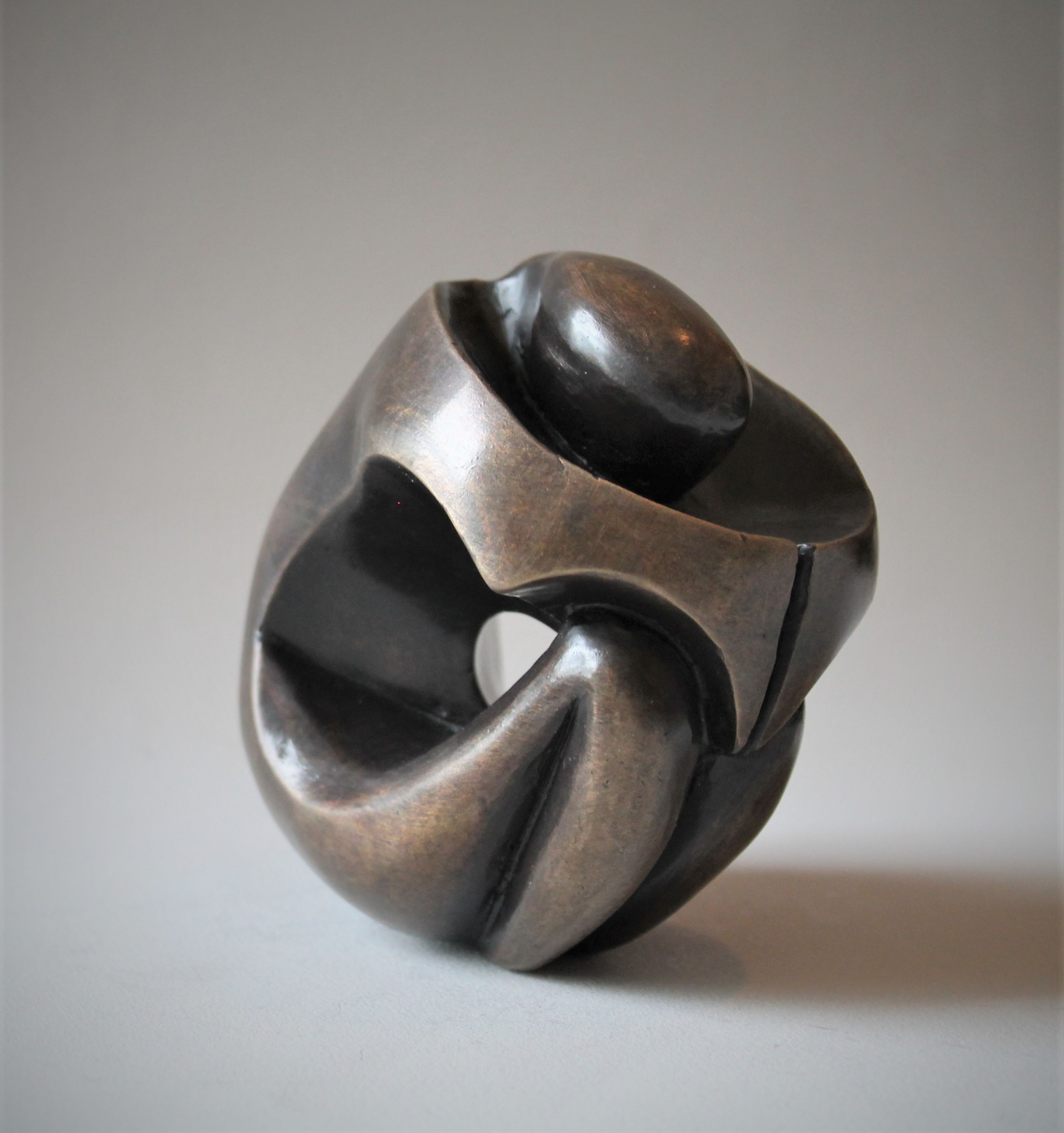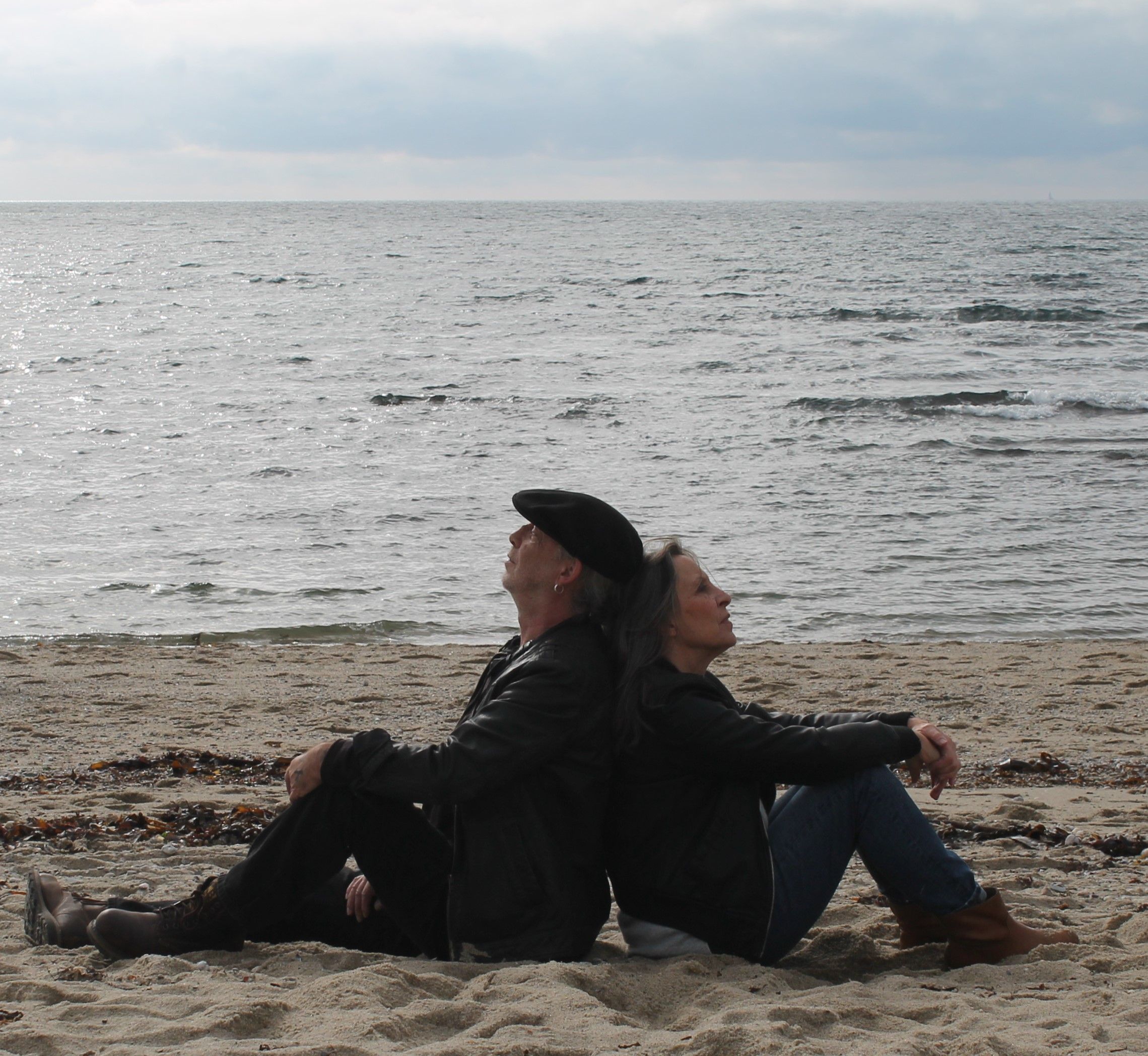 Monique Robben and Andy Sheppard
Born: 1956
Hometown: Mid Cornwall
Based in: Mid Cornwall
Andy Sheppard and Monique Robben are a couple and living in Mid Cornwall. Monique is a painter and they work together creating raku ceramics/ sculptures as well as bronzes. Selling internationally and working with Raku and post firing techniques.

Andy was born in West Wales.
He did a three year apprenticeship in Pembroke as a production potter, 1981 , and moved on to do glaze chemistry and clay technology at Carmarthen Art School Jobswellroad. At this point Andy discovered his interest in Raku Ceramics.
He soon became known for the precicion of his thrown work and combined the precise classsical shapes of his thrown work with the randomness and spontaneity of the glazed effect wich is inherent in the process of Raku firing. In 1990 he opened his own gallery.

Monique Robben was born in The Hague, the Netherlands. Graduated in Textiles and Fashion at the Royal Academy of Art in The Hague in 1984.
Working for the council of The Hague making paintings for their educational exhibitions, giving painting lessons for more then 20 years, she now paints full time.
She is passionate about painting, specifically seascapes and clouds. Over the years she developed a semi abstract style. Using the palette knife often to achieve a mix between tranquility and a textured image.
Since she moved to the UK and became a couple with Andy Sheppard, next to painting, she started to work with Andy making ceramic sculptures in raku firing techniques.
---
---
Monique Robben and Andy Sheppard In The Studio
Images from our Raku studio showing the process of Raku firing. As well creating ceramics, handbuild and wheel thrown. In the Raku process the ceramic is fired to 1050C, then pulled from the kiln and then placed in a container with combustible materials for the post-firing techniques. The size of the objects can range from full-sized torso's to 20cm bottlenecks and bowl's.
---
More About Monique Robben and Andy Sheppard
What inspires you?
As a painter Monique get's her inspiration from looking at nature, specifically the coastline. Her recent works have become influenced by working with the Raku process. Andy get's his inspiration from precision and preciseness within his thrown work, and the balance of becoming a participator within the Raku process, the principal of chance.
Describe your creative process.
Opening our eyes to what surrounds us.
What are 3 words that best describe your work?
Spontaneity, going with the flow and preceisness.
Who are some artists that have influenced your work?
Dave Roberts, raku potter, Mick Morgan, lectorer from Camarthen Artschool Wales and Paul Roche where Andy did his 3 year apprenticeship in 1981. Monique is influenced by James Whistler, Monet 's paintings and sculptures and Howard Hodgkin.
What is the most important tool when creating your work?
The most important tool for creating our ceramics work is a good pair of heat resistant gloves.
What is the best piece of advice you have been given?
Work hard to achieve your goals and don't give up.
Where do you go for inspiration?
Walking amongst nature like ancient woodlands and the coastline.
---
Collections Featuring Monique Robben and Andy Sheppard
2 Collections
---
Credentials
Education
Royal Academy of Art in The Hague
Netherlands, 1984
Carmarthen School of Art
United Kingdom, 1984
Exhibitions
Residency Michael Wood Fine Art Gallery
United Kingdom, 2019
Whitegold China Clay Festival
United Kingdom, 2019
Residency Afternoon Gallery St.Austell
United Kingdom, 2019
Residency 9 Gallery, Fowey
United Kingdom, 2019
residency in Square Gallery
United Kingdom, 2019
Group Show Paper Pairs
Germany, 2018
Scheveningse Salon
Netherlands, 2017
Groupshow Kunst Op Scheveningen
Netherlands, 2016
Art of the Month
Netherlands, 2015
Zuiderstrand Theater
Netherlands, 2014
Fontanne Fine Arts Centre - West Wales
United Kingdom, 2009
Llantrisant Art Centre, Wales
United Kingdom, 2009
Residency Old Custom House - Cardigan
United Kingdom, 2009
Residency Iona House - Oxfordshire and Windsor
United Kingdom, 2004
Residency Art Frame Gallery - Plymouth and Tavistock
United Kingdom, 2004
Residency Dick the Dog Gallery - Penzance
United Kingdom, 2003
Residency Great Atlantic Gallery Falmouth
United Kingdom, 2003
Residency Over the Moon Gallery - St.Agnes
United Kingdom, 2002
Residency Glass House Gallery - St.Ives
United Kingdom, 2002
Residency Lemon Street Gallery - Truro
United Kingdom, 2001
Residency Chase Art Gallery - Wadebridge
United Kingdom, 2001
Residency High Tide Trading Gallery - Mevagissey,
United Kingdom, 2001
Residency Bristol Guild - Bristol
United Kingdom, 1999
Private Collector Gallery - Brandon, Cork
United Kingdom, 1999
Residency Quinlands Macroom - Cork, Ireland
Ireland, 1998
Residency Cat and Moon - Sligo
Ireland, 1998
Residency Maclaren Gallery - Ayreshire
Scotland, 1998
Residency The Laverte Quay - Cork City
Ireland, 1998
Residency Crafts Council - Dublin
Ireland, 1997
Residency Kean on Ceramics - Cork
Ireland, 1997
Residency Leap Gallery - West Cork
Ireland, 1997
Design Concourse - Galway
Ireland, 1997
Residency Baladyhob Gallery - West Cork
Ireland, 1997
Residency Quinlands Gallery - Cork City
Ireland, 1997
Residency Witchcraft - Dublin
Ireland, 1997
Residency Phoenix Ceramics - Lianboidy
United Kingdom, 1996
Residency Waterfront Gallery - Milford Haven
United Kingdom, 1995
Press
Work featured as gifts on the Late Late Show RTE, Ireland
1998
Irish Times Interior Magazine
1998