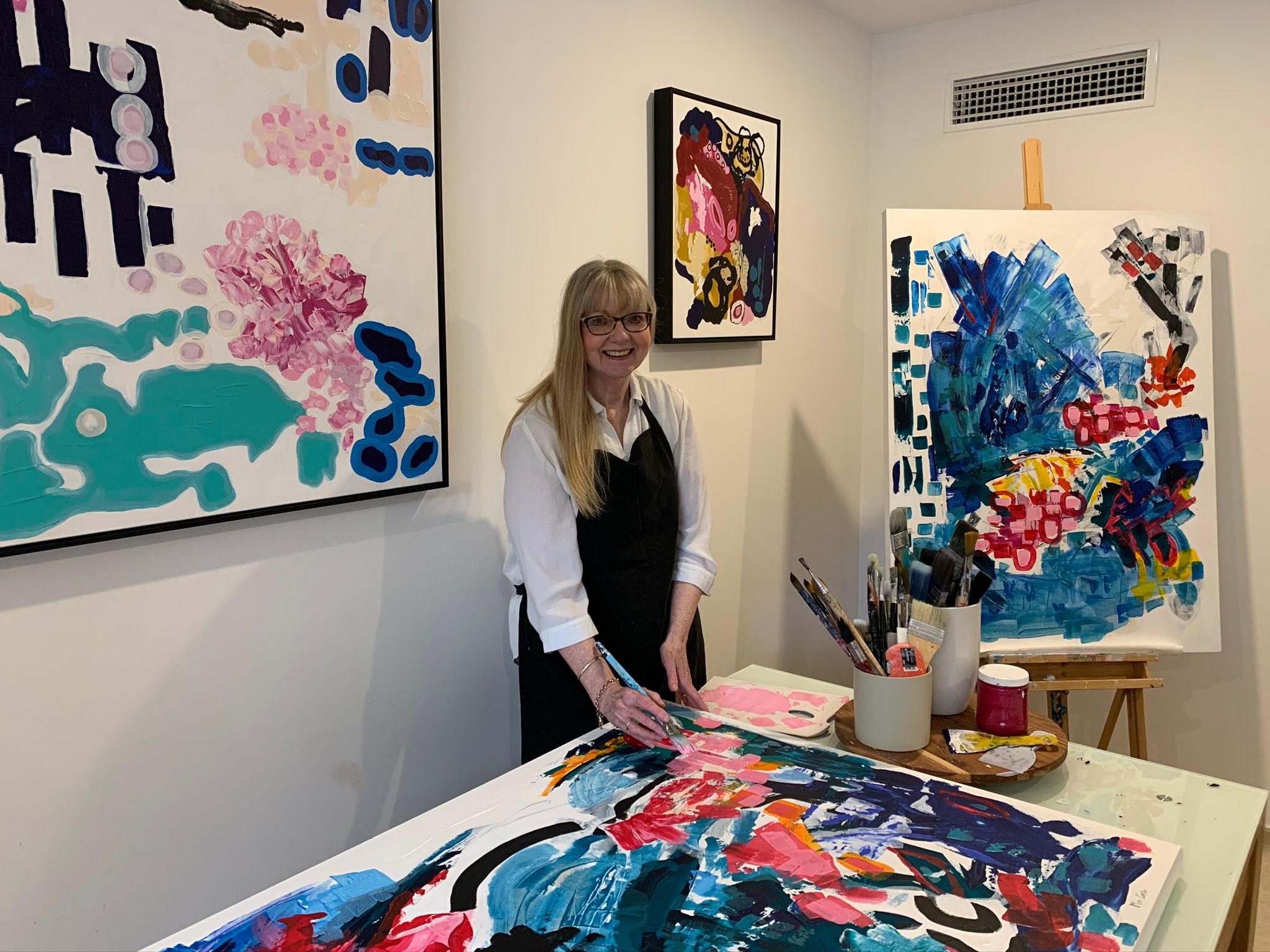 Myra Carter
Born: 1955
Hometown: Warrandyte
Based in: Melbourne
Myra is an abstract artist with a passion for colour. She enjoys creating vibrant and textural works of art. Through the use of colour and form, she seeks to connect with others by expressing emotion through her art. Originally from Scotland, she now lives in Warrandyte, Australia surrounded by birds and wildlife. Myra likes to work intuitively, enjoying the interplay of different textures and colours on the canvas. She is excited by the dynamic unpredictability of abstract painting and enjoys the physicality of working on larger pieces.
Myra has had her work exhibited in a number of art shows, galleries and corporate spaces including the Victorian Office of the Solicitor General.

RECENT ART SHOWS AND EXHIBITIONS 2018 - 2021.
Incognito Sydney. 2021
Wyreena Art Room. Solo exhibition. 2020
Monsalvat Gallery. Pat Cronin art exhibition. 2020
Camberwell Art Show. 2018, 2019, 2021,
Bayside Art Show. 2019
Canterbury Art Show. 2019
Moonee Valley Art Show. 2019
Mornington Art Show. 2019
Yarra Glen Art Show. 2019
Warranwood Art Show. 2018, 2019,
Warrandyte Art Show. 2018, 2019,
Knox Art Show. 2019,
Whitehorse Art Show. 2019, 2020,
Somers Art Fair. 2019,
Robert McCubbin Art Show. 2019, 2020,
Manningham Green Wedge exhibition. 2019,
Manningham Artists Under Lockdown exhibition. 2020
Kapi Art Gallery. 2019,
The Track Gallery. 2019,
InCube8 Gallery Fitzroy. 2020,
345 Art Creative Mont Albert. Permanent exhibition 2019,2020,2021,
Nillumbik Council. International women's day. 2019,
Bendigo Bank. Permanent exhibition
Bendigo Bank Carlton. Solo exhibition cancelled due to Covid. New date in Jan. 2022
Stockland The Pines. International women's day. 2019.

ART ON LONG TERM EXHIBITION
Myra has a number of artworks at any particular time that is on extended exhibition in corporate environments through an art leasing company. Corporations that have displayed Myra's work have included:

The Victorian Office of the Solicitor General.
Alumina.
OneFortyOne Plantations.
ARA Group.
Wrays.
CoWork Me.
The Melbourne Veterinary College.
Bendigo Bank.
Acute Accounting.
BDO Melbourne.
HTA.
Waterman Chadstone.
---
---
Myra Carter In The Studio
I love being surrounded by colour in my studio. It is the place where my heart soars and I feel happy.
---
More About Myra Carter
What inspires you?
Connecting with others through my art and creating something of beauty that will bring joy to someone's life is a big motivation for me. My love of colour and the unpredictability of the painting process is a constant inspiration.
Describe your creative process.
I paint intuitively letting colour and form led the way as I build upon interesting strokes and textures. My creativity leads me to be experimental with tools and techniques to produce something unique. I take pleasure in creating beautiful and enduring pieces of art that will be a part of someone's personal journey.
What are 3 words that best describe your work?
Powerful, energetic and vibrant.
Who are some artists that have influenced your work?
New Orleans artist Adele Sypesteyn, British artist Louise Fletcher, British artist Alice Sheridan,
What is the most important tool when creating your work?
Large brushes.
What is the best piece of advice you have been given?
If you want to develop as an artist - keep painting! There's no shortcut.
Where do you go for inspiration?
My mind is always bursting with ideas so I have no problem with feeling inspired! I am always excited to try new things and use materials and tools in unorthodox ways,