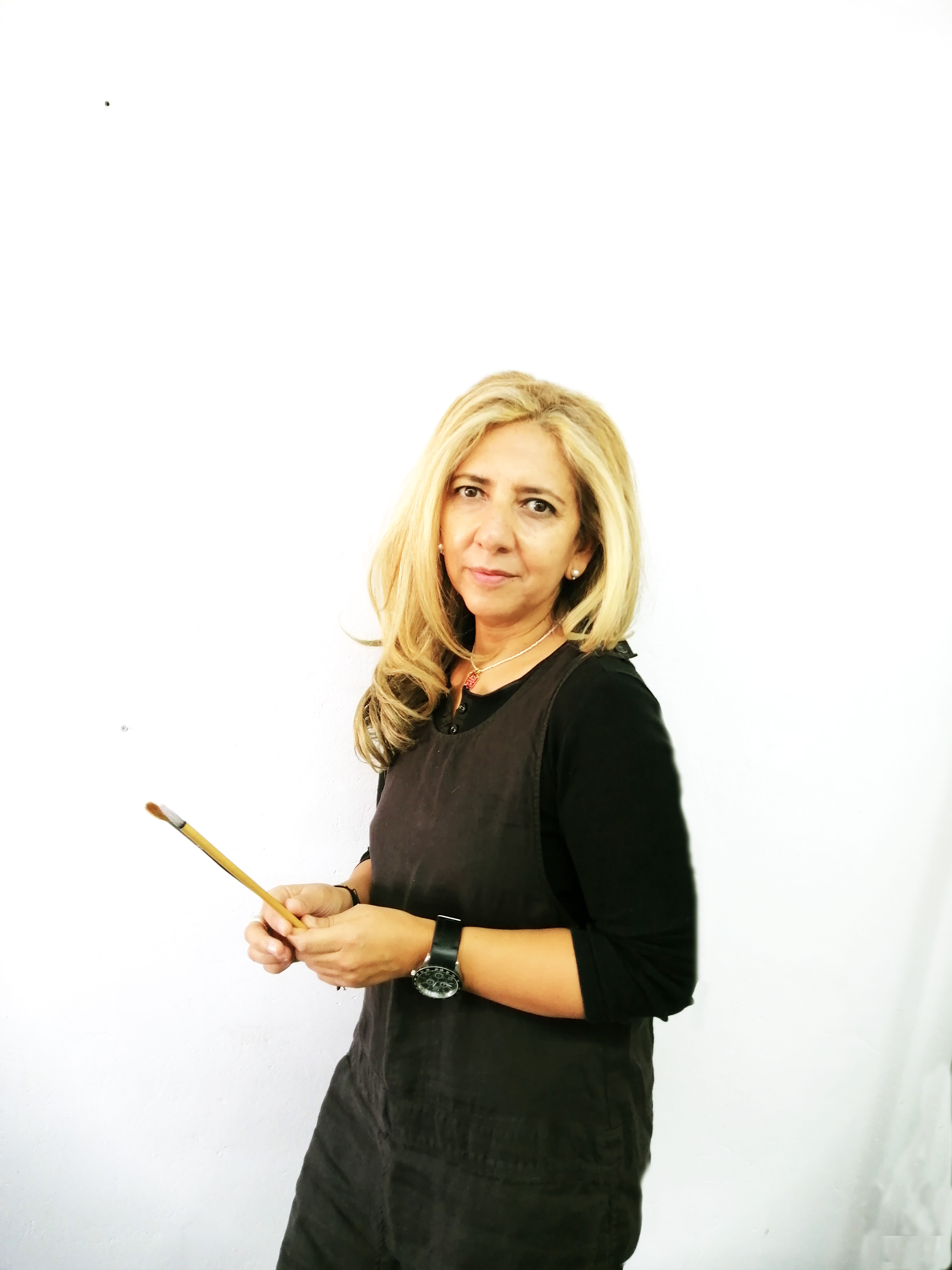 Nadra Jacob
Hometown: Santiago
Based in: Chile
Visual Artist, born in Santiago de Chile.
In 1998 she began with formal studies with different institutions, where I learned new techniques, among which stand out: Human figure, Pastel, Oil, art appreciation, paper manufacturing, among others.

Diploma in Art Studies. Mention: General. Pontifical Catholic University of Chile.

2020 Art Marketing at Sotheby's Institute

I'm part of a collective of Latin American artists in Houston called Ar7seven.
---
---
Nadra Jacob In The Studio
The world is full of small joys: the art consists in knowing how to distinguish them.
---
More About Nadra Jacob
What inspires you?
I am inspired by color, and its synthesis is a key element in my painting.
Describe your creative process.
My creative process has a couple of edges, on the one hand sometimes I want to share a message and all the story that exists behind this idea and on the other hand, sometimes it is quite intuitive, I just let myself be carried away by color.
What are 3 words that best describe your work?
Color , intuition, joy
Who are some artists that have influenced your work?
Matisse, Hilma af klint, Jasper johns
What is the most important tool when creating your work?
The Colors and creativity
What is the best piece of advice you have been given?
Paint every day
Where do you go for inspiration?
Inside me
---
Collections Featuring Nadra Jacob
4 Collections
---
Credentials
Education
Textile art center
United States of America, 2022
Tutoring with Dardo Workshop
Chile, 2021
Tutoring with Dardo Workshop
Chile, 2020
Sotheby´s Institute
United Kingdom, 2020
Pontifical Catholic University of Chile
Chile, 2006
Exhibitions
Master Metaverse
United States of America, 2022
Women´s works
United States of America, 2021
Arte vivo
United States of America, 2021
I'm waiting for you on the other side
Chile, 2021
London Art Biennale
United Kingdom, 2021
Affordable Art Fair Hong Kong
Hong Kong, 2021
Affordable Art Fair New York
United States of America, 2021
Art Expo New York
United States of America, 2021
Red Dot Miami
United States of America, 2021
Expo Metro Berlín
Germany, 2020
Hispanic heritage
Chile, 2020
Esence
United Arab Emirates, 2020
The Glades
United States of America, 2020
Hispanic Artist
United States of America, 2007
Latinoamerica
Argentina, 2006