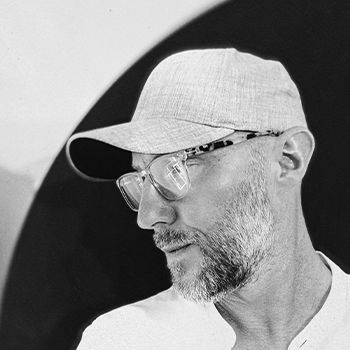 Nae Zerka
Born: 1969
Hometown: Salzburg
Based in: Salzburg
In the age of frequent digital disruption, award winning visual artist Nae Zerka showcase in his work the promising possibilities of painting with technology. As a child of the 80s, Nae Zerka has a penchant for computerrelated activities, including electronic music and graphic design.

His artistic practice infuses visual elements borrowed from these disciplines with a painterly touch. Together with the use of contrasting colours and line work, they form new kaleidoscopic worlds made possible by the digital realm.
---
---
Nae Zerka In The Studio
---
More About Nae Zerka
What inspires you?
Everything and nothing. By everything I mean everything that I take in as a human being in my existence. And with nothing I mean that I generally never approach a work thematically, but only follow my impulses. The release of these impulses happens through music.
Describe your creative process.
Since last year [2020] my work and also the approach have changed seriously. I broke away completely from the traditional materials of painting and began to paint purely digitally. Abstract digital painting, supplemented by fragments of cyberspace and forms of design. I also deliberately do without a drawing tablet with pen and instead uses the mouse to counteract the typical brush hand movements. I usually work on several works in parallel and sometimes combines them. Here, of course, the purely digital approach offers almost infinite possibilities. ​
What are 3 words that best describe your work?
Abstract, Digital, Painting
Who are some artists that have influenced your work?
Robert Rauschenberg, Thomas Ruff, Not Vital
---
Collections Featuring Nae Zerka
1 Collection
---
Articles Featuring Nae Zerka
2 Articles
---
Credentials
Awards
Gold List - Top Contemporary Artist, Art Market Magazine
2021
Artist to Watch 2021, Art Connect, Germany
2020
Exhibitions
Art Number 23
Austria, 2023
Museo della Cattedrale
Italy, 2023
Times Square [Digital]
United States of America, 2023
The Holy Art
United Kingdom, 2022
Siilk Gallery
Greece, 2022
CICA Museum
South Korea, 2022
Art Number 23
Greece, 2022
Independent & Image Art Space
China, 2022
The Flux Review
United Kingdom, 2021
CICA Museum
South Korea, 2021
Art Number 23
Greece, 2021
Visionary Projects
United States of America, 2021
Art Number 23
United Kingdom, 2021
art3f Salon International D'Art Contemporain
Luxembourg, 2020
Van Gogh Art Gallery
Spain, 2020
Press
Envision Arts Magazine
2021