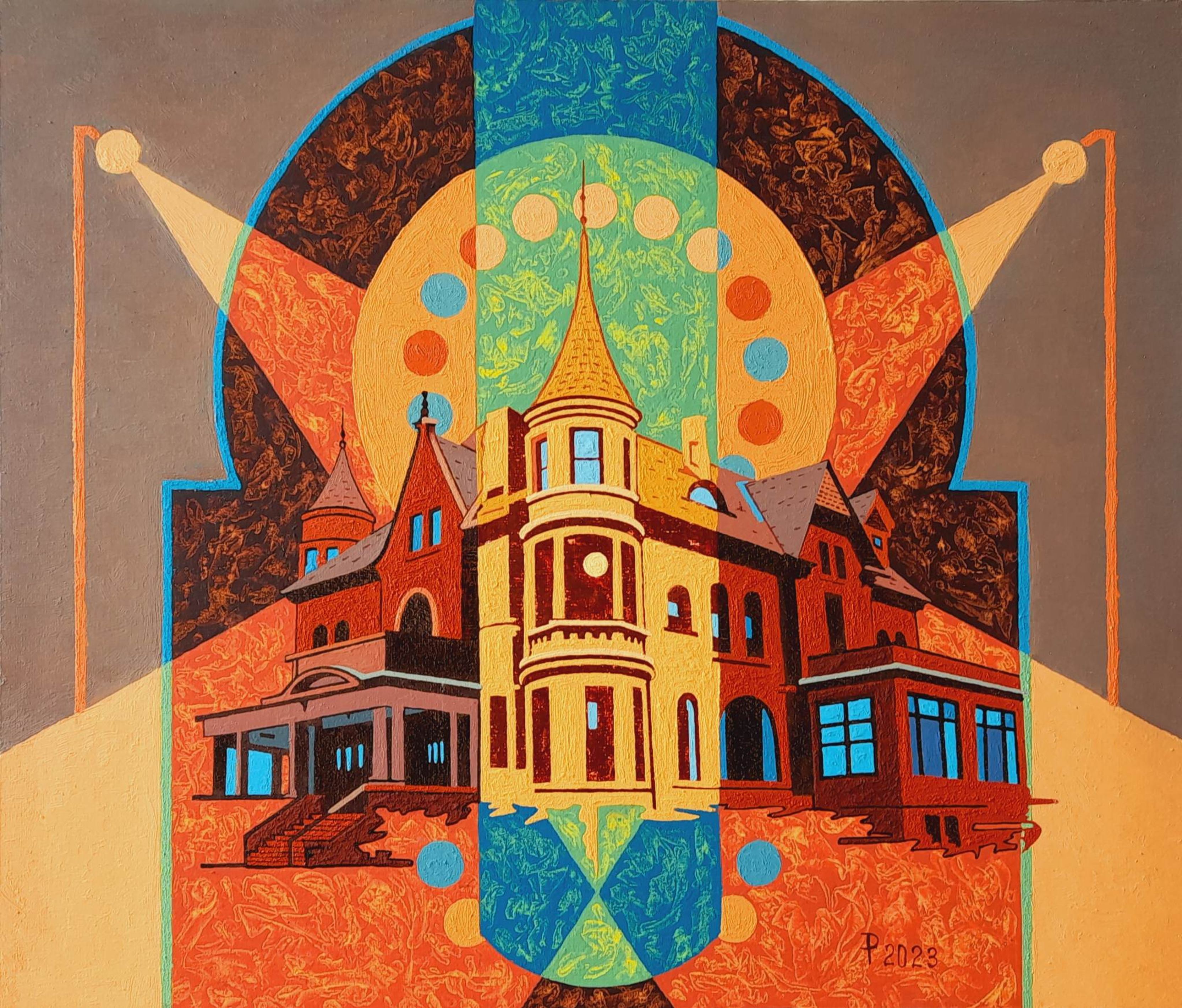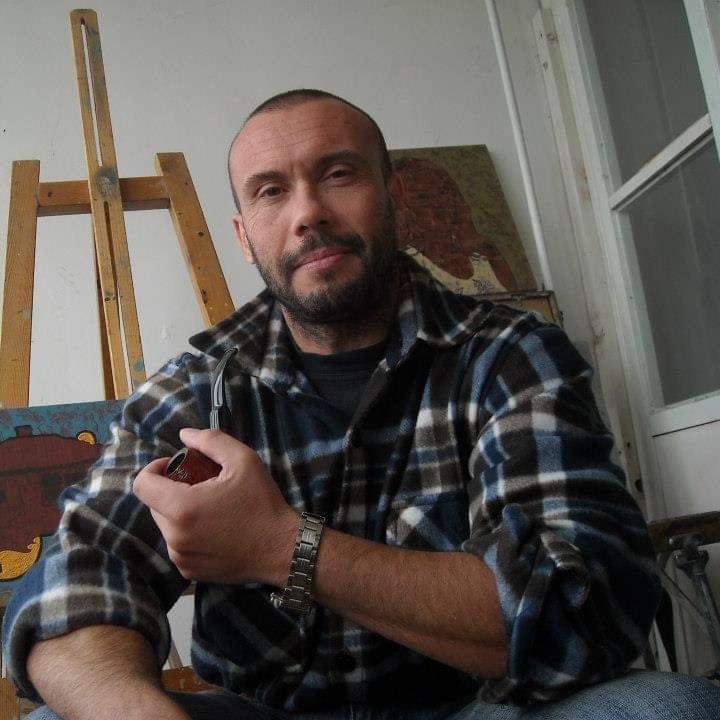 Peter Darkovski
Born: 1969
Hometown: Racovitsa, Vidin
Based in: Vidin
Peter Darkovski was born in 1969 in village of Racovitsa (Vidin region), Bulgaria, where he grows up and forms in himself sense of beauty and freedom. Graduated theology in Sofia University. Today he lives and works in Vidin. He starts painting at the age of six and initially donates his paintings to friends and acquaintances. He is professionally engaged in painting since 1998. He turns the lack of artistic education in advantage and his paintings are distinguished by original pattern and specific techniques.
Main topic in his paintings is the architecture of old Bulgarian houses and churches. You can also find architectural elements of interesting buildings, abstract symbols and shapes, fairies or close-up portraits, all of them having the characteristic style of the artist. The palette of Peter Darkovski is more in earth tones – ocher, brick-red, brown and grass green. A hallmark of his paintings, mostly oil on canvas, is a realistic depiction of individual objects placed on abstract background. Thus, they stand out as if hanging in space.
This feature of his pattern is visible also in the pictures of the old Bulgarian houses, and the oil portraits, where individual features of the model are depicted with particular sharpness at the expense of others who sink into softness and so the face is as realistic as surreal in appearance.
Considering the majority of the artist's pictures, which are more abstract rather than realistic, his realistic landscapes surprise with a different approach and mood. Undoubtedly, they will remind you of the old Bulgarian postcards with pictures of bluish mountain peaks and pastoral motives. Surely, what you will remember most of his characteristic style, are old houses with clocks.
The Artist Peter Darkovski has organized over 12 solo exhibitions in Vidin, Sofia, Plovdiv, Ruse, Karlovo and other cities in Bulgaria. He has participated in more than 20 group exhibitions and plein airs in Bulgaria and abroad. Owners of his paintings are private galleries and collections in Bulgaria, Serbia, Germany, England, USA, United Arab Emirates, Israel.
Professional memberships: UBA (United Bulgarian Artists) (since 2010), SPA (Society of Plovdiv Artists) (since 2011) and the Representation of the UBA Pleven (since 2011).
---
---
More About Peter Darkovski
What inspires you?
Antiques, old houses, churches
Describe your creative process.
A journey through the time
What are 3 words that best describe your work?
Realism, abstract and details
---
Collections Featuring Peter Darkovski
1 Collection
---
Credentials
Education
Sofia University "St. Kliment Ohridski"
Bulgaria, 2000
Exhibitions
Gallery Nicolа Petrov, Vidin
Bulgaria, 2012
Jubilee Exhibition 100th anniversary of SPA
Bulgaria, 2012
Charity Exhibition Monument of Radoi Ralin, Sofia
Bulgaria, 2010
Fifth National Biennal of the Small Forms, Pleven
Bulgaria, 2010
Regional Exhibition "Colors of the Northwest", Vratsa
Bulgaria, 2009
Gallery Art-Muse, Sofia
Bulgaria, 2008
Forth National Exhibition "Landscape", Vidin
Bulgaria, 2007
International Biennal "The art of miniature", Ruse
Bulgaria, 2007
Gallery Stylbata, Sofia
Bulgaria, 2001
Gallery M, Ruse
Bulgaria, 1999
National Exhibition "Landscape", Vidin
Bulgaria, 1998