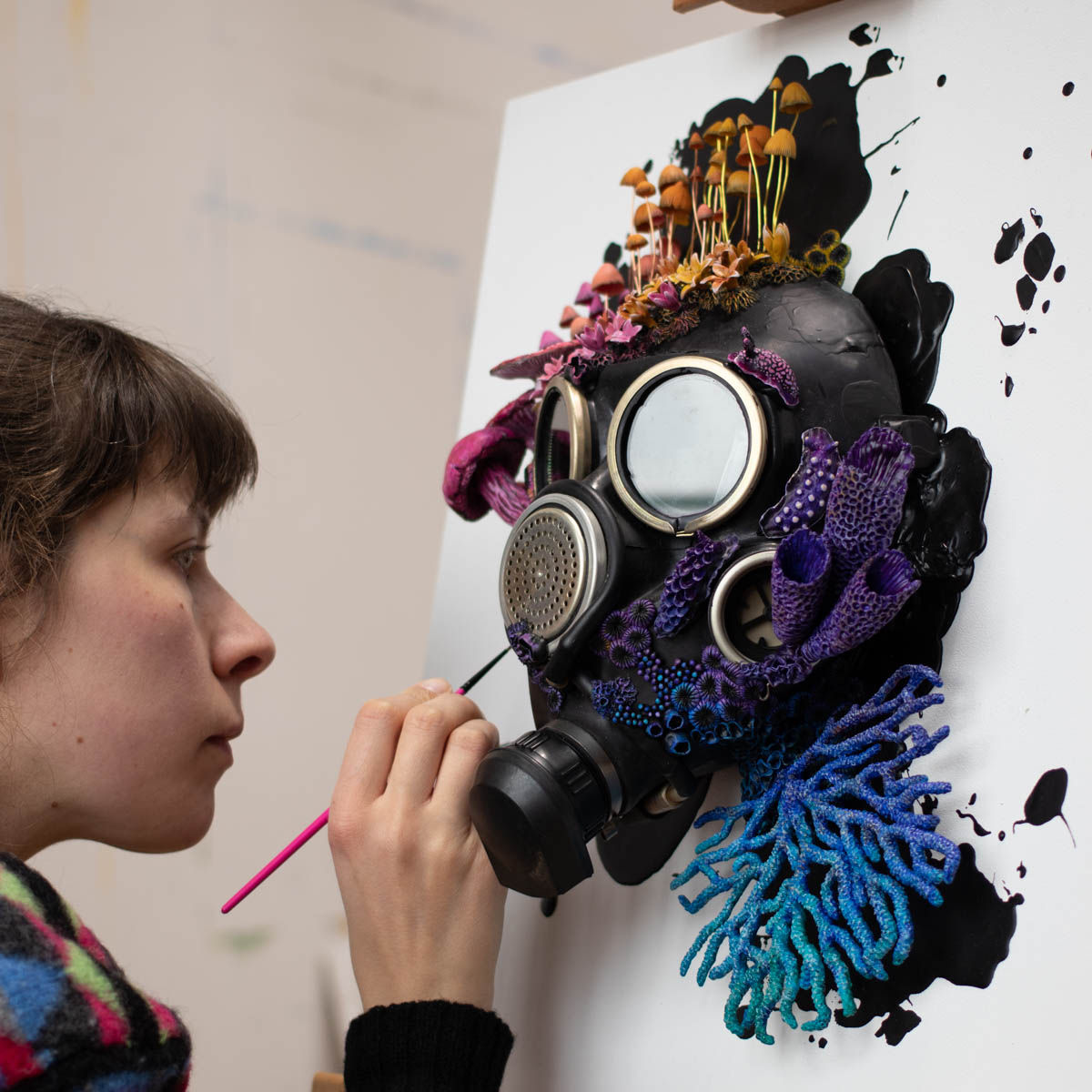 Stephanie Kilgast
Born: 1985
Hometown: Frankfurt/Main
Based in: Vannes (France)
Inspired by natural forms, Stéphanie Kilgast's artwork is an ode to nature and its current biodiversity. Plants, mushrooms, insects and other animals encounter in a vibrant swirl of colors under her brush or sculpting tools.

Since 2017, in her series "Discarded Objects", she grows colorful organic sculptures on manufactured objects, celebrating the beauty of nature in a dialogue with humanity, questioning the lost balance between human activities and nature.
Her work has a cheerful post apocalyptic feel to it, a reassuring reminder that nature has the capacity to grow back, if we only let it.

Her work has been exhibited in North America, Asia, Australia and Europe.

French, born in 1985, Frankfurt am Main, Germany, currently resides in Vannes, France.
---
---
Stephanie Kilgast In The Studio
---
More About Stephanie Kilgast
What inspires you?
Nature and trash.
What are 3 words that best describe your work?
Cheerful post-apocalyptic world.
Who are some artists that have influenced your work?
Tiffany Bozic, Ellen Jewett, Courtney Mattison
What is the most important tool when creating your work?
My hands.
---
Credentials
Awards
Sculpture Award Finalist of the Beautiful Bizarre Prize 2019
2019
Exhibitions
Actual Size
United States of America, 2021
Rainbow Room at Dédale
France, 2020
Miniature Art
Australia, 2020
Midnight Garden, Beautiful Bizarre Finalists Exhibition
United States of America, 2020
Sunny Centre Art Prize Finalistes
China, 2019