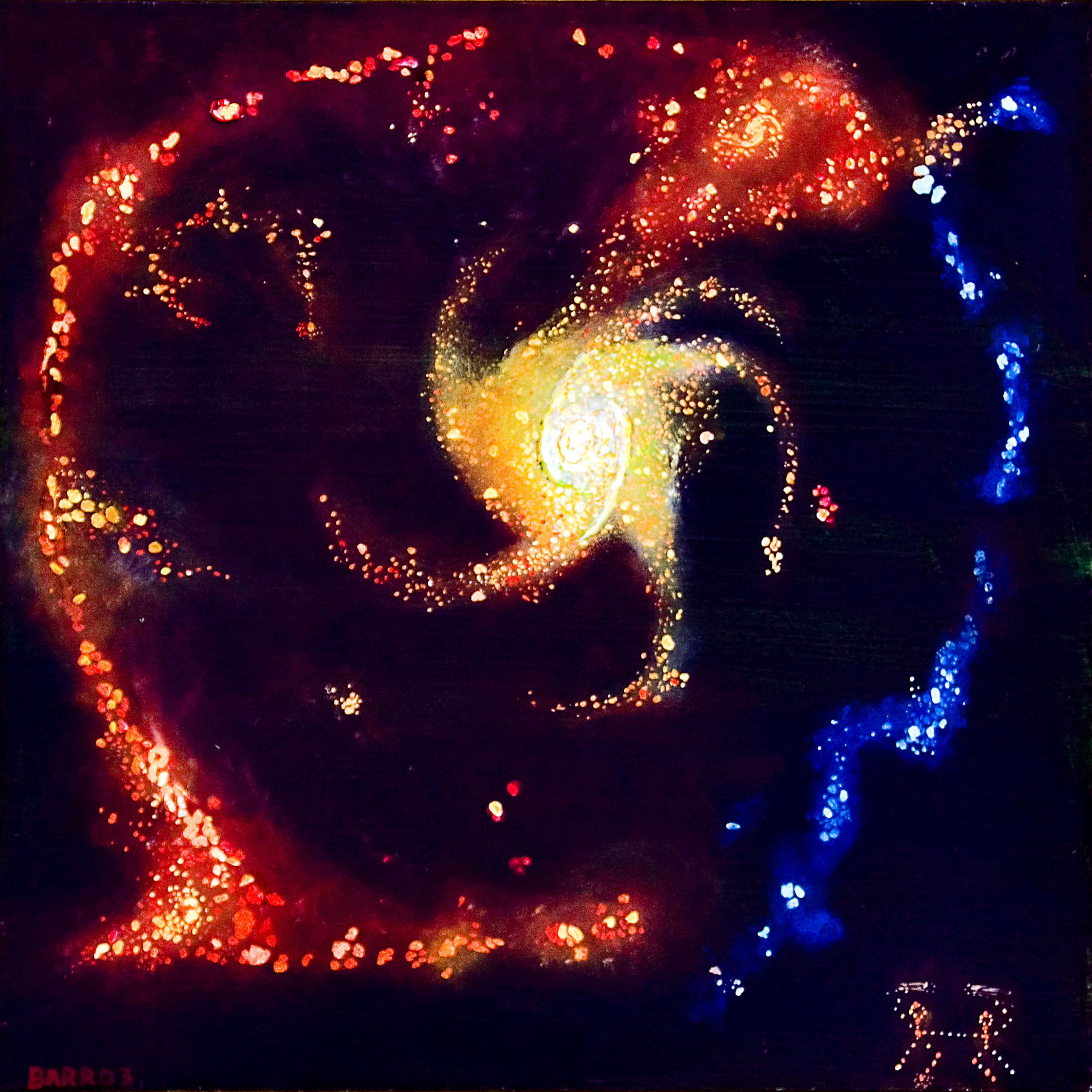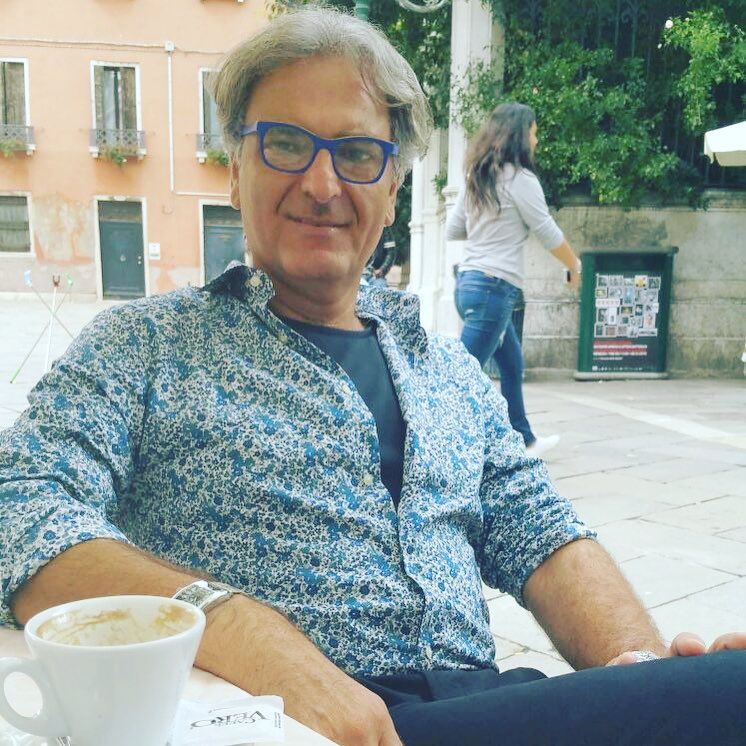 Ted Barr
Born: 1957
Hometown: Tel Aviv
Based in: Tel Aviv
Ted Barr was born in Constance Romania, on the shores of the Black Sea. At the age of four, his family immigrated to Israel. In 1975 Barr was drafted into the Israeli army, in which he served as a regular soldier, officer, and reservist for twenty-six years. In 1992 Barr graduated from Israeli Battalion Commanders' Academy and served as a deputy battalion commander with the rank of a Major.
In 1980, after release from his conscripted army service, Barr began a seven-year period of study in his fields of interest: Symbolism, Buddhism, Ancient Egypt, Numerology, and Kabbala and then went on to earn an M.B.A degree in marketing from the Tel Aviv University, graduating in 1990.
In 1995 Barr started seven years of private art lessons under the Israeli master Shlomo Tzafrir in Old Jaffa where his first exhibition opened to the public in 2001.
The leading concepts in Barr's art are deep space and celestial elements, the beginnings of life, embryos, ovum, and the development of the embryo in the womb, inspired by the images of the Swedish photographer Lennart Nilsson.
Barr does not sign his name on his canvasses. Instead, he developed a private symbol that encapsulates his esoteric studies experience and represents his life philosophy written in his FLY book.
Barr has since exhibited his works in New York, Montreal, Palo Alto, Perugia, Guadalajara, Detroit, Chianciano Terme, Cannes, Miami, Toronto, Venice, Kathmandu, Jaipur, Udaipur, Berlin, Mumbai, Dallas, Delhi, and Paris. A full list of art shows appears on his website - www.tedbarrart.com
Barr wrote several books:
'Krombie', a children's book published by Shalgi PH, 1990
'Frau Gruber's Farm', an allegory about the Hitler regime, published by Tamuz PH in Hebrew, 2006, English version, 2011
'LTC Insurance', published by Bursi PH, 2009
'FLY- Have magic in your life', published by contento PH, 2017
In October 2008 Barr founded the Current Art Group, an international artist gathering, with over 7000 members worldwide.
Since 2009 Barr curates art shows for The Current Art Group in Miami, NYC, Paris, Venice, and Tel Aviv and leads the FLY workshops where he teaches his FLY (Free the Life within You) technique he developed and uses in his artworks.
Since 2014 Barr collaborates with architects and designers implementing his art in various industries like:
Architecture – with V5 Architects Firm, and the architect Benjamin Perry in charge, art on buildings, Jerusalem, Israel
Fashion - Label 2 Fashion House, Milano Italy
Cars - Ferrari cars, Boca Raton Florida
Furniture - Alex Padwa Design Studio, Tel Aviv, Israel
Romil Dhakar - Casa Arte, Udaipur, India
Raphael Grimberg Costa – Sao Paolo, Brasil
Kitchens and home decor - Yafit Riklin-Tifa, Haifa, Israel
Carpets - Bhadohi carpets, Bhadohi, India
Accessories – Mabood International, Varanasi, India
Starting from 2016 Barr developed targeted FLY workshops for schools, enhancing creativity and authentic self-expression, he works closely with educational plans in schools, art academies, and universities in Delhi, London, and Jerusalem.
---
---
Ted Barr In The Studio
Embrace the unexpected
---
More About Ted Barr
What inspires you?
Deep Space, the cycles of life and the human formation
Describe your creative process.
i m working on 4 tables simultaneously, the FLY process involves poring oil and acrylic liquid colors on the canvas then merging them with cold tar, the result always surprises and inspires me
What are 3 words that best describe your work?
flow, merge, share
Who are some artists that have influenced your work?
Kandinsky, Bezem and O'Keeffe
What is the most important tool when creating your work?
chop sticks
What is the best piece of advice you have been given?
If i don t like the artwork i have painted i can cover it with white and start a new one
Where do you go for inspiration?
to the celestial observatory or to the forest
---
Collections Featuring Ted Barr
2 Collections
---
Credentials
Education
VESSEL curators course
Italy, 2013
Battalion Commanders IDF
Israel, 1992
Tel Aviv University
Israel, 1990
Exhibitions
Eindhoven art
Netherlands, 2022
London Art Bienalle
United Kingdom, 2021
Shibuya-Ku Art Station
Japan, 2021
CICA museum Gimpo
South Korea, 2020
Pragati Meidan Delhi
India, 2019
Fire Mountain Nimboli
India, 2018
Art Basel Miami
United States of America, 2017
Dacia Gallery NYC solo
United States of America, 2017
Art Pivot FLY teachings Udaipur
India, 2016
Chateau de Faverolls
France, 2015
Grand Rapids Artprize
United States of America, 2015
COL Ted Barr art in Perugia
Italy, 2015
Art Basel Miami
United States of America, 2015
Venice Bienalle
Italy, 2015
Frame of Mind Gallery, Toronto
Canada, 2014
Memoir de L'avenir Gallery Paris
France, 2013
Kathmandu Patan Museum
Nepal, 2013
UNAM San Antonio
United States of America, 2013
Vernon Gallery
Czechia, 2012
LMNT Gallery Miami
United States of America, 2012
Izmir Bienalle
Turkey, 2011
Luminarte Gallery Dallas TX.
United States of America, 2011
Ward Nasse NYC
United States of America, 2010
Hovinkartano collective
Finland, 2010
Venice Bienalle
Italy, 2009
collective Chianciano Museum
Italy, 2009
Ted Barr in Guadalajara
Mexico, 2009
Light, Fusion Art Museum
United States of America, 2008
Deep Space Jaffa Museum
Israel, 2007