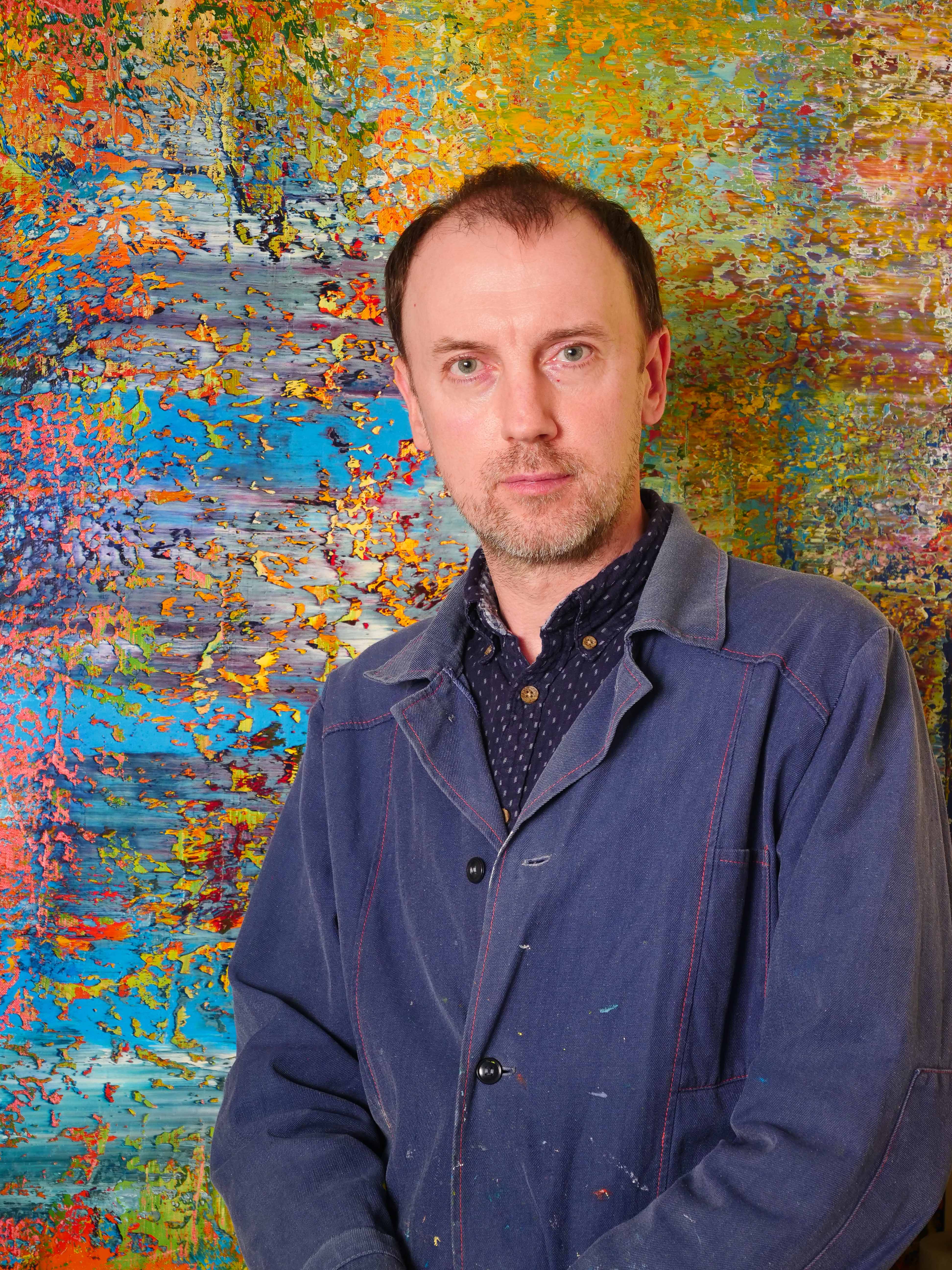 Vadim Shamanov
Born: 1973
Hometown: Kremenchuk
Based in: Bratislava
Vadim Shamanov (born in 1973 in Ukraine) is an experienced abstract artist who lives and works in Moncton, NB, Canada.
He received a musical and painting education. But it was painting that became the main way of self-expression and self-realization.

As a way of self-expression, Vadim Shamanov chose abstract painting, which allows the author to convey his creative ideas through the color and texture of oil paint. His paintings are a synthesis of emotions and impressions from music and nature.

Shamanov's works are distinguished by layering, complex composition, as well as a desire for volume and depth. With the help of a subtle three-dimensional effect in his paintings, he establishes contact with his viewer.

He mainly works with oil paint on canvas. But in constant search for new means of expression, he often experiments with materials and surfaces using steel sheets or OSB boards.

He has participated in numerous exhibitions in Ukraine and Europe.
His works are in private collections in Europe, the USA, and Japan.
---
---
Vadim Shamanov In The Studio
My paintings are a fixed image of music, and the more complex this image, the more interesting it is
---
More About Vadim Shamanov
What inspires you?
The main sources of inspiration are the music and art of great artists such as Richter, Kandinsky, Pollock.
What are 3 words that best describe your work?
Color, depth, vibration
Who are some artists that have influenced your work?
Richter, Kandinsky, Pollock
What is the most important tool when creating your work?
Palette knife
What is the best piece of advice you have been given?
Hear your inner voice
Where do you go for inspiration?
Music and nature are inspire me.
---
Collections Featuring Vadim Shamanov
4 Collections
---
Credentials
Education
The artistic studio of The National Union of Artists of Ukraine Kyiv, Ukraine, Украина
Ukraine, 2002
The National University of Culture and Arts Kyiv, Украина
Ukraine, 1997
Exhibitions
Personal exhibition "Paintings and jazz "
Slovakia, 2019
Artbox Project New York 1.0, Armory artweeks New York
United States of America, 2018
Contemporary Art Baden-Baden 2017, CAB-weekend Baden-Baden
Germany, 2017
Participation in Contemporary Art Baden-Baden 2016 Baden-Baden
Germany, 2016
"UKRAINIANS ON THE COTE D'AZUR" Centre Culturel de la Providence (Vieux-Nice) Nice, Cote d'Azur
France, 2013
"Approximation. Kyiv - Munich" Part II, Kulturwerkstatt haus 10 Furstenfeldbruck
Germany, 2011
"Form. Inside out", an exhibition of the art group "Absinth reality", Gallery «WG Kunst» Amsterdam
Netherlands, 2011
"Form. Inside out" Gallery «The House of Caviar Wine and Art Gallery» The Hague
Netherlands, 2011
Participation in an exhibition on European summit «Eastern Partnership» The Hague
Netherlands, 2011
"ART Kyiv Contemporary" Kyiv
Ukraine, 2010
"Form. Inside out", Gallery of Art support fund Kyiv
Ukraine, 2010
Literary and Memorial Museum A. Gren Feodosia
Ukraine, 2010
Gallery of Art support fund Kyiv
Ukraine, 2009