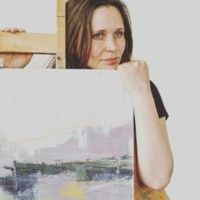 Viktoria Shvoren
Born: 1987
Hometown: Batumi
Based in: Batumi
I was born in Russia in 1987.
Throughout my life, from childhood, painting is the main and most fascinating element. I have been participating in collective and personal exhibitions since 2005. Not being an artist with a special education, I continue to experiment with painting methods.
It is especially important for me as a female artist to combine the creative path and the presence of social obligations in the context of having a family and a child. This lifestyle sometimes inspires creativity, but often opposes this process, which requires maximum concentration and involvement.
---
---
More About Viktoria Shvoren
What inspires you?
What causes strong emotion is inspiring. As a rule, a strong emotion is caused by the calm state of nature, sea, sky, clouds and so on.
What are 3 words that best describe your work?
Interference, meditation, freedom, beauty, color
Who are some artists that have influenced your work?
Richard Dibenkorn, Henri Matiss
What is the most important tool when creating your work?
Spatula
Where do you go for inspiration?
To the studio