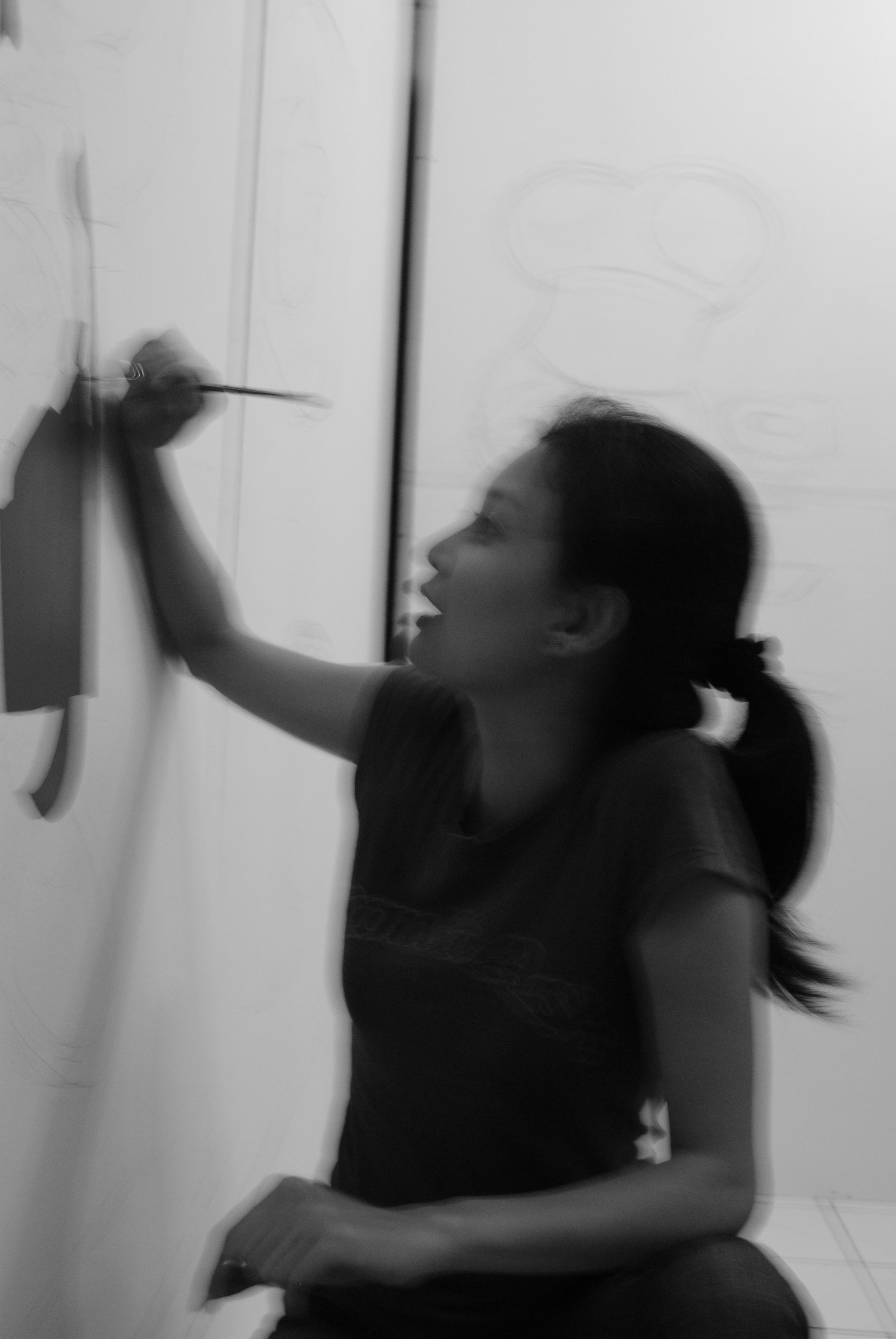 Vonny Ratna Indah
Born: 1978
Hometown: Tangerang
Based in: Tangerang
Vonny Ratna Indah is a graduate of Fine Arts from the Faculty of Fine Arts and Design, ITB, in 1998, specializing in Painting Studio. In 2016 he graduated with a Master of Art from the IKJ Postgraduate Program. In all institutions, Vonny graduated Cum Laude (With Compliments).

Since college until now, she has always been in the field of art, either working full time in well-known companies in Indonesia as a graphic designer, fashion designer, or moving independently to exhibit at home and abroad, producing works of painting, art objects, and installations. other arts.

She had the opportunity to take part in the Artist in Residence Program in South Korea, in 2006, and since then she has been actively exhibiting with her friends abroad and at home.

Vonny works through canvas/painting media with various –isms and is often synonymous with art installations. The students she taught have become students at FSRD ITB, Binus, New Castle University, Monash, US, and various other well-known universities at home and abroad.

Due to her experience since college in 2000 which has been actively teaching art and private classes, Vonny decided to establish Kebun Seni, driven by her love for the art world and the world of farming.

This aspiration emerged when Vonny saw that an artist also needed a place to communicate with each other, apart from pursuing his own art. So in August 2017, Kebun Seni was created from a simple dream that became a reality.

​
---
---
Collections Featuring Vonny Ratna Indah
1 Collection
---
Credentials
Education
Institut Kesenian Jakarta
Indonesia, 2014
Bandung Institute of Technology
Indonesia, 1998
Sekolah Tinggi Seni Rupa dan Desain Indonesian
Indonesia, 1997
SMA Xaverius I Palembang
Indonesia, 1994
SMP Xaverius III Palembang
Indonesia, 1991
SD Xaverius III Palembang
Indonesia, 1985
Exhibitions
"Hope" Painting Exhibition at Hadiprana Gallery, Kemang Raya, South Jakarta
Indonesia, 2005
"The Beauty of My Masks"Experiment Creative Exhibition in Soemardja Gallery
Indonesia, 2002
Video Art Installation, "Worship is Art" Rumah Nusantara Bandung
Indonesia, 2002
"Art For Beginners"Painting Group Exhibition, Dago Tea House, Bandung
Indonesia, 2001
Drawing Exhibition in Soemardja Gallery, ITB
Indonesia, 1999