Dubai Design Week Returns in 2023
By
Amabelle Chandra
---
Returning for its ninth year, Dubai Design Week is back! The year 2023 welcomes over 500 designers, architects, and creative artists who are from across the globe. This upcoming event promotes the exchange of ideas to showcase how design can have a positive impact on addressing social issues by delving into themes of traditions, technologies, environmental sustainability, and design.

Dubai Design Week 2023 is hosting a diverse program of events and activities, including over 25 large-scale installations, exhibitions, pop-ups, talks, workshops and a weekend market that is selling local artisinal products. Catch the regional hub for art, design, fashion, and architecture!
Abwab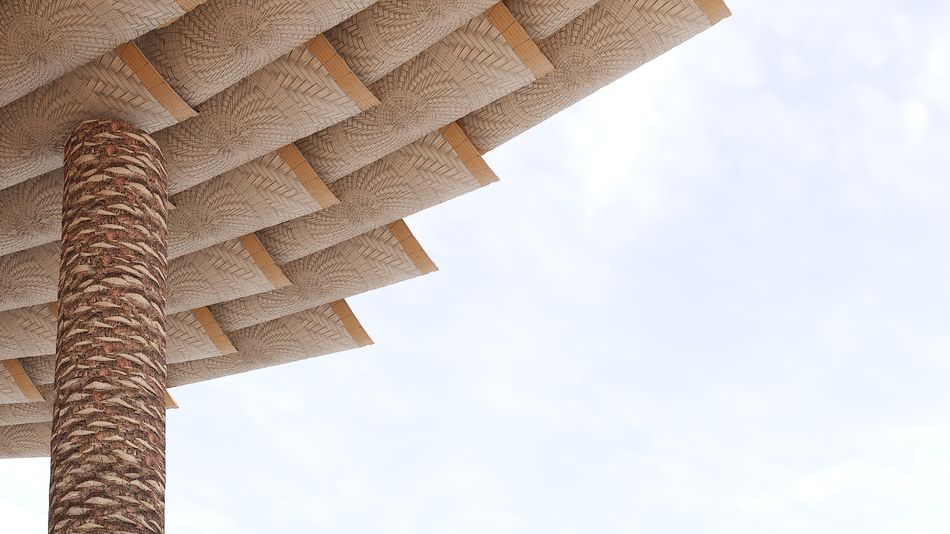 Abwab 2023. Image Courtesy of Dubai Design Week.
A must-experience is Abwab, thematically remodeled each year to reflect timely global and regional contexts, responding through art. The 2023 commission is Of Palm by Emirati architect and founder of MULA design studio, Abdalla Almul. With a mission to create sustainable architecture and design practices for climate change, Almulla created Of Palm, an outdoor pavilion in d3 that materializes from indigenous palm trees in the UAE.
Urban Commissions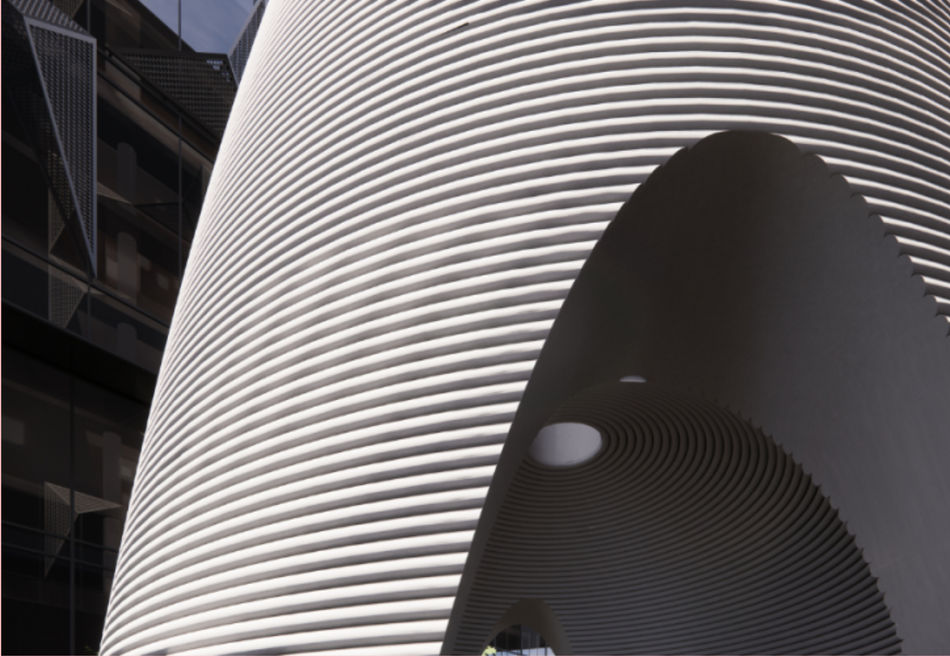 Urban Commissions 2023. Image Courtesy of Dubai Design Week.
The winner of Urban Commissions is Ahmad Kattan with Designest. An urban icon of the district as a hub for communities to gather, the artist created cylindrical structures inspired by the traditional pigeon towers across the Arabian Peninsula. Located outside at d3, visitors can enter through the three arched portals, where there will be large and small holes at the top circulating the top of its shape. Designest is a work that is minimalistic and visually commanding, created by technologically advanced construction.
Installations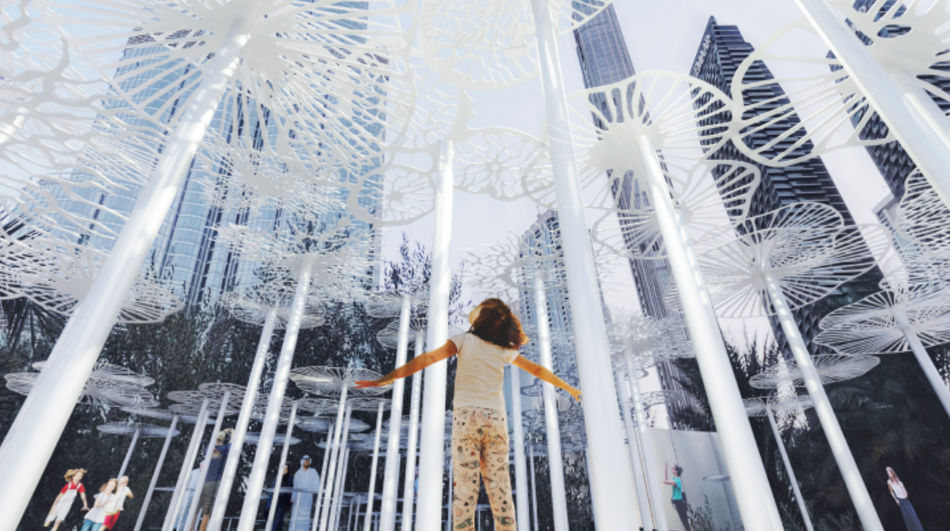 Shaking Sanctuary: Urban Shade by nngg Studio. Image Courtesy of Dubai Design Week.
Shaking Sanctuary: Urban Shade by nngg Studio captures the beauty of UAE's desert landscape. Nestled in a peaceful oasis, this innovative installation features flexible rods that are responsive to visitors' movements, creating an immersive experience. Inspired by the UAE's native environment, the canopies cast detailed shadows, creating a forest-like setting in the city, but also serve as a place of rest, connecting people with nature and sparking conversations about the importance of green spaces in urban design.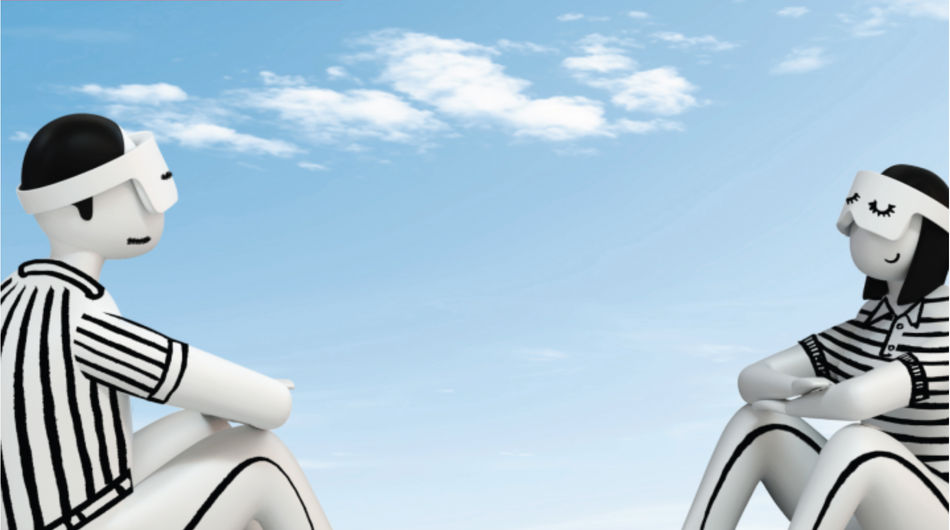 The Reality Check by Kapil Bhimekar. Image Courtesy of Dubai Design Week.
The Reality Check by Kapil Bhimekar explores themes of physical human connections in a modern virtual world. With the ever-growing presence of virtuality in society, Indian artist Kapil Bhimekar has created an inflatable installation using recycled PVC. This creation contemplates the essence of reality in the modern age in comparison to what it could become in the future. By juxtaposing a virtually connected world with a more isolated physical realm, Bhimmekar invites the visitors to appreciate the value of shared experiences and genuine real-world connections, emphasizing on the importance of human presence and interaction in a digitized world.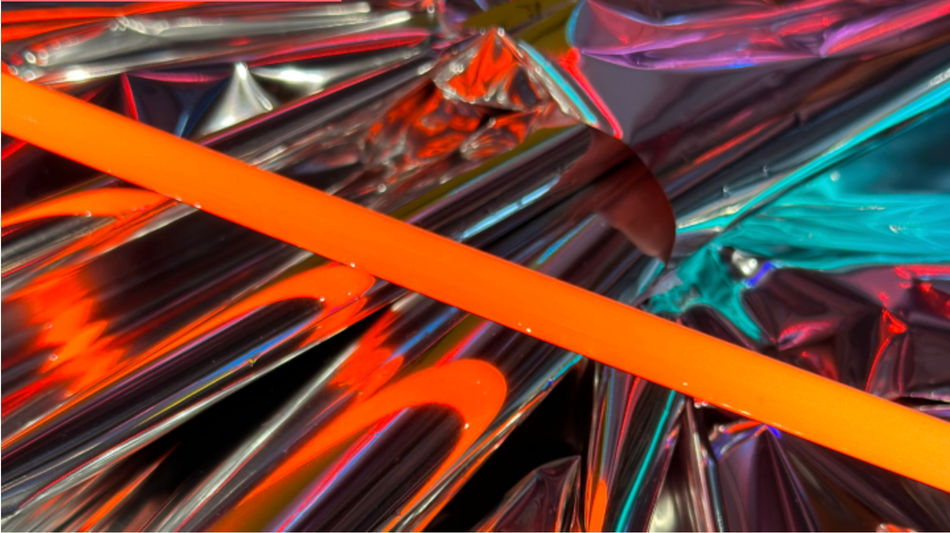 Prismatic Dreamscape by Vertical Design. Image Courtesy of Dubai Design Week.
Prismatic Dreamscape by Vertical Design is a mezmerizing representation of Earth's energy and the boundless cosmos, encapsulated within two glass structures. Within a luminous dreamscape, there is a symphony of colors and shapes that orchestrates a vivid display energy and exiistence. These structures extend horizontally and vertically, seemingly reaching towards the sky to grasp the endless space and cosmos. With the use of neon lights, there is an interplay of lines and forms that reflect the wonders of the universe. In this installation, the boundaries between the terrestrial and the infinite blur, and the ehtereal, dancing lights invite visitors on a sensory journey transcending familiarity.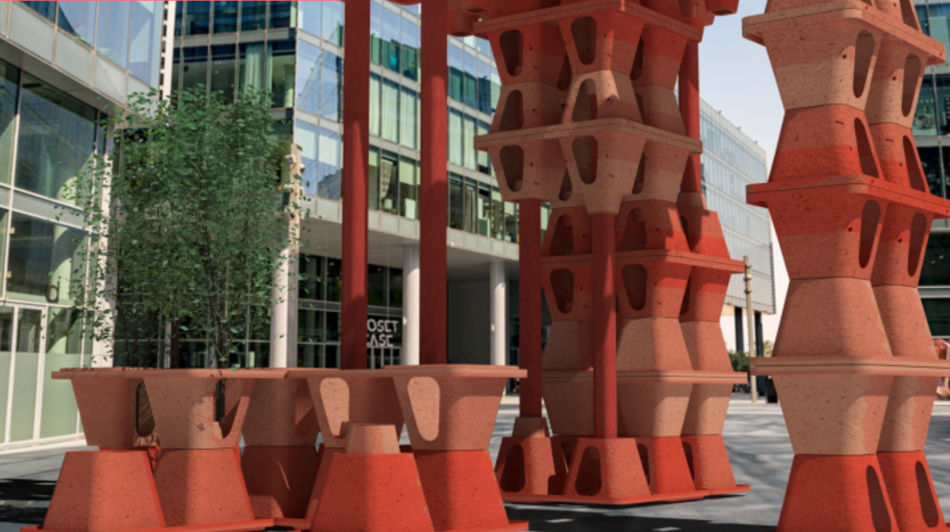 Pulp Fractions by TEE VEE EFF. Image Courtesy of Dubai Design Week.
Pulp Fractions, a project by TEE VEE EFF, repurposes discarded paper and cardboard and transforms them into structures that resist to wind and light. This offers a glimpse into sustainable versatility and a compelling innovation in aesthetics. With the rising tide of consumerism in recent years, TEE VEE EFF, a Dubai-based architecture and interior design studio, reuses packaging that takes up our waste. By ingeniously utilizing waste cardboard and paper sourced from delivery boxes and bags, the studio processes these materials into durable and light components through a pressing and drying process. Benefiting from paper pulp, TEE VEE EFF molds it into stackable modules, demonstrating a resourceful and eco-conscious approach to design and construction.
Exhibitions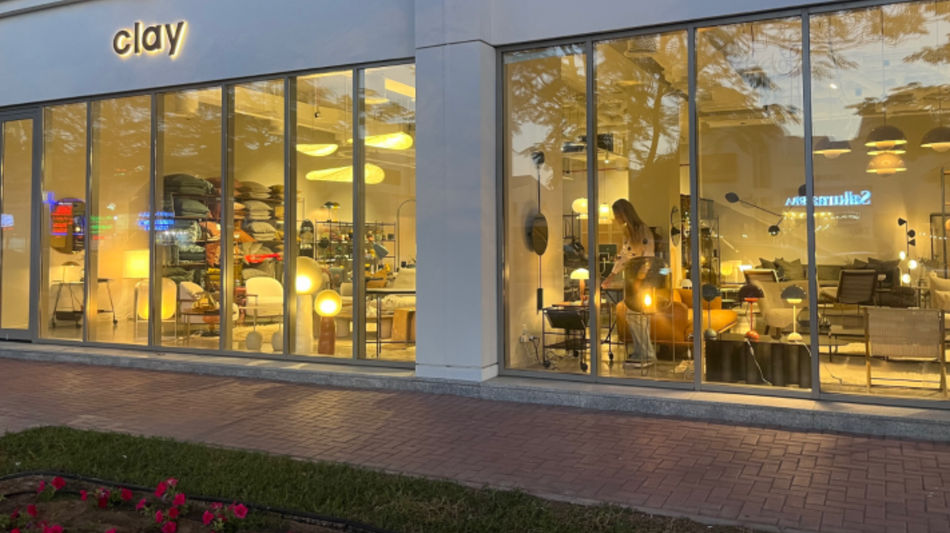 Clay x Pulpo. Image Courtesy of Dubai Design Week.
Located in the coastal residential area of Dubai, Clay x Pulpo is set to host an exhibition: Clay Concept Dubai Showroom at Jumeirah. Celebrating its first-year anniversary with Pulpo, the event includes an enticing brunch which will also feature a panel discussion. During the discussion, visitors have the opportunity to converse with internationally renowned designer Sebastian Herkner and the founders of Pulpo, creating a dynamic platform for insights on design and innovation.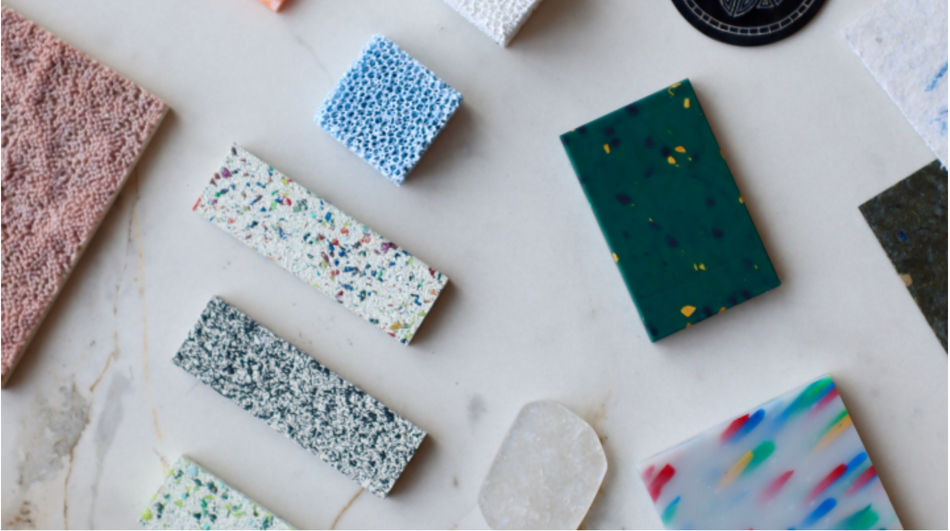 RETHINK: A Materials Experience by Colab. Image Courtesy of Dubai Design Week.
RETHINK: A Materials Experience by Colab introduces their innovative RETHINK pop-up concept, which is a zero-waste, plug-and-play showcase designed to enlighten visitors about the creative potential of sustainable materials. More than an exhibition, it reserves as a platform that offers local and international material innovators an opportunity for exposure.
Colab's Design Week pop-up will have a primary focus on materials from the UAE including DATEFORM, the world's first date-seed-based solid surface material;RAMEL, a local alternative to concrete made from desert sand; Terraboard, a sustainable alternative to wood created from waste materials; Leukeather, a natural textile substitute; and Pomade, a biodegradable material derived from palm tree waste.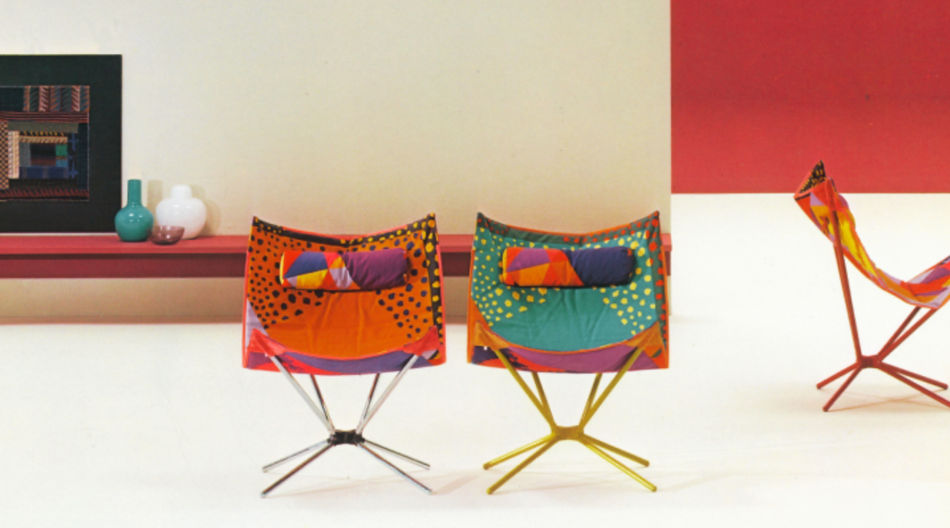 Saporiti Design Experience by Saporiti Italia. Image Courtesy of Dubai Design Week.
Saporiti Italia, in partnership with Dubai Design District (d3) and the Dubai Institute of Design and Innovation (DIDI), proudly presents the Saporiti Design Experience. This innovate event serves as a source of inspiratiion for merging talents, encouraging them to reimagine the Miami armchair, a 1984 iconic reinterpretation of Milan's Salvati and Tresoldi's "Tripolina" folding chair. As they prepare their new offices at d3, Saporiti Italia is actively contributing to the design community, establishing itself as a creative incubator for DIDI students, fostering a dynamic and collaborative environment.
UAE Designer Exhibition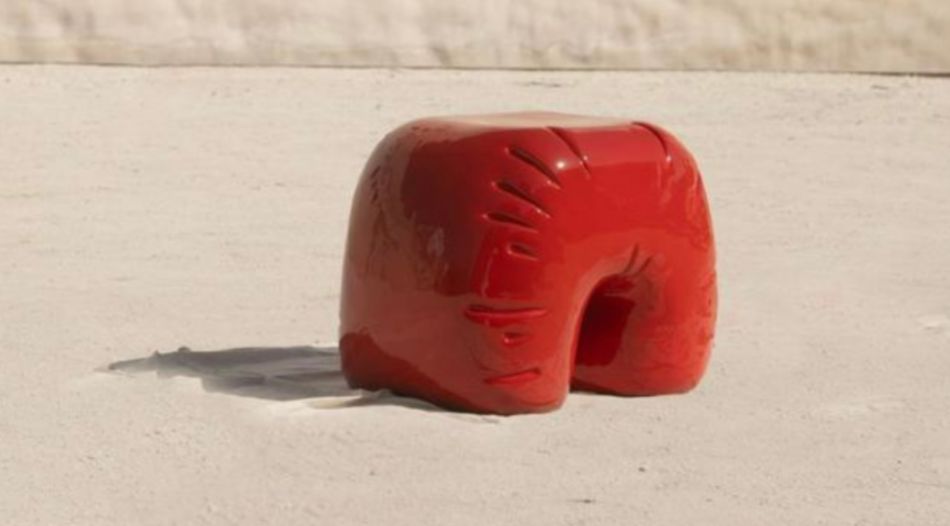 Takiya by Alia Mazrooei. Image Courtesy of Dubai Design Week.
In collaboration with the Dubai Cultures & Arts Authority (Dubai Culture), Alia Mazrooei's Takiya will take featured at the UAE Designer Exhibition. This unique ceramic table seamlessly combines France's café culture with traditional majlis setting of the Emirates, paying homage to the community and heritage through elegant, minimalist design in red. The table features an Emirati 'takiya' as a distinctive backrest in the majlis arrangement, with its design inspired by the natural folding and gentle contours of the traditional takiya, resulting in a visually captivating design.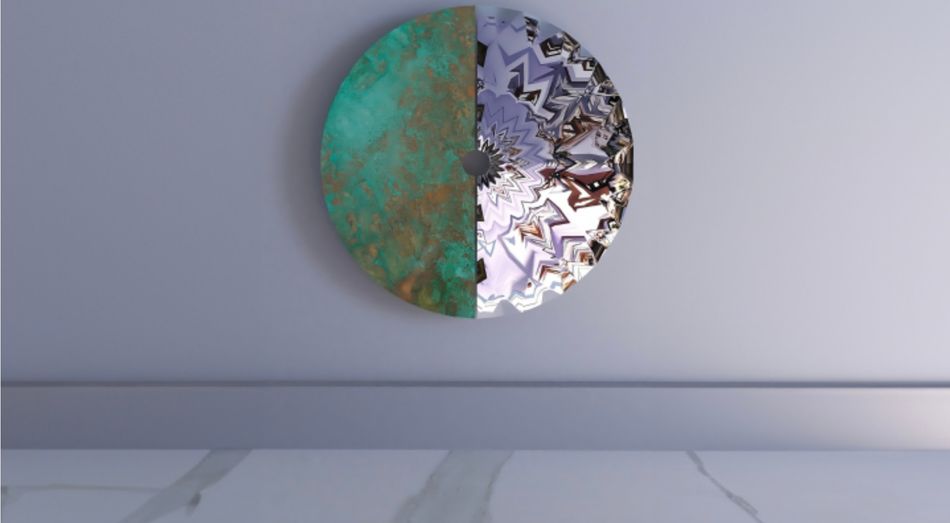 Mirrorgami: Dayereh by Ali Bahmani. Image Courtesy of Dubai Design Week.
Ali Bahmani's Mirrorgami: Dayereh will be featured at the UAE Designer Exhibition, offering an intriguing intersection of the art of origami with mirror installations. Inspired from traditional Persian mirror craftsmanship, Bahmani's artwork is meticulously crafted from reflective mirror steel, expertly folded into intricate origami patterns. This interactive work reflects viewers, prompting deep contemplation. Embarking on a captivating journey, it invites viewers to engage in a meaningful exploration of their own reflections, establishing a dialogue between the individual and the surrounding cultural environment.
Downtown Design
Downtown Design. Image Courtesy of Dubai Design Week.
Downtown Design will be the headlining event of Dubai Design Week on 8-11 November, 2023. Presenting the latest contemporary design to the world, the event will be located at the Waterfront Terrace in Dubai Design District (d3).
---
Dates: 7 - 12 November
Opening Hours: Tuesday until Sunday, 10am-10pm
Venue: Dubai Design District (d3), UAE
---
Don't miss this opportunity to be inspired, connect with visionary designers and witness how design can shape a better future. Mark you calendars, and together, let's create a more beautiful, sustainabl, and harmonious world through art and design. See you at Dubai Design Week 2023 - where imagination becomes reality!
---
Any views or opinions in the post are solely those of the authors and do not necessarily represent the views of the company or contributors.
---
Related articles
---