Interview: Jan Ernst on His Journey as a Designer
By
Jenevieve Kok
---
Jan Ernst is a multidisciplinary creative specializing in functional art and spatial design using clay as his main medium. The work is driven by his fascination with natural structures such as corals, fungi, and rock formations. His organic designs stem from his abstract understanding of form and space influenced by his background in architecture, his connection with the natural world, and his South African heritage.
This week, we had the opportunity to speak to Jan to learn more about his journey as a designer, his inspirations, and vision for the future!
Tell us about how you started as a designer and what drew you to creating functional art pieces?
I have a background in design that stems from my career as an architect. I obtained my master's degree and soon after graduating from Nelson Mandela University, I started my own company.
At the beginning of the pandemic, I turned to a medium that allowed me to express myself in 3D form and that I could practice from my apartment. Creating functional objects came very easy to me, considering I had spent most of my career designing pragmatic spaces.
What's unique about working with ceramics is the meditative space you enter when you engage with clay. Layering this with storytelling and the beautiful landscapes of South Africa made sense and I was able to create a design world unique to my way of thinking and expressions.
How has your architectural background informed your design process using clay?
Coming from an architectural background, I find joy in the purity and minimalism of the work I create. To some extent, there is a 'form follows function' approach. I choose to use space [and negative space] and light as tools and don't rely on form alone for expression. When I create a new piece, I have a vision of how the object will interact with its environment and user.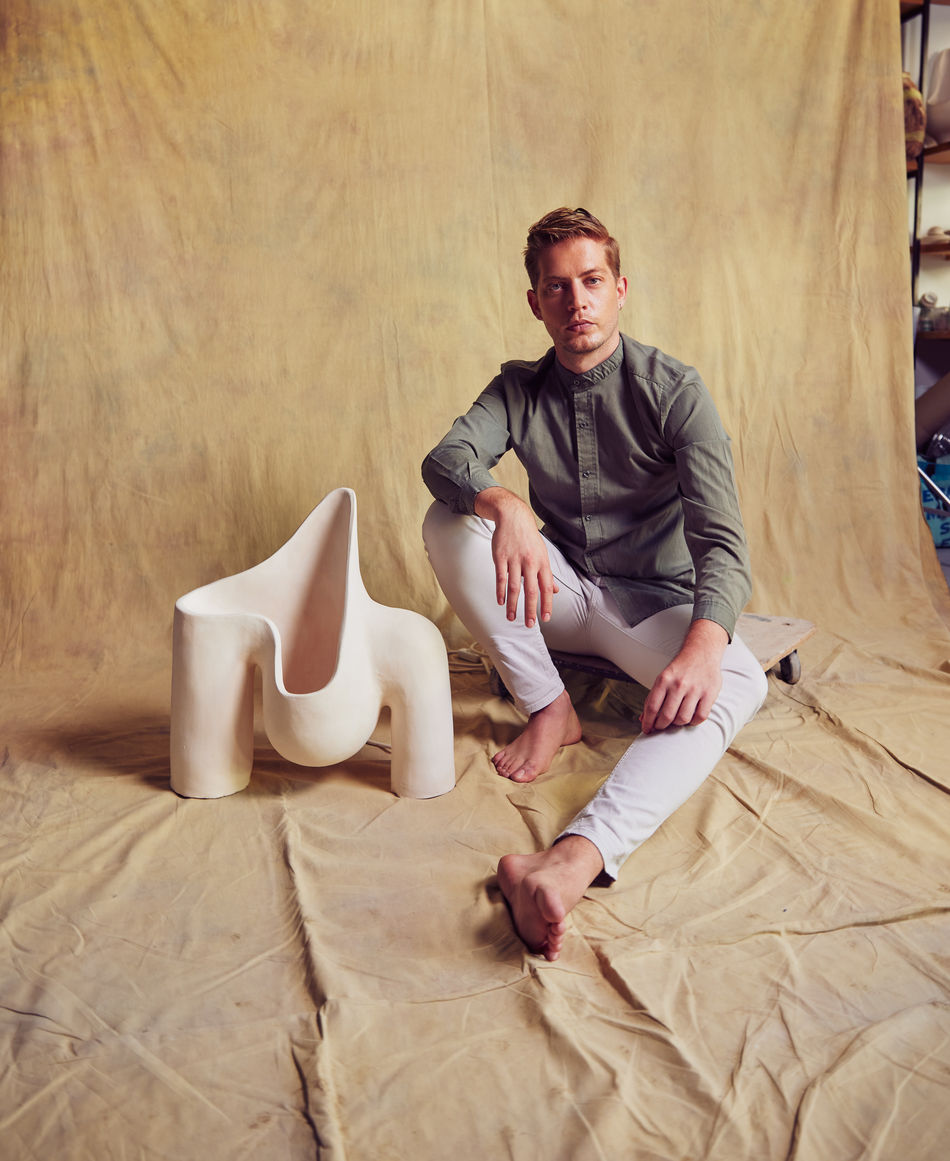 As your Forest Candelabra collection is inspired by nature; what does your design process entail?
My design process is never linear and changes depending on the nature of the project. I am usually inspired by something specific in a landscape and dwell on it for a few days to develop a narrative. I then go back and collect 3D found objects to examine and understand their structural make-up. I do a lot of drawings, that translate into maquettes. The maquettes then get photographed and often stylized on the computer before I do the first prototype.
How do these inspirations manifest through the varying forms of your works?
Through a process of abstraction and stylizing I try to get to a point where I can communicate the essence of a natural phenomenon. With the forest candelabras I wanted to express the whimsy and mystery of the forest by creating functional sculptures that are both playful and serious. To evoke similar emotive responses, I had to use form and light in a way that would recreate the variety of light conditions and the curiosity of form found on the forest floor.
One of your pieces, Mushroom, was inspired by the Newlands Forest in Cape Town and its fungi living within the forest. Could you tell us more about the process behind the creation of your works?
The manufacturing approach to each design is different. In the case of the Mushroom side table, I wanted the piece to express similar characteristics as the fungi, ie. a stem structure, overlapping 'leaves' where some are solid and others light and an abstract take on the gills through pattern.
To achieve this, I created the base through slab building using a slab roller and a cone form. The table tops are made from glass to achieve a light feeling and create depth while coiling on the lower top explores the underside form and pattern of mushrooms.
Hailing from South Africa, has your cultural background influenced your stylistic choices in your works?
Certainly. South Africa has a rich cultural history and an even greater variety of natural landscapes. For most of my childhood, my family lived on farms, and it was there where my relationship with nature began. I was fortunate to live in areas with forest along the Garden Route, or farmlands in the dry Karoo. These places and their climates require different responses and ultimately lay the foundation for the stories of the people who live there.
Who are some of your most significant inspirations that have influenced your designs?
When I look for inspiration in other people's work, I often turn to history and the work of "the first people" to analyse and understand the simplicity of their approach. Further along the timeline I appreciate the work of Gaudi and Henry Moore's and their response to nature. Designers that inspire me today include Voukenas Petrides, J. McDonald and Reynold Rodriguez.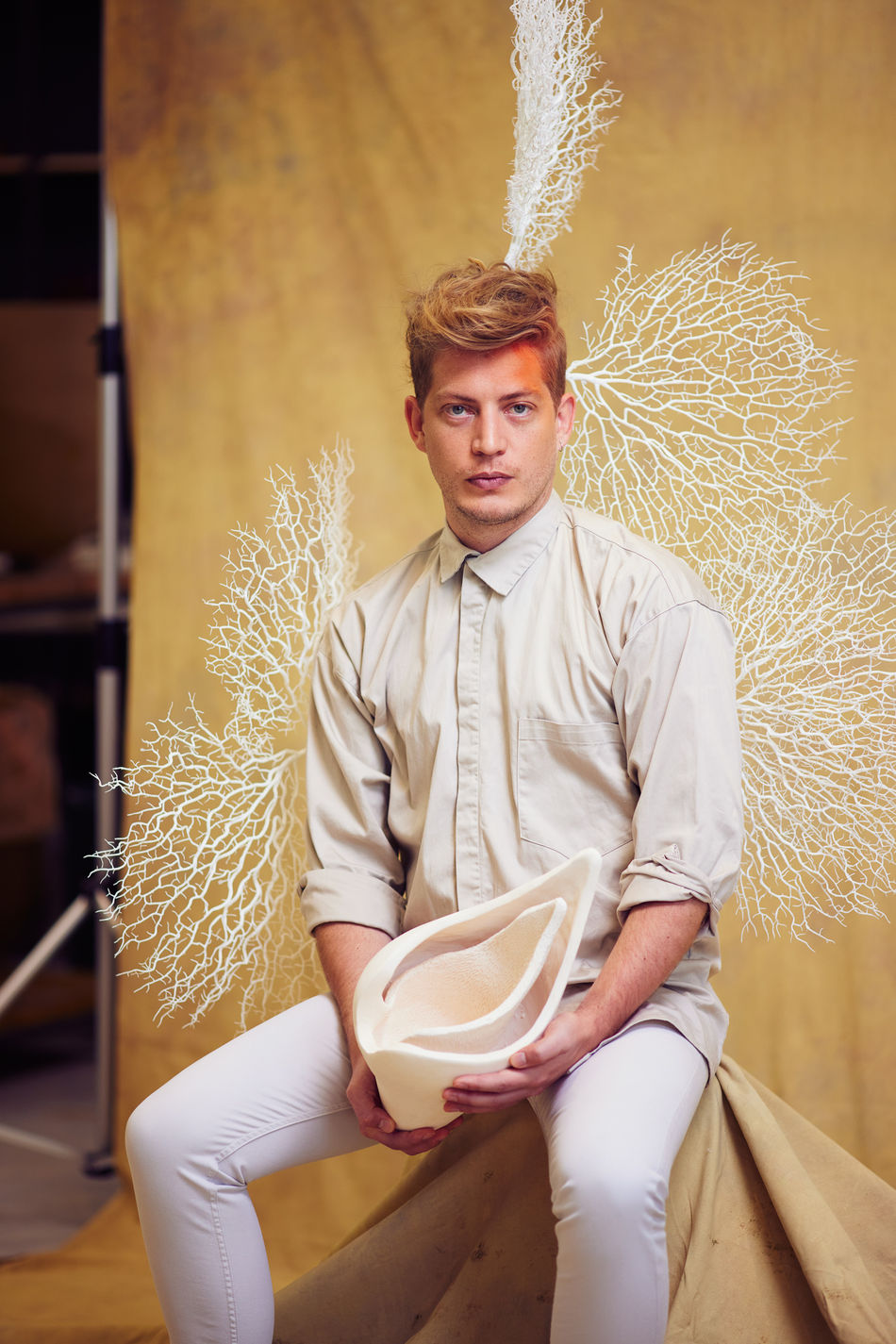 Could you tell us more about your upcoming collections and what you envision for the future of your designs?
In May 2022 I released the WOMB lighting collection that expresses the complexity of the cave as birth space for the first humans in the Cederberg region. The body of work is made up of several pendants, wall sconces and table lamps that explores the theme in a different application.
After spending 3 months in Europe on an artist residency, I've been inspired by other designers, the mixing of material and the scale of their work. In the near future I would like to expand my material palette and the size of the work into furniture items.
---
Click here to view all of Jan's works!
---
All images are courtesy of Jan Ernst
---
Any views or opinions in the post are solely those of the authors and do not necessarily represent the views of the company or contributors.
---
Related articles
---