Challenging the Canon: How Artists have Raised LGBTQ+ Awareness Through Art
By
Nathalie Soo
---
Every year in the month of June, the LGBTQ+ community comes together for a celebration of love, diversity, and acceptance. It is a time that marks the wide-ranging impact individuals, advocates, and allies of the LGBTQ+ community have had not only in the United States but all around the world. Pride month is a celebration of the remarkable progress and continued fight towards equality.
From ancient Greek to contemporary art, queer art has existed for hundreds of centuries and has been portrayed in various forms. LGBTQ+ rights have made larger bounds in the past 30 years than they have in centuries - what we experience now is a more ready acceptance of LGBTQ+ people, but that doesn't mean acceptance is complete and universal.
The twentieth century saw a significant rise of the queer art movement, with an increasing number of artists addressing LGBTQ+ matters in their work. Whilst queer art during the earlier part of the century was shaped by the need to conceal one's 'identity', the latter half was largely characterized by works that fought for visibility, justice, and burgeoning acceptance.
In honor of Pride Month, we take a closer look at 10 influential artists whose iconic works have played an important role in raising awareness for LGBTQ+ rights. Employing various styles, strategies and mediums, find out how art was used as a tool to examine identity politics, queer experience, and create awareness for major LGBTQ+ campaigns, such as awareness for the HIV/AIDS epidemic during the 1980s.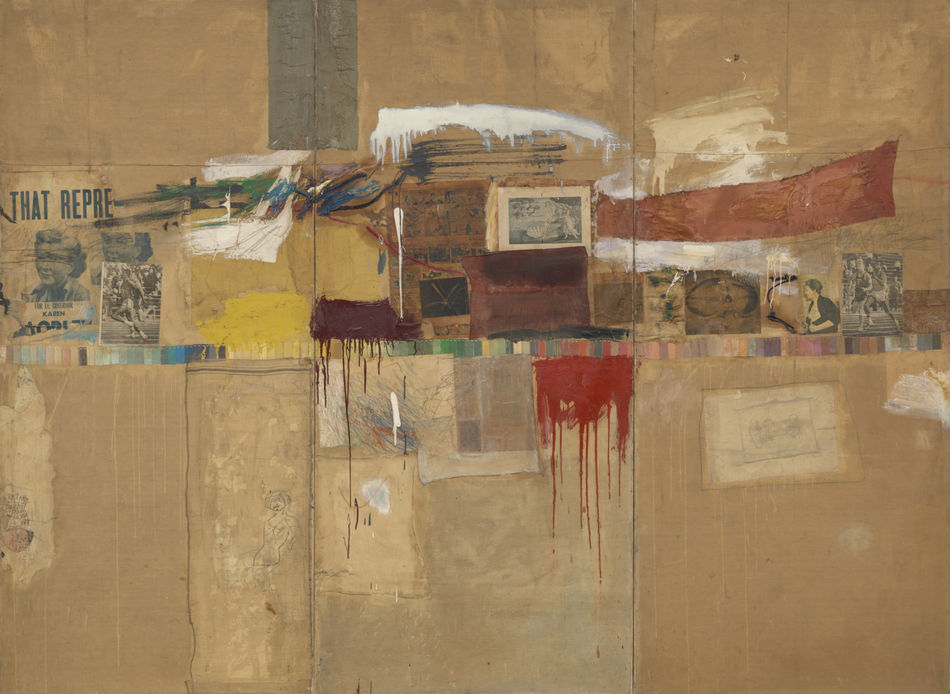 Robert Rauschenberg, Rebus, 1955. 
Image courtesy of Museum of Modern Art, © 2020 Robert Rauschenberg Foundation
A prolific artist with an extensive oeuvre, Robert Rauschenberg is well known in the history books as one of the greatest abstract expressionist artists and has been recognized for conceiving his own distinct assemblage style. It has been argued that Rauschenberg encrypted ideas of queerness and queer identity into his assemblage paintings. Since homosexuality was illegal and considered a criminal offense during the 1950s, artists feared to showcase any direct representation of same-sex relationships in their work. As a result, individuals like Jasper Johns and Rauschenberg adopted visual codes as an outlet to signify queerness.
Works such as Rebus can be viewed as a palimpsest, as it requires the viewer to investigate and decode the work. The assemblage even includes a drawing by Cy Twombly, an artist whom Rauschenberg in fact had a brief romantic relationship with. Rauschenberg's coded messages have become a major theme of 'queer aesthetic'. Many queer artists have been seen to encode symbols into their work to express their homosexuality in a covert and discrete way.
9 | David Wojnarowicz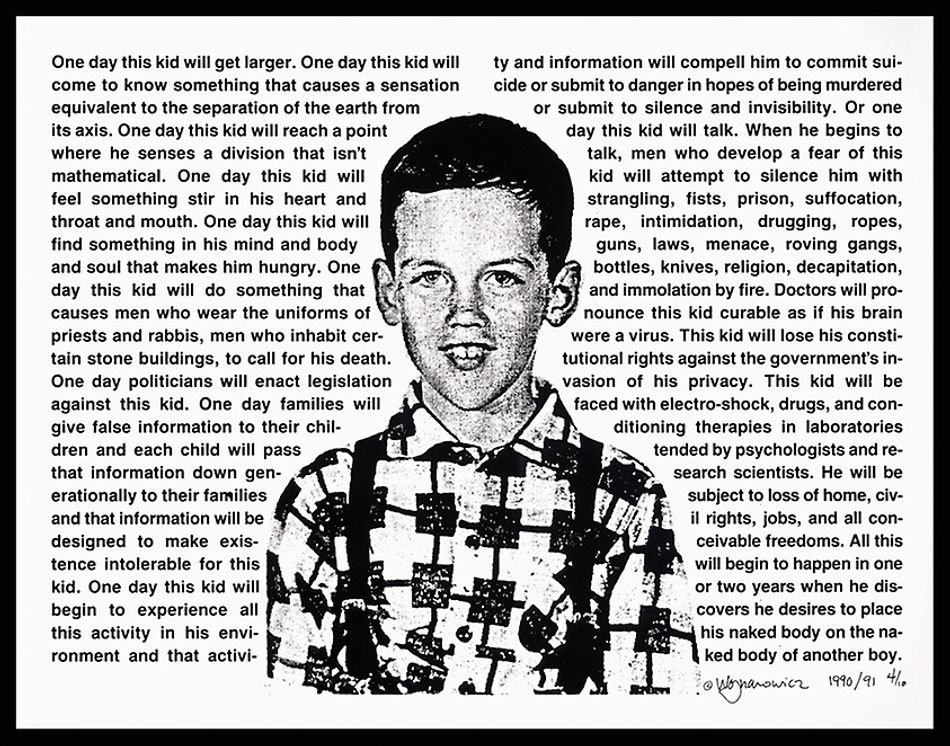 David Wojnarowicz, Untitled (One Day This Kid...), 1990/91.
Image courtesy of Art Institute Chicago

David Wojnarowicz was a Polish-American artist, writer, filmmaker, and activist for LGBTQ+ rights who came to prominence in the 1980s. Wojnarowicz was known to use art for political activism, specifically to raise awareness for the HIV/AIDS epidemic. Much of his work was fuelled by personal narratives, particularly his own struggle with the disease, which he eventually passed away from in 1992.
In Untitled (One Day This Kid…), Wojnarowicz illustrates an image of himself as a child rendered against a background of harsh, cutting, and a fierce critique of American political social systems, which he believes is responsible for purporting a sense of systemized cultural homophobia. Through shock imagery and text, Wojnarowicz's work attempts to raise the voices of those in the LGBTQ+ community who have been marginalized and stigmatized.
8 | Nan Goldin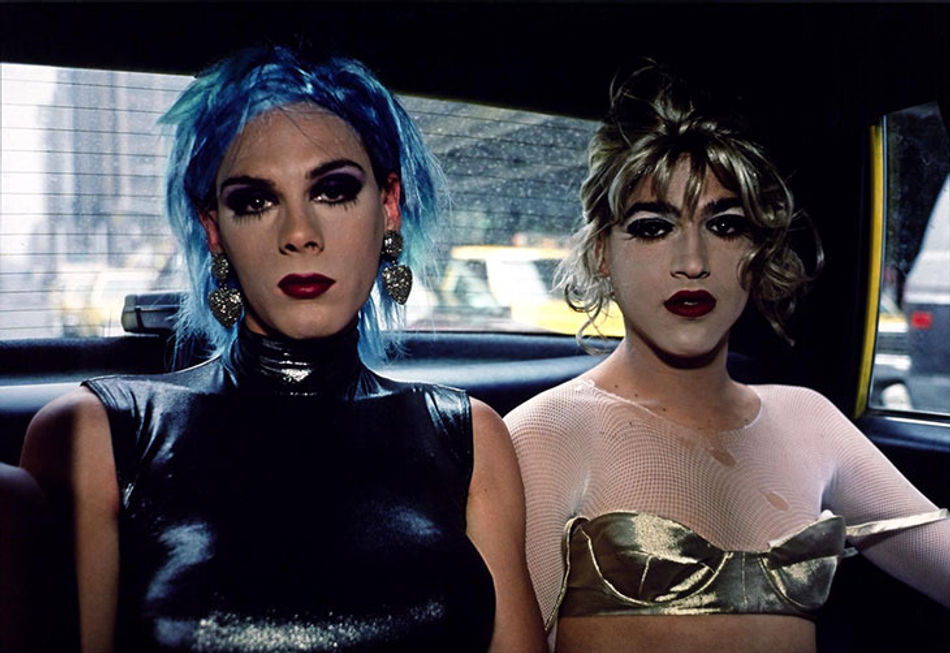 Nan Goldin, Misty and Jimmy Paulette in a taxi, NYC, 1991. 
Image courtesy of Tate. © Nan Goldin
Nan Goldin is a contemporary American photographer who is largely recognized for her photo-documentation of the post-Stonewall riots gay subculture during the late 1970s and 1980s. Her series entitled The Ballad of Sexual Dependency (1986), sees Goldin explore different types of LGBT bodies within intimate settings as she travels to Boston, New York, and Berlin. Goldin showcases the precarity of queer lives, the impact of opioid addiction, and the ravaging impact of the AIDS crisis within the community. Her candid, yet striking images capture a world unseen, 'othered', and feared by mainstream society.
7 | Claude Cahun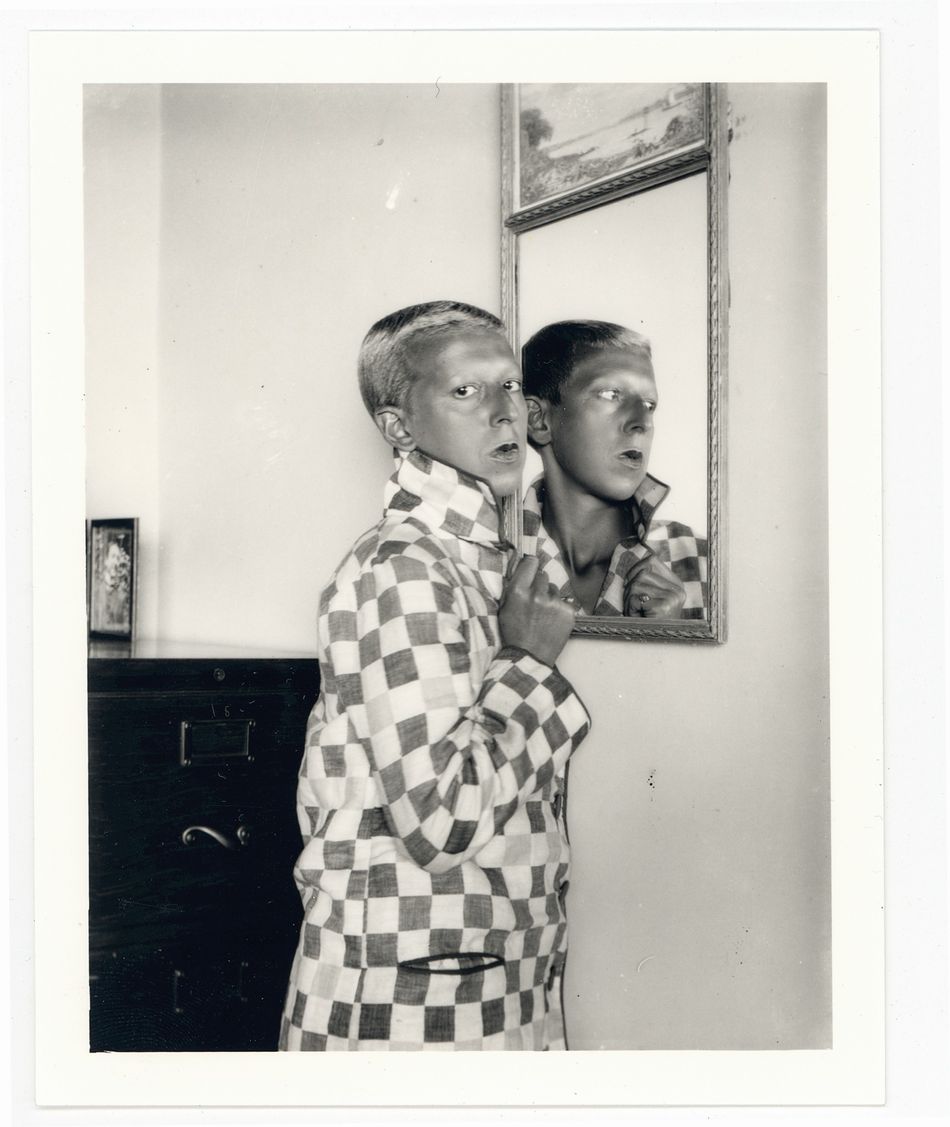 Claude Cahun, Self Portrait, 1928. 
Image courtesy of Photography Visionaires. © Claude Cahun
Claude Cahun (originally Lucy Renee Mathilde Schwob) was a surrealist artist and photographer who gained much attention for refusing to identify with a gender – this was extremely rare and practically unheard of during the late 1910s. Cahun's work was important in challenging traditional concepts of static gender roles and norms. In the artist's self-portrait series, Cahun would typically adopt various neutral guises that reworked traditional representations of the female subject.
Through the process of gender blurring, Cahun transformed the female body into something that refused the 'male gaze', effectively opening up dialogues about sexuality, gender, and construction of the 'self'. Cahun has been regarded as a trans artist ahead of her time. Her works have had a significant influence on notable contemporary photographers such as Cindy Sherman and Nan Goldin.
6 | Félix González-Torres
Félix González-Torres, "Untitled" (USA Today) at Museum MMK für Moderne Kunst MMK, Frankfurt, 1990.
Image courtesy of Axel Schneider

Félix González-Torres was an openly gay artist known for his conceptual and minimalist installations that typically used found and ordinary materials. Much of González-Torres' work during the 1980s and 90s dealt with feelings of mourning, melancholy, and loss – a sentiment that was greatly felt by the LGBT community during that time. As González-Torres' partner had passed away from AIDS, he created and dedicated various installation works to his late lover.
The artist has been known to imbue his work with a kind of performative element. Mirroring human life, González-Torres' pieces have been described to undergo a 'process of dying'. In "Untitled" (USA Today), the artist fills a corner of a room with a pile of candy and invites viewers of the work to take a piece. As each person takes away from the pile, it decreases in size and gets smaller and smaller, till there is eventually nothing left. For González-Torres, each piece of candy taken away from the pile acts as a metaphor for society's dismissal of the AIDS epidemic that – if continued to be ignored – would wipe out an entire population of the LGBT community.
5 | Hannah Höch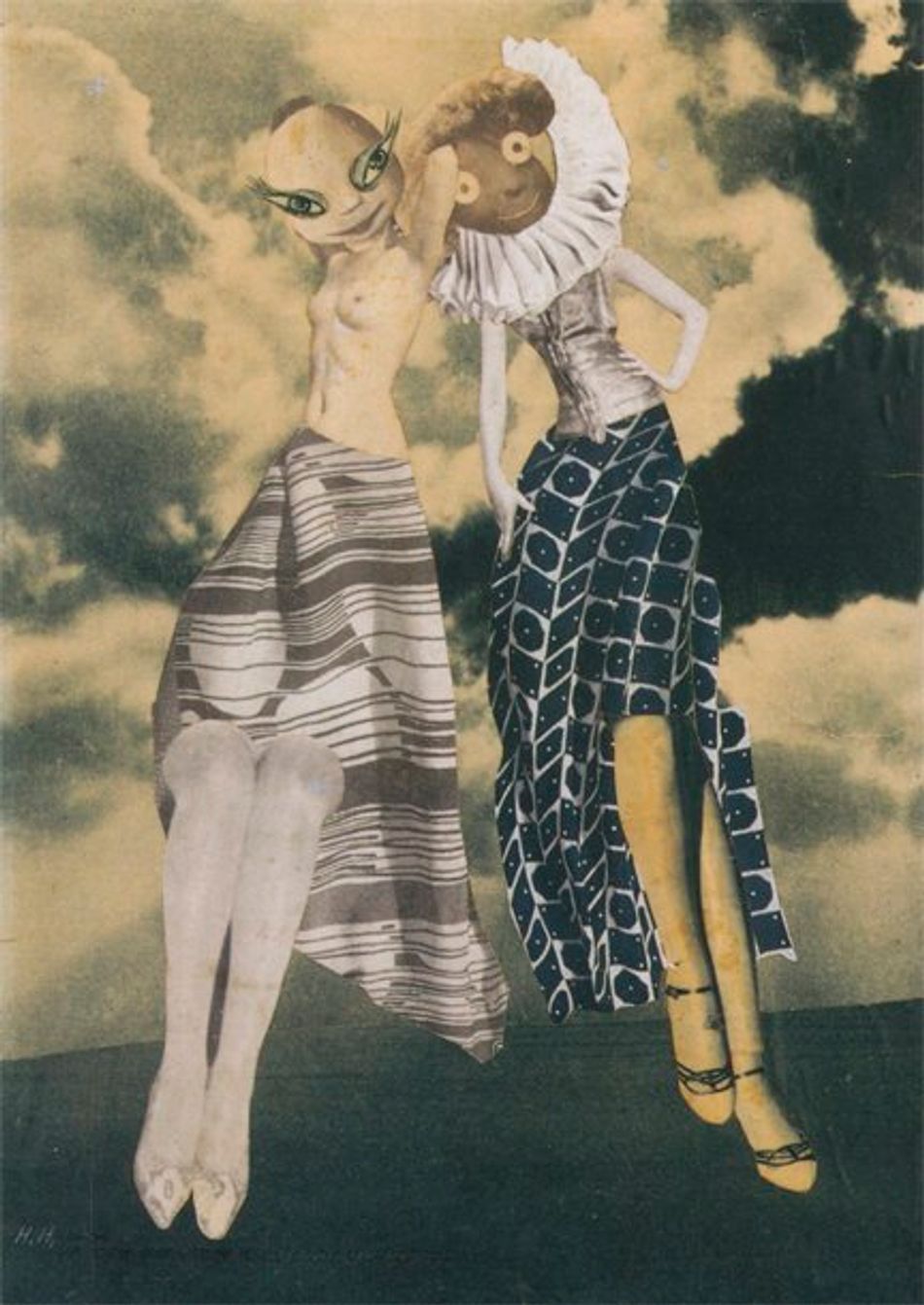 Hannah Höch, Auf Dem Weg Zum Siebenden Himmel (On the Way to Seventh Heaven), 1934. 
Image courtesy of Barry Friedman Ltd. New York
Hannah Höch is considered a gay and feminist icon. Acclaimed for her photomontages, Hannah Höch illuminated gender inequalities and highlighted queer issues in her work during a time when patriarchal and heteronormative society was becoming increasingly anxious about sexual freedom and the increasing liberation of women. Although Höch never spoke openly about her sexual orientation, she engaged in various relationships with both women and men. From 1926 to 1935, the artist frequently depicted same-sex couples, with women playing a central theme in her work.
Through her use of the androgynous figure in many of her collage and assemblage works, Höch challenged the heteronormative binary oppositions and dichotomies of "male : female" and "feminine : masculine" that have pervaded society. Such ideas were ground-breaking during the 1930s.
4 | Jimmy Ong
Singaporean artist Jimmy Ong is a preeminent contemporary artist whose works largely focus on his personal experience as an Asian gay man. Ong's oeuvre concentrates on the exploration of sexual identity and gender roles, often within the context of the traditional Chinese family setting. His iconic charcoal drawings typically see same-sex couples fantasized and mythologized often depicting them with a child, and together as a family unit.
Ong wanted to "create a pictorial vocabulary for gay people to view their marital statuses" he stated in a phone interview. Such kinds of imagery are completely absent and invisible in Asian artworks and Asian art history. In a sense, Ong's work acts as a kind of voice for the Asian queer community. Although there has been great progress for the LGBTQ+ community on a global level, many Asian countries remain extremely conservative, with homosexuality and queerness less widely accepted.
3 | Catherine Opie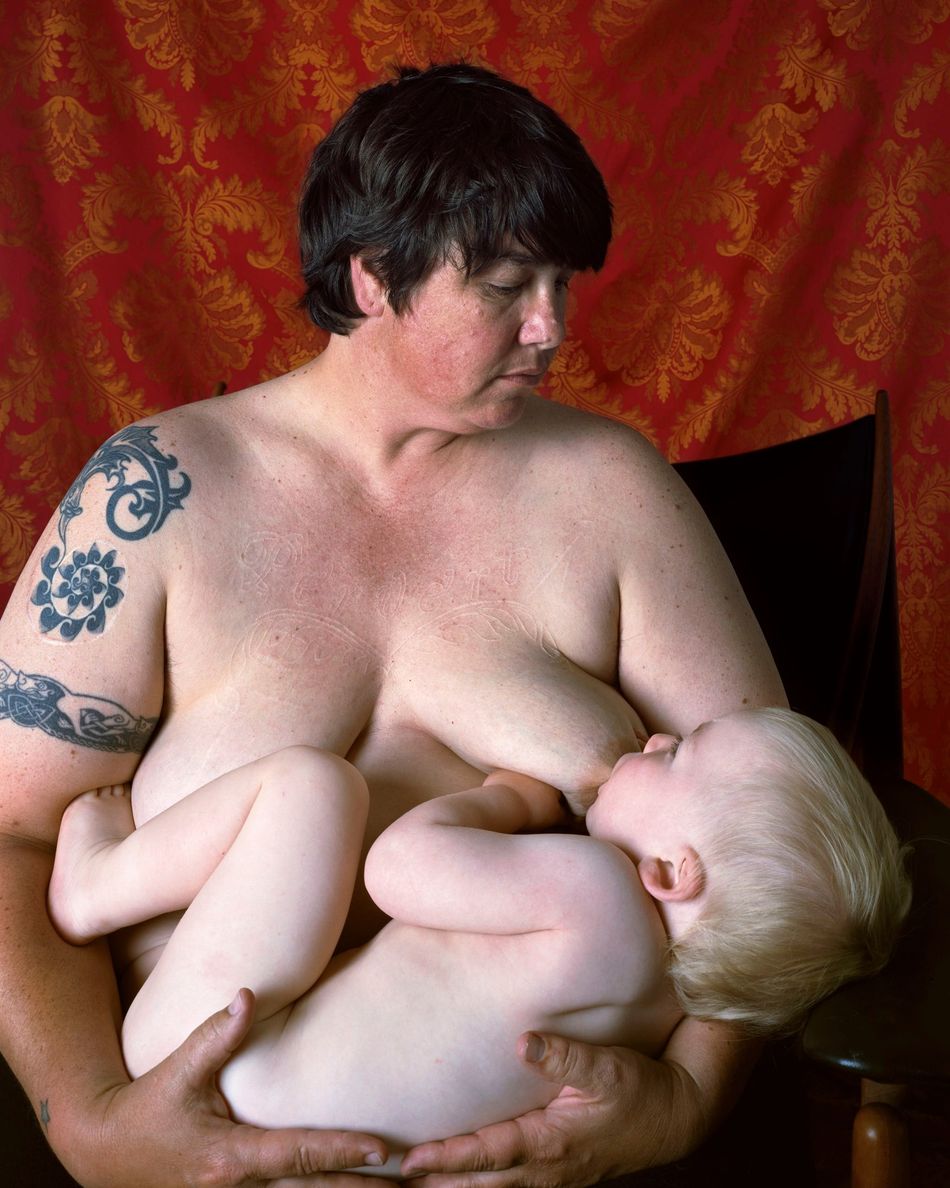 Catherine Opie, Self Portrait/ Nursing, 2004. 
Image courtesy of Regen Projects, Los Angeles
Catherine Opie is an American photographer best regarded for mixing traditional photographic compositions with less traditional and more subversive subjects. Her photography is known for dealing with questions concerning sexual identity, and explore how queer people relate to their own communities.
As an openly lesbian artist, Opie creates stark juxtapositions in her photographs that force the viewer to re-think and analyze the subject. By subverting traditional modes of 'feminine' beauty and gender norms, as seen in Self Portrait/Nursing, she destabilizes traditional notions of the male gaze and hyper-sexualized images of women. The work adopts a classical "Mother and Child" composition, but instead, Opie removes any form of sexual connotations and symbolism within the portrait, effectively removing any desire within the female subject.
2 | David Hockney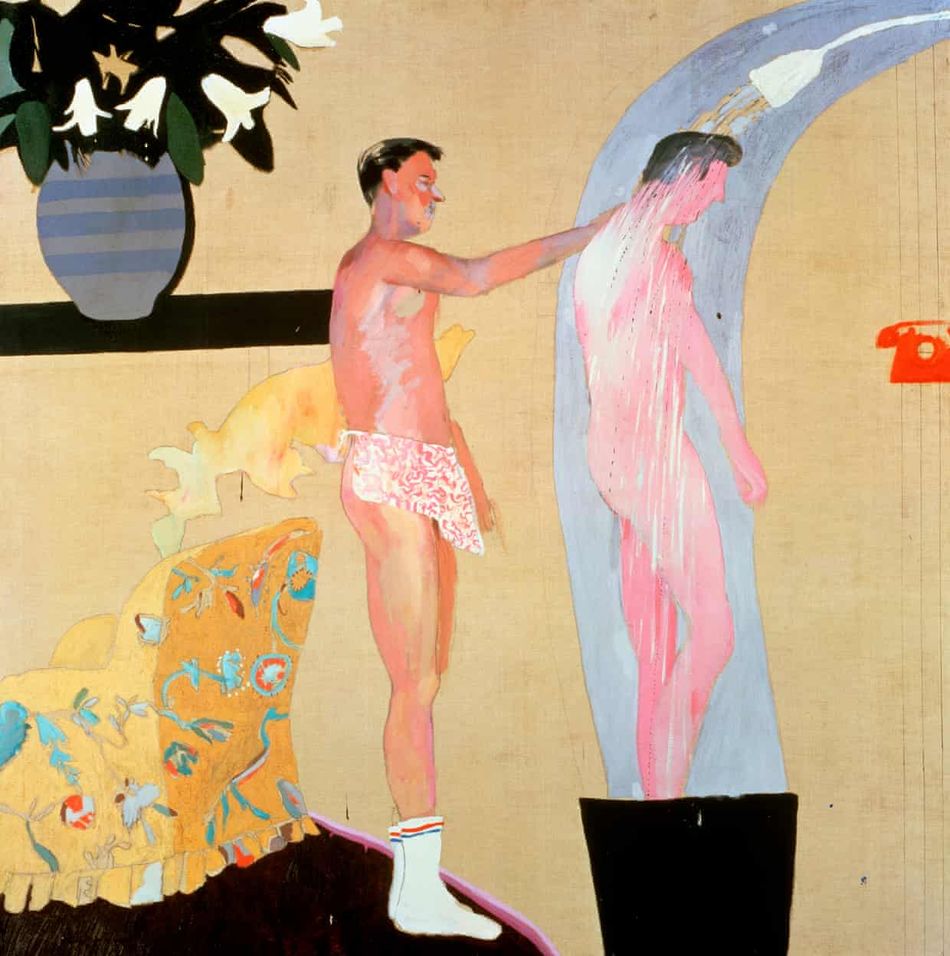 David Hockney,  Domestic Scene, Los Angeles, 1963.
Image courtesy of David Hockney
David Hockney is one of the most established and celebrated LGBTQ+ artists. Hockney led his life as an openly gay man in a world that systematically oppressed discriminated against those who did not conform to gender and sexual norms in society. In his paintings, he would incorporate allusions to his own sexuality across his canvases. His Love Paintings series capture loving relationships between individuals both real and imaginary of the same-sex.
The exploration of homosexual subjects was considered a taboo subject, and up until the implementation of the 1967 Sexual Offences Act, all homosexual acts were illegal – even in private. Hence, Hockney's works like Domestic Scene, Los Angeles, which directly captures gay and queer imagery was a risky political act. His works capture a fantastical, vibrant escape from reality. His compositions are images of a serene, idyllic paradise – a space of safety, acceptance, and equality.
1 | Keith Haring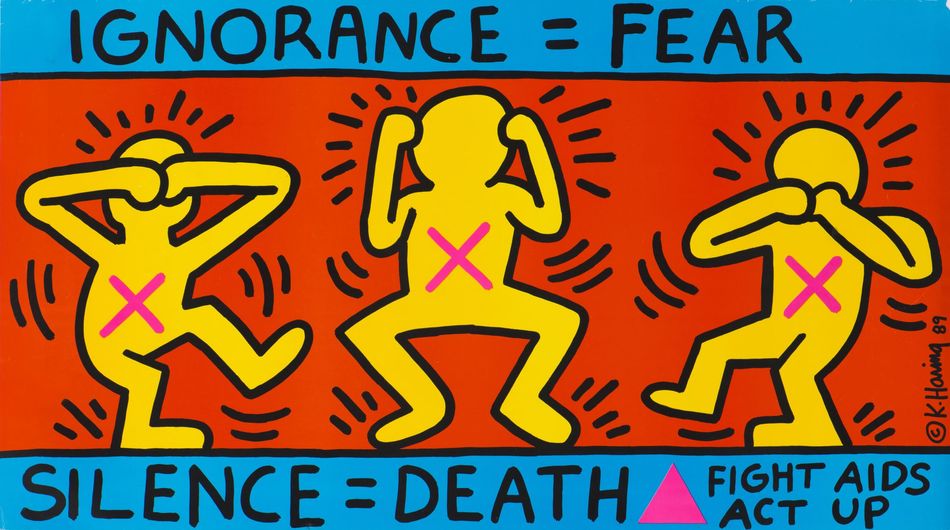 Keith Haring, Ignorance = Fear, 1989.
Image courtesy of Collection Noirmontartproduction, Paris.
Keith Haring's eye-catching and instantly recognizable works were much more than simple dancing figures and dogs set against spritely colored backgrounds. An openly gay man, Haring was diagnosed with HIV in 1988. In the following year, he established the Keith Haring Foundation and made it its purpose to provide funding and imagery to AIDS organizations and children's programs.
Haring used his art as a form of social activism and advocated for safe sex through his colorful murals works, which can still be seen in dozens of cities across the globe. His vibrant, playful, provocative yet socially-conscious images form an important part of the history of gay symbolism and identity. Although Haring passed away in 1990, his impact has been far-reaching. In June 2019, he was one of fifty American "pioneers, trailblazers, and heroes" inducted on the National LGBTQ Wall of Honor within the Stonewall National Monument in New York City.
Wider Impact on the LGBTQ+ Community & Art World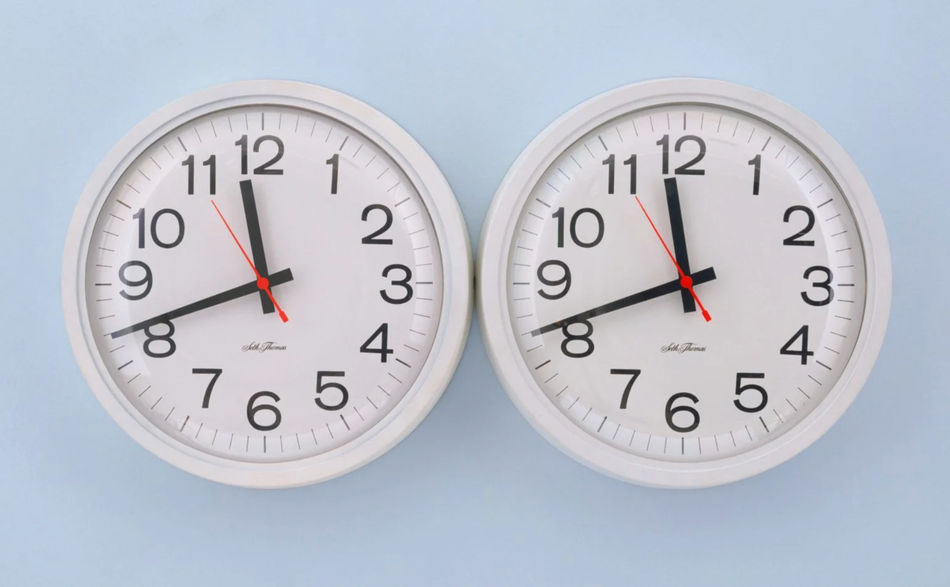 Félix González-Torres, "Untitled" (Perfect Lovers), 1991. 
Image Courtesy of Andrea Rosen Gallery, New York, © 2020 The Felix Gonzalez-Torres Foundation. 
The history of the LGBTQ+ continues to be written today, with the fight for equality on a global-scale still ongoing. These ten artists highlight the various struggles experienced by the LGBTQ+ community, with works illuminating their lack of visibility and acceptance over decades.
Whilst the early twentieth century saw artists creating 'coded' and metaphorical imagery that challenged formations of identity and perceptions of femininity and masculinity during an extremely conservative period, the latter part of the century was marked by a more direct, subversive and explicit approach towards queer art making.
By the 1980s, artists were shedding light the HIV/AIDS epidemic, particularly the devastating effects it was having on the LGBTQ+ community. Such issues were explored in diverse ways, from Nan Goldin's documentary photographic series, to Félix González-Torres's deeply conceptual and ephemeral works, and Keith Haring's striking yet comical street art murals promoting safe sex.
Each of these ten artists found their own, unique voice to speak out about a wider range of LGBTQ+ issues through their art. They have explored personal struggles, fought against discrimination, and tackled issues of identity in their works to form profound and lasting contributions to the art world.
---
Any views or opinions in the post are solely those of the authors and do not necessarily represent the views of the company or contributors.
---
Related articles
---