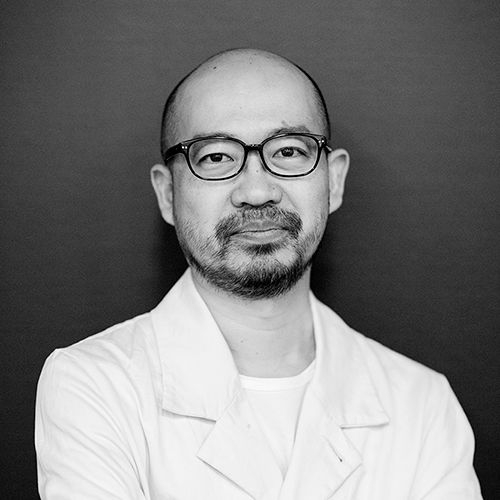 Toshiki Omatsu
Born: 1973
Hometown: Tokyo
Based in: Kamakura-city
Toshiki Omatsu is a Tokyo-based, Japanese designer, born in 1973, and is a member of Architectural Institute of Japan.
He graduated from Kyoto Institute of Technology, Architecture & Design (B. Arch.) in 1996, and took a Diploma in The Berlage Institute, Amsterdam with The Netherland with Japanese Agency for Cultural Affairs, Overseas Study Grant in 1999.

After working in a several architecture offices in London, Tokyo, Hong Kong, he opened his own studio called "Toshiki Omatsu Atelier" in 2005 to design architecture, furniture and products, and has won a several competitions in Japan. He is currently a director of Space design department at a famous design school called "Kuwasawa design school" in Tokyo.

Since 2019, he has been energetically designing furniture aimed "Art x Technology", especially using aluminum.
---
---
Toshiki Omatsu In The Studio
The studio is located in a famous tourist city called Kamakura, that is an ancient city in Japan, and is closed to the sea and mountains. You might see some furniture products in the studio through a big glass wall from the street.
---
More About Toshiki Omatsu
What inspires you?
Seasonal changes
Describe your creative process.
Art x Technology = Design
What are 3 words that best describe your work?
timeless, essential, tectonic
What is the most important tool when creating your work?
physical scaled model
Where do you go for inspiration?
sea
---
Collections Featuring Toshiki Omatsu
1 Collection
---
Articles Featuring Toshiki Omatsu
1 Article
---
Credentials
Education
The Berlage Institute, Amsterdam
Netherlands, 1999
Kyoto Institute of Technology, Architecture & Design
Japan, 1996
Awards
Finalist, Nosonbutai Art project
2020
2nd Prize, Kyoto Power of Culture, Outdoor Installation
2018
Finalist, KOKUYO DESIGN AWARD
2015
Finalist, Bridge design competition, Minamisanriku, Japan
2015
1st Prize, Shibuya Sakuragaoka Area Design Artwork
2014
Finalist, Monument design competition for JR Niihama station
2012
27th Mie-Prefecture Architecure Award
2006
1st Prize, Betsudai Pavilion by Ministry of Land
2005
Exhibitions
For the "tomorrow" of Japanese artists
Japan, 2013