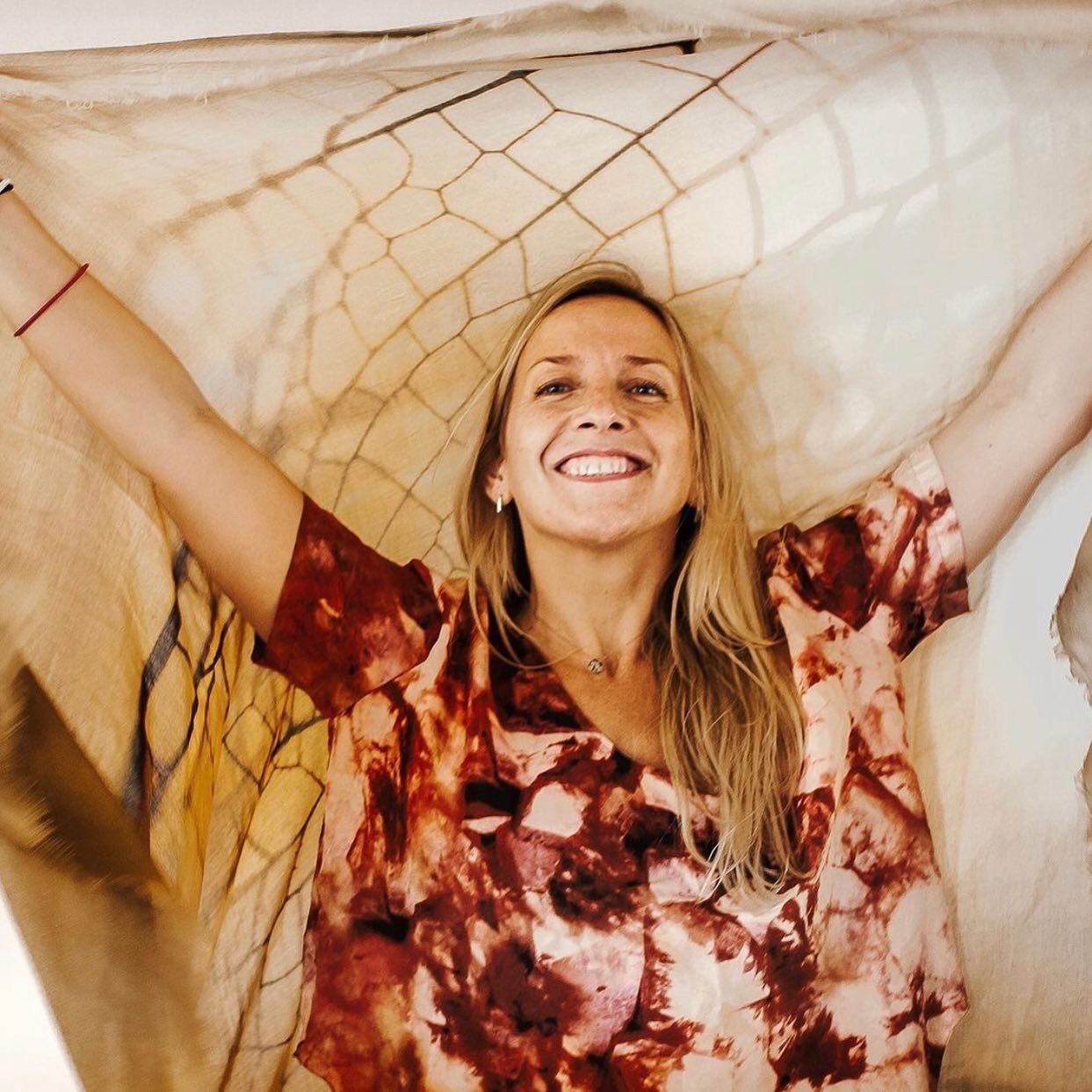 Jo Holland
Born: 1971
Hometown: Haworth
Based in: London
Jo Holland was born in Haworth, West Yorkshire and currently lives and works in London, UK. She graduated from Staffordshire University gaining a BA Hons Degree in Design specialising in photography where she discovered her unique analogue photographic technique.

Jo's artistic career began when she was unanimously selected for a commissioned art installation for Bradford Hospital which enabled her to buy the essential processing and darkroom equipment needed to continue developing her creative process. This lead on to participate in numerous solo and group exhibitions in the UK and Internationally including the National Museum of Photography Film and Television; Hereford Photography Festival; The Royal photographic Society; and inclusion in the touring exhibition and publication - History - The Mag Collection: Image-based Art in Britain in the Late Twentieth Century.

Her work has been commissioned for large scale textile prints by Harrods, London and Coast Fashion House's first artist collaboration collection; Supersized outdoor art installations still in location, were commissioned by Tunnels of Hope, Hammersmith and Hanoi, Paris Gardens, London. She is the resident artist for Bhuti Wellness Centre, Richmond and FenCourt, London and she has collaborated with the glass department at the V&A Museum, London and the Bug House at London Zoo to create unique bodies of work.

Jo is an avid meditator and practices daily having trained with Buddhist Monks in Thailand whilst co-managing artists meditation retreats with The World Peace Initiative, Bangkok. Inviting artists from around the globe to immerse themselves with in the natural environment reconnecting with their inner selves and creating from a place of peace. This peace from within Jo wishes to translate through her creative artworks.
---
---
Jo Holland In The Studio
"Jo Holland's photographic works demonstrate just how powerful symmetry can be in art. Mesmerising and intricate, Jo's art has a floral aesthetic that reveals the peaceful balance and ethereal beauty that exists in the natural world." RISE ART
---
More About Jo Holland
What inspires you?
Interaction, Emotions, Nature, Colour and Light
Describe your creative process.
I work intuitively to creative uplifting artworks using photographic process's with presence, play and flow at the forefront. I would describe it as a meditative practice.
What are 3 words that best describe your work?
Expansive, Inspiring, Immersive
Who are some artists that have influenced your work?
James Turrell, Andre Serrano, Georgia O'Keefe, Robert Maplethorpe, Andre Kertesz, Alexander McQueen
What is the most important tool when creating your work?
Light
What is the best piece of advice you have been given?
Follow your heart
Where do you go for inspiration?
I go into my heart, I spend time with animals, I spend time with nature or I go to the spa
---
Collections Featuring Jo Holland
6 Collections
---
Credentials
Education
Staffordshire University
United Kingdom, 1993
Exhibitions
Enchant
United Kingdom, 2022
Exhibit Here
United Kingdom, 2022
Appreciation Mandalas
United Kingdom, 2022
AfterBirth | AfterLife
United Kingdom, 2022
Oso Art Fair
United Kingdom, 2022
Living with Water
United Kingdom, 2022
Tunnels of Hope, public art exhibition
United Kingdom, 2021
Transformative Photographs
United Kingdom, 2021
Barnes Art Fair
United Kingdom, 2021
The Other Art Fair
United States of America, 2019
Choose Your Hero
United Kingdom, 2018
Enjoy the Silence
Bulgaria, 2015
Samadhi-Santi Art Exhibition
Thailand, 2014